Without fail, there will be a time during your blogging career where you wonder what you are doing. Maybe it's during a busy week, a failed giveaway, or the 100th time you change your editorial calendar, but you will wonder if it is worth continuing on in the blogging world.
Whether you are just getting started and searching for something to kick start your blog or you are someone who has put in a lot of time and need to feel refreshed, there are plenty of reasons to get blogging. One of the best things about blogging is how it gives back to you, your readers, and your loved ones – you just have to tap in to the benefits!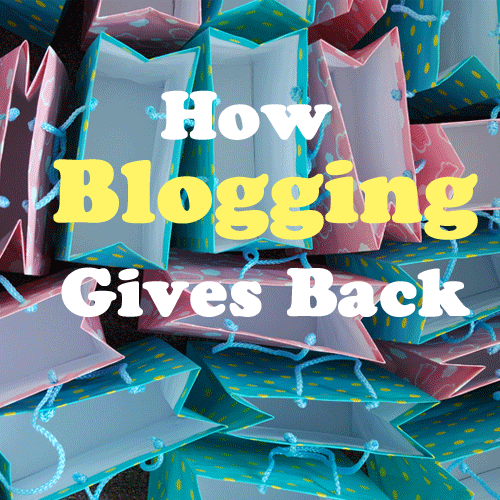 How Blogging Gives Back
Making Connections
It is truly amazing how tight-knit the blogging community is, a perfect example is the SITS community! When you start supporting other bloggers they are most likely going to support you back, and oh, what a feeling! Knowing that someone out there is rooting for you may make you put the figurative pen to paper and crank out that next post.
Beyond blogging communities you'll find linky parties that feel like a high school sleep over with your girl friends, blogs that are created simply to feature other bloggers, and guest posters that become pen pals. This kind of connection is invaluable when you are down in the dumps on blogging, so how do you get there? Quite simply: ask! If you are interested in someone guest posting – ask them! Want to be a part of the coolest linky party on the block? Well jump in!
Inspiring Your Readers
You probably created your blog to share your thoughts either with family and friends or just to have an outlet for yourself. Amazingly most blogs gain some type of following and people want to keep coming back! Why? Because they are getting something out of what you are writing! Readers are inspired by the projects and recipes you share, the tough (and happy!) times you talk about, and the helpful hints that make life better.
Be genuine and publish quality posts and it is guaranteed that some reader, some where will be thankful for it. The key is being yourself and only publishing content that you would want to read yourself. Nothing makes a bloggers day like reading a comment from a reader who is grateful for the information!
Finding Yourself
Everyone starts blogging for a reason, maybe they want to share pictures of their new baby, have somewhere to document a journey to their first marathon, or to collect all of the pretty things they find. If you let it, blogging will take you way beyond your starting point.
Let your blog posts take you out of your comfort zone! Try new, exciting recipes, go for the painting project you have wanted to try for so long, and join that local fitness program – you now have an entire audience to keep you accountable and, even more important, support you.
For a lot of bloggers (just ask around the SITS community!) their blog began as a hobby and one day they realized they loved what they did so much it could become a business. This is how a lot of Etsy shops are born and true talents are found, you just need to take the first step: try it!
Involving Your Kin
A blogger seems to be a term focused just me, myself, and I – but only to those who have never done it! Blogging starts within you, but everyone needs a little help! Getting your husband to take photos for you (he is just better at it!) or getting to do crafts with the kiddos for a post makes blogging a family affair. Even getting your best girl friend to guest post gives you something to share and gossip over – what could be better? Nothing! Except maybe a glass of wine to go with the gossip!
Blogging doesn't have to be a one man sport, by spending time with your family and friends to create your posts you will enjoy your blog even more – and so will your readers! Take that first step towards fulfilling blogging today and reach out to a blogger you admire, before you know it you will have a second family in the blogging community – and you might even find yourself along the way!
 About the Author

My blog is about trying to pull my house together on a budget. I am DIY-er spreading my wings! I love to cook and drink wine (sometimes while cooking!), and I am a freelance writer and social media strategist. I end most weekends tired and happy with paint in my hair. My husband and I have been married for about three years and are settling in to our lives together one project at a time!
Facebook
*
@LeahMarieV
* 
www.LeahMarieV.com