This post may contain affiliate links which may give us a commission at no additional cost to you. As an Amazon Associate we earn from qualifying purchases.
We spend so much time and effort working on our blogs, why not go the extra mile and ensure your blog is there…even when your host may not be? Today, we're giving you the tools you need to understand how to backup a Blogger blog.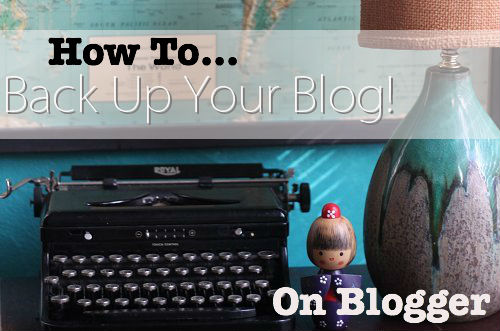 Backing Up Your Blogger Blog
If you blog on the Blogger platform (aka bloodspot), you may not realize that Google owns your blog. You are using their service for free and they have total control over the storage of your posts and comments. You might be thinking, "Hey, it's GOOGLE. They are huge and awesome and they're not going anywhere!" Perhaps. But even huge and awesome companies can have technological mishaps and hacker attacks.
Why Backing Up Blogger Matters
I have read about several cases where a blogger's blog has simply disappeared. Google couldn't explain it or get it back. I've also read about situations where Google decided to block a blog (not allow you to access or post) for policy violations, even when the blogger did not really (or intentionally) violate any policy. And it can be a long wait battling Google for control of your blog again.
The key to controlling your blog content is to back it up.
There is a very simple way to do this and we've laid out the process step-by-step below.
Log into your Blogger dashboard.
Click on "Settings".
Find the tab entitled, "Basic".  Here you'll see an option to "Export Blog".  This will allow you to save an xml file directly to your desktop that includes all of your posts and comments.

From the Export Blog option, click on "Download Blog".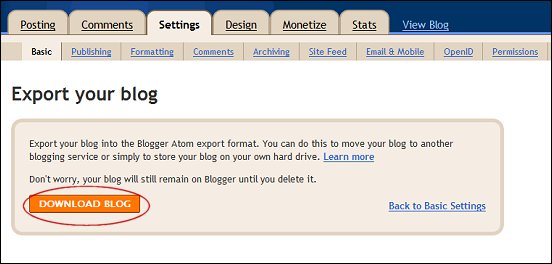 Back up your blog on a regular basis and you'll never find yourself at the mercy of Google.
Keep in mind that the above instructions only allow you to backup your content.  To backup a customized blog design, you'll next the take a few extra steps.
Log into your Blogger dashboard.
Click on "Design".
Find the tab entitled, "Edit HTML" and be sure to click on the box that says, "Expand Widget Template".
Finish the process by clicking on the option to "Download Full Template".
Interested in more blogging tips like this one?  Then be sure you do not miss these posts: