This post may contain affiliate links which may give us a commission at no additional cost to you. As an Amazon Associate we earn from qualifying purchases.
Despite the fact I've been blogging for four years come this February I still remember what it's like to start my blog. It's a scary adventure to put your thoughts and feelings on the web for the whole world to read. The good news is we don't have to do it alone. That's why learning how to be a generous blogger (and why sharing other bloggers is good for you, too) is so important. Learning how to be a generous blogger only makes your blogging dreams come true faster.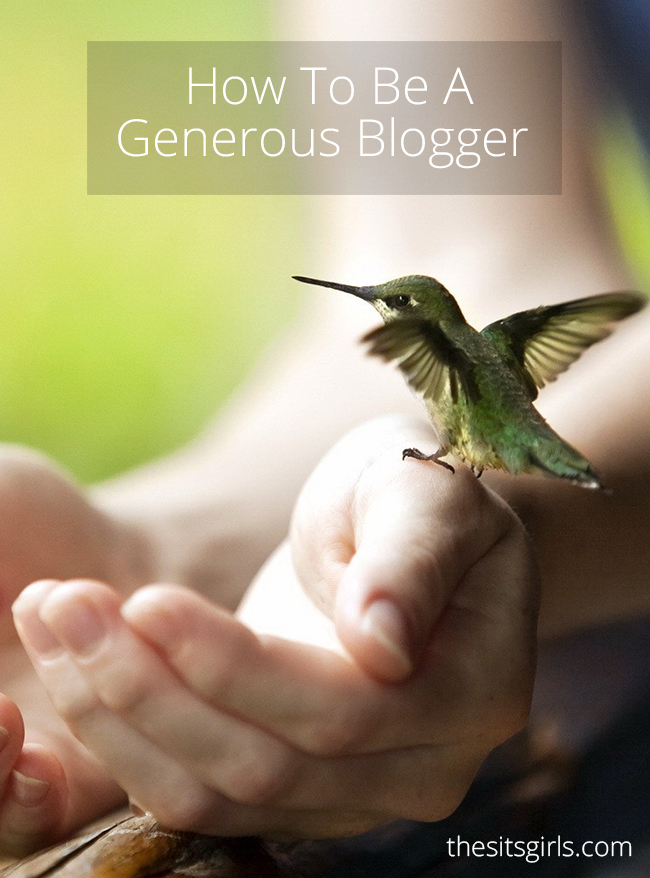 What Exactly is a Generous Blogger?
[tweetthis twitter_handles="@SITSGirls @Tidbitsofexperi"]Make your #blogging dreams come true faster by being a generous #blogger. [/tweetthis]
Have Fun Do Good shared a list of 20 ways a blogger can be a generous blogger. Her list encompasses everything that makes a blogger generous, but I want to expand on some of the definitions off her list.
Here are some of the things from her list that I feel truly helps bloggers scratch each other's backs:
1. Reading other blogs as often as we would like to be read and leave 'love notes' in other blogs' comments. — I feel this is one of the quickest and most beneficial way to increase your traffic and also help build RELATIONSHIPS. I know when I take the time to visit other bloggers within my niche (and even some out of it) and leave MEANINGFUL comments I usually get a visit back to my site with some comment love. (I do strive to return comments with comments from me and as well as a response.)
2. Appreciates other blogs as they are, and doesn't judge; Yet, mentors new bloggers. — Personally, I love visiting all types of bloggers. Many new bloggers don't see how little things (like having their Twitter handle in their social share settings) can make a major difference for them. I don't judge a new blogger, but I will take the time to send them a quick email letting them know they can make that little change and get credited for their posts when people share them. That's just a prime example of how we can help a new blogger out. (I usually include a how-to video, too.)
3. Finds ways to incorporate another blogger with her world. — This one I combined from a few of her definitions. However, in a nutshell, we make sure to open our blogs up to guest posts, interviews of other bloggers, and we share their posts through 'link love' (similar to what I've done with Britt's post).
4. Sharing each other's work on social media. — We have to share our blog posts on social media, but it's just as beneficial for us to share other's work, too. Remember the golden rule is to strive to share 80% of other peoples' work and 20% of our own.
What is in it for you?
When you share other bloggers' work, they are more inclined to return the favor. On top of that when your readers see you sharing quality content they are interested in, they will be more interactive with you on social media. Plus, they'll check out your blog looking for more things related to their interests. Fellow bloggers fully understand everything you do to make your blog captivating. They are your allies on this blogging journey not your competitors.
[tweetthis twitter_handles="@SITSGirls @Tidbitsofexperi"]#Bloggers are NOT in competition! No ONE can be YOU! Be a generous #blogger.[/tweetthis]
These are just some of the ways you can be a generous blogger and why sharing other bloggers is good for you, too. What would you add to this list?