This post may contain affiliate links which may give us a commission at no additional cost to you. As an Amazon Associate we earn from qualifying purchases.
It's our final lesson for the Think Like a Marketer class! If you missed the previous lessons, you can find Lesson 1: How to Blog Using Successful Branding here, Lesson 2: How to Create Brilliant Ideas & Brainstorm here, Lesson 3: What's In It For Me & The Customer Experience here and Lesson 4: How to Blog by Giving Readers an Easy Button here.

Lesson 5: How to Strike a Balance by Giving Readers Choices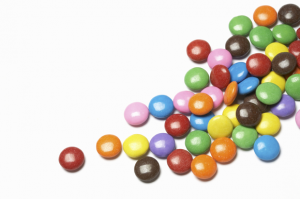 Consumers like choices. Think about M&Ms. You don't just have plain M&Ms anymore. You have peanut, peanut butter, almond, pretzel, dark chocolate, mint, coconut and so on.
Your readers like choices too. Ways to share a blog post, ways to enter a giveaway, and so on. But in blogging (and in shopping), sometimes too much of a good thing is a bad thing. Let me tell you why.
Why Not Too Many Choices?
You might be thinking, "But people LIKE choices!" That's absolutely true. But people actually make decisions more easily when there are fewer choices. In fact, some studies point to the idea that people make no choice at all when confronted with too many choices. A study featured in the NY Times goes into the psychology behind it. Here's an excerpt about the study:
In a California gourmet market, Professor Iyengar and her research assistants set up a booth of samples of Wilkin & Sons jams. Every few hours, they switched from offering a selection of 24 jams to a group of six jams. On average, customers tasted two jams, regardless of the size of the assortment, and each one received a coupon good for $1 off one Wilkin & Sons jam.

Here's the interesting part. Sixty percent of customers were drawn to the large assortment, while only 40 percent stopped by the small one. But 30 percent of the people who had sampled from the small assortment decided to buy jam, while only 3 percent of those confronted with the two dozen jams purchased a jar.
Did you hear that? 30 percent vs a mere three percent! We humans apparently suck at taking action when there are too many choices. We don't take action because too many choices make things overwhelming and sometimes even confusing. It also clutters things up. If you can't focus, you just don't bother.
So how do you strike a balance? It's tricky and sometimes it's a bit of trial and error. Here are a few of the most common ways bloggers can give readers choices (but not too many):
Sharing Posts
Most blogs have buttons so that readers can share a post on Twitter, Facebook, StumbleUpon, etc. But does your blog offer the ability to share on sites like Bebo, FriendFeed, Diigo, Orkut, Reddit, MySpace or Twackle? Maybe, maybe not. I'm not sure about you, but I don't even know what half of those sits are! In fact, Chris Brogan actually wrote about this topic just last month.
People don't need 15 ways to share a post. Look in your analytics and see where your referring traffic is coming from. Make sure you have sharing buttons for the places that bring you the most traffic and the places you WANT to gain increased traffic from. Then ditch the rest. I have no data to back this up but I'd say three to five ways to share is safe; try not to go over seven.
Resource Pages or Blogrolls
Depending on the type of blog you have, you may have a resource page. Resources pages are typically one of the highest clicked pages on websites. Why? Because we're information addicts. But it's easy to get overloaded when the page is just a link dump.
The same goes for a blog roll. If your blog roll page (or section in your sidebar) is 30 links long, you're really not doing those bloggers any favors.
For both of these examples, try dividing them into categories so people can make sense of them.
Giveaways
If you do giveaways on your site, you most likely offer more than one way to win. Great! But do you offer 20 ways to win? Or do you make this entry worth one point, this one worth two and so on. If so, simplify!
While I'm sure you have people who enter all 20 ways, I can bet that you drive people away because they feel their chances are too low if they don't enter all 20 ways. Or even ten of those ways. In fact, I've left for that very reason.
Offer multiple ways to win but try not to overwhelm people with so many choices.
Asking for a Vote
Many bloggers participate in blog voting sites. You want to be the top 25 on this site, that site and that site over there. You put their badges on your site so people know to vote for you (which they love cause you're driving them lots of traffic for free). And you ask at the end of your blog posts too.
If you participate in these sites, spread out asking for votes for multiple sites. Don't ask for someone to vote for you at three places. Focus on one and shoot up higher in the rankings.
Questions to Encourage Engagement
One tried-and-sometimes-true way to encourage engagement with your readers is to ask a question at the end of a post, on your Facebook fan page or on Twitter. However, sometimes you just hear crickets, right?
Are you asking three or four questions at the end of a post hoping that people pick one to answer? Or are your questions too open-ended? Questions that give the readers too many ways to answer may scare them away. However, you have to know your audience and what they respond to. If the questions you're using aren't working, try being more specific or asking a "this or that" type question. For example, today I asked my readers if they say "grilling or barbeque." It's easy to answer and all of them ended up writing more than just a one-word answer.
While there's no official "homework" for this lesson, I'd like you to discuss one or all of the following questions with your group (and using the #SITSClass hashtag on Twitter):
Have you struggled with any of these areas? If you are offering too many choices, how will you simplify?
Have you ever left a blog because of how many options there were for something?
Download your lesson handout here so you have it for easy reference.
If you have a question about today's lesson, hop on over to the Think Like a Marketer section of the forum and ask away! You can also find us on Twitter by using the hashtag #SITSClass and by following me on Twitter @momcommblog.
For those of you officially enrolled in the class, you'll be receiving a wrap-up email from us soon so stay tuned!
More From the Think Like a Marketer Class
Be sure you don't miss a single post from this series. The Think Like a Marketer Class is guaranteed to help you learn how to blog better!