This post may contain affiliate links which may give us a commission at no additional cost to you. As an Amazon Associate we earn from qualifying purchases.
Blogging has proven to be an amazing way for us to express ourselves, build memories, make friends, and even start businesses. Every blog has a different voice and it's great to see the many directions people choose to take in their online journeys. However, many of us fall into blogging pitfalls that really should be avoided for an optimal blogging experience.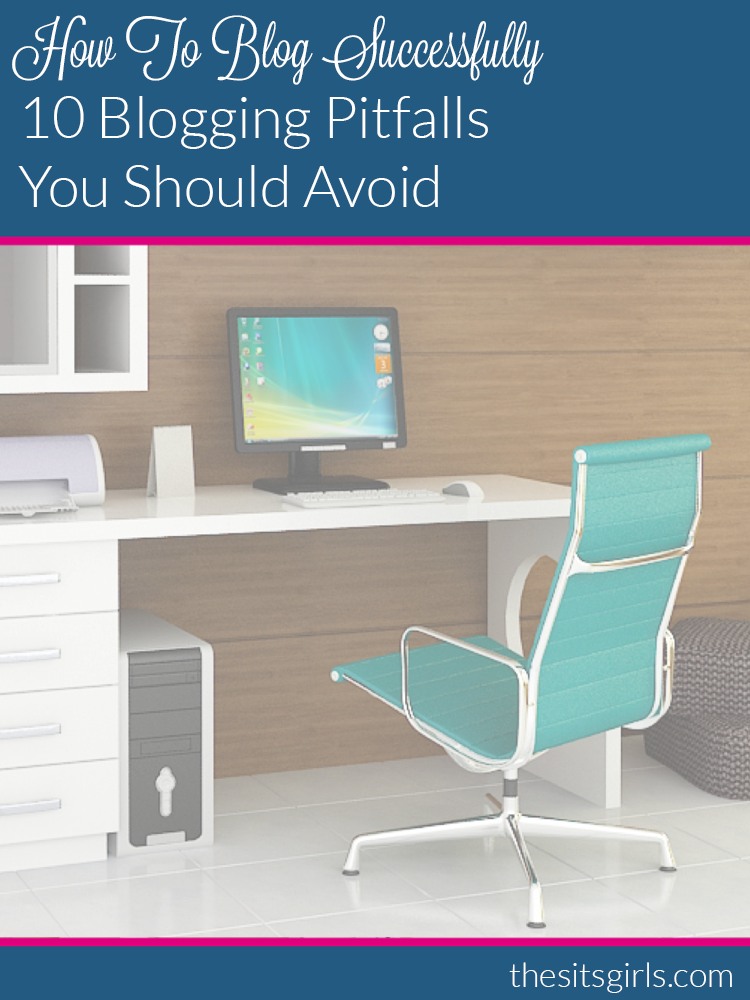 Blogging Pitfalls To Avoid If You Want To Blog Successfully
Becoming a slave to your stats.
Your stats are like your weight. It's fun to dream about what it COULD be, but checking everyday or multiple times a day is not going to do anything for you. Make long term goals, subtle changes, focus on writing well, and keep a distant eye on your stats.
It's good to know who is visiting your site, how they found it, and how much time they're spending on it because this knowledge can help us improve our blogs by catering to what people seem interested (or not interested) in, but obsessing over those numbers will only distract you from better uses of your time.
Obsessing over comments
People are reading. Your content means something to you. That's all that matters. It's okay to want comments.  It feels good to get a response to something you spent hours putting your heart into, but it's not the end all and be all of blogging. Engage your readers, invite them to comment, ask for advice, pose a question..the rest is up to them. It will do you no good to hem and haw about how you got more comments yesterday than you did today. Spend your time instead improving your site's functionality.
Putting unnecessary emphasis on your page rank.
You may or may not realize this, but all sites are ranked in Google and yours is one of them. Alexa tells us where we rank out of millions and millions of websites. The theory is that the lower your Alexa ranking is the more desirable your site is to advertisers. For some, this translates into a competitive thing among bloggers. How can X site have X ranking when all they do is post reviews!?!!? I post amazing content everyday and she posts only once a week, how can she possibly rank higher than me!?!?!
It is easy to get wrapped up in this number and there are ways to improve it, but it's not as important as we think it is. Alexa is not queen of the internet, Alexa does not consider your feelings when ranking you, and does not care if you hold a 1.5 million ranking and your friend is sitting at a ranking of 200,000.  The bottom line is you will never be number one, so let it go. Spend your time focusing on your content instead.
You're blog envious
There will always be a blog better than yours. There will always be a design you want or a post you wish you'd written or a title you wish you'd thought of. It's normal to aspire to be successful. It's normal to find a blogger and hope to someday get as many comments. It's not normal to hate them for it or to spend your time looking for something wrong with them or to leave anonymous comments calling their children ugly.
A blogger is usually successful due to a combination of time, effort, great content, and/or an expertise in their niche. Instead of expending your energy wishing you were as successful as another blogger, wish them well, and focus on your own site. With time, effort, great content, and/or an expertise in your niche…you will get there too!!
You're responding to blog drama
It's all around us. The setback of this hobby we all love is that through writing things are often misread or misinterpreted. Sometimes we write passionately and hit publish before we've taken a moment to think about the consequences of our actions. When you hit publish about anything you have an opinion on, chances are someone, somewhere will disagree with you.
There's nothing wrong with having an opinion and saying so, but the moment you choose to personally attack someone or get involved in a scuffle between bloggers, is the moment you say no to supporting women online and yes to killing brain cells. Just walk away. Instead, spend that time focusing on your writing. (Are you seeing a trend here yet?)
Spreading yourself thin…and not the good thin that makes you want to go shopping

With SO many avenues to reach potential readers for our sites we all spread ourselves thin. Writing, commenting, email, Facebook, Twitter, FriendFeed, Flickr, The BlogFrog, YouTube…the choices are endless.  It's okay to dabble in networks to see if they might work for you. Trying new things and staying current is important, but plan your time wisely. Unless you have hours to spare, you should think about how you can get the most bang for your buck before you get online. Creating blocks of time for the things you need to do will help you accomplish more, and faster.
You no longer leave your house
Maintaining a life outside of your computer is still important…if for no other reason than that it provides you with more things to blog about. You must fight the pull to spend every waking hour on your computer. Your friends will start calling you weird. Your husband will find a new wife. Your children will start skyping you for attention. And your mother will worry about you. It's not worth it. You must continue to exist in the real world.
You've run out of things to blog about.
There's no such thing. You can't run out of things to write about because number one, whether you want to admit it or not there is always something going on in your brain and number two…I just won't allow it. Draw your inspiration from conversations you have with friends, books you're reading, current events, bloggers in your niche, and when all else fails, feel free to peruse my gigantic growing list of writing prompts.
Losing sleep
The less you sleep, the more obnoxious you are to be around. Blogland is not going anywhere and the only other people awake with you at three in the morning live in Australia. Please go to sleep. You will think more clearly, write better, and be altogether more enjoyable when you're well rested.
Caving in to the pressure to perform
Staying consistent with your writing is important, but you do not have to write every single God forsaken day. Nobody wants you to get burned out and everybody wants thoughtful content. If writing every second or third day is what works for you then start there. We live our lives with enough guilt, feeling pressure to write more often or to not miss a day is not only irrational, but it's not fair.
Live your life first, write about it later.