This post may contain affiliate links which may give us a commission at no additional cost to you. As an Amazon Associate we earn from qualifying purchases.
Trying to build your blogging tribe sounds like a lot of work. It is, if you come at it like a job. If you approach building your blogging tribe like creating and cultivating long lasting relationships, it will be easy, you'll have fun, and you'll truly enjoy blogging and social media.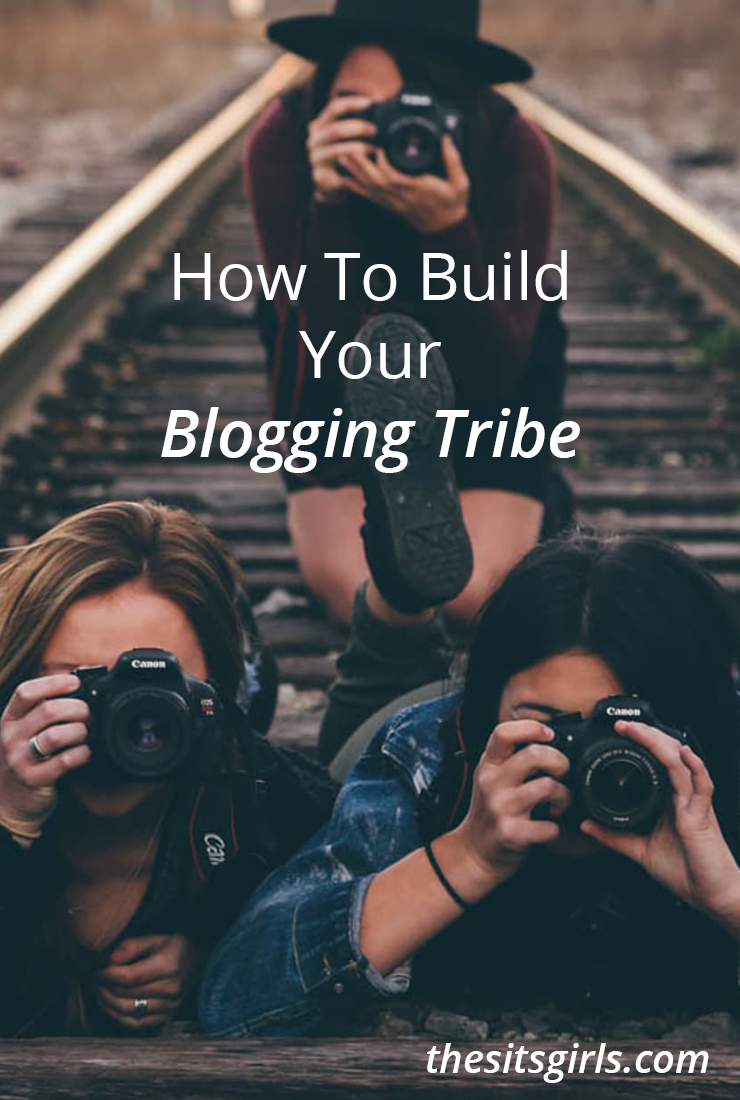 How To Build Your Blogging Tribe
What makes me an authority? We're friends, aren't we? Also, I am all about creating and cultivating relationships, tribe building and connecting with just about anyone that snaps into my creative frame. Are you ready for my secrets?
1. Be social.
You can't build a blogging tribe without being social. For this introverted extrovert, that may seem hard, but it's not. The online world opens the door for me to be as exuberant as I possibly can and then shut the door when it's all just too much. You can't build a tribe if you don't throw yourself into Facebook groups (free), or online memberships (paid). Some of my favorites? I thought you'd never ask! Here are 5 that I can't get enough of lately:
I also highly recommend paid memberships, for example, I am a member of the Academy for Handmade Artists. This paid membership group provides training around topics that matter to makers, social in person chapter activities, and an online forum to connect and share best practices, tools, mentorship programs, and more. What groups like this do, is afford someone new to the handmade community, a bit of footing.
I am looking into joining the Craft Industry Alliance as well, because their online journals alone, are worth it! This membership is run by Abby Glassenberg of While She Naps and Kristin Link of Sew Mama Sew I especially love this free post they shared from one of their recent online journals, Forecast: Color Ahead! Identify & Creating Color Trends for Craft by Lindy Thibodaux.
I already mentioned The Hangout, run by Stephanie Gilbert of Small Talk Social, earlier. Stephanie has a resource library packed full of goodies, weekly online hangouts around social media topics, sharing best practices, tips and tricks, and not to mention, a focus on Snapchat! People, I love it in there!
2. Be authentic.
Being social, and being authentic go hand in hand. If you can't be authentic, and only want to present a perfectly polished persona, forget building a tribe. In fact, you should just not blog or share anything at all. Why? Because people respond to authenticity! Sure, you may get some followers sharing the polished version of yourself, but they will never truly connect with you. Need help in knowing what all this authenticity means in action? You know I have a post for you. Social Networking and Blogging: How to Authentically Connect With Readers.
3. Be helpful.
Now that you're a part of these groups, what are you supposed to do? You can be a wallflower for a bit, there's nothing wrong with that. However, at the very least, introduce yourself and share something funny about yourself along with what you blog about or what your interests are. If you really want to up the ante, answer questions that other members have, or leave helpful links (no, not your own). You'll see, that after time, people will want to get to know more about you, what you're up to and voila, let the tribe building begin!
4. Be varied.
If you noticed, the Facebook groups I am a part of vary between crafts, reading and writing, blogging and social media, Instagram (because that's my love language), and nails (because, nails!). There's a rhyme to my reason here. These are all topics and interests that I truly love, and can talk about, read about, post about, endlessly. This is what you're looking for when you are "casting your net" so to speak.
Write down a quick list of 5 interests, then head over to your Facebook search bar, type each one in, and then click on "Groups" to drill down on those results. Scroll through and see what speaks to you. Facebook even tells you if some of your current friends are in that group (this may be helpful to get your feet wet!). Jump in and be helpful!
5. Be niched.
I know I just said be varied. But, I really am focusing on my niches here. I blog about embroidery, and guest post about social media and blogging. Those are my points of focus, that's my niche. All the others are interests that I have on the fringe of my niche because you always want to have an authority perspective on your specific niche.
So, for example, if I were thinking about launching a new necklace line, and wondered what would resonate with people, I could ask my pal Katie what she would look for, chances are she would tell me embroidered books, tea cups, book quotes that are popular, you get the picture. I always need to push my items on social media, and to stay relevant in that arena, I make sure I keep my ear to the ground in blogging and social media groups.
See how I am varied to leverage but stay niched to keep my authority fresh? Try it. Of your list of 5, take 2 or 3 topics that you want to be the "it" girl in and go hard at those.
6. Be generous.
Now here is the secret sauce of this whole dish. It's as simple as giving more than you get. Share others' content from these groups on your social media channels. Even better? Share them on your blog. That's what I've done and will always continue to do. Another bonus to being active in these groups, is being able to see how they interact with others. I am very observant because these groups (along with Instagram) are how I hand pick people to interview on my blog each week.
Every Friday, I interview a maker on my Making Moves series. I share their perspectives on creative inspiration, what it's like to run their online business, and they share their best business advice. From this series, I've made great connections with people I wouldn't have otherwise made. These makers are intensely passionate about small business and creativity. I share their work, and they may or may not share mine (most do), but it's good blogging karma to lift others up and shine what light you have on them.
My blogging tribe is wide and deep. I know that I can call on them to share a post if I need them to, be a listening ear when I am in a tight spot, or share a laugh when social media gets ridiculously frustrating. With all of the social media changes, and API issues, with Instagram and Facebook changing their algorithms, what do we have for sure? Two things: our living brand a.k.a. our blogs, and the relationships that we cultivate (well three things, we have to include our email lists, right?). There's always focus on the former, but I highly recommend including tribe building. You won't get very far without it.
Keep Reading