This post may contain affiliate links which may give us a commission at no additional cost to you. As an Amazon Associate we earn from qualifying purchases.
DIY (Do It Yourself) and Craft blogs are all the rage in these budget conscious days. They teach us how to stretch our decorating dollar and provide us with ways to create beautiful gifts and celebrations with tools we have at home. If you enjoy creative projects and sharing your tips and tricks with others, then the DIY/Craft blog may be the niche for you!
Here on SITS we've begun a How to Blog Well in Your Niche series to help you become the best at what you do by taking your passion and providing you with additional focus and perspective so you can take your blog to the next level within your niche.
In our previous installments we covered Food Blogging. The first of those posts included How to Create a Fabulous Food Blog which provided ten tips for blogging well in that niche. The best part about that particular post is that it is advice that can be applied to the DIY/Craft blogger as well. Those tips included:
Write Well
Know SEO
Use Quality Photos
Have a Content Sharing Policy
Use Blog Categories Effectively
Get to the Point
Use a Step-by-Step Approach
Make It Easy to Contact You
How to Create Stellar DIY And Craft Blogs

So, what else do you need to create a stellar DIY/Craft blog? How can you continue to grow and bring in loyal crafty minds into your space in the blogosphere?
Below you will find 6 tips specific to creating a stellar DIY/Craft Blog.
1. Let the Seasons, Holidays and Popular Themes Be Your Guide
I'm not your competition. I'm your reader and I can tell you that I hit up my crafty/DIYers for seasonal/holiday projects and for specific themes for my kids birthday parties and slumber parties. My daughter has tired of painting, so this Mama needs to up her Crafty arsenal. I'm looking to you to provide me with the latest and greatest pumpkin craft for fall and a holiday gift craft for Papa. Also, the twins, they're feeling Elmo something fierce…I'm on the lookout for party decorations that I can create because I'm on a budget, so your tutorials may be my saving grace. When you are looking for tutorials and projects to fill your pages, consider the season and holidays coming up.
2. Provide Knock-Offs
Many of us are on a budget these days, so splurging on a gorgeous Pottery Barn decor item may not be in the cards. But, for those crafty minds out there, pulling it off for less by creating an inspired piece out of regular household items is just the ticket. Lindsay with Living with Lindsay has done that with her DIY Anthropologie inspired lamp and Pottery Barn inspired chandelier and shared it with all of her readers.
Most of us can't rationalize purchasing a trendy décor item so a knock-off DIY project fills the need to have a beautiful home or gift item for less! Be sure to provide your readers with tutorials of some of the more coveted items in those PB catalogs and I guarantee they'll continue to return.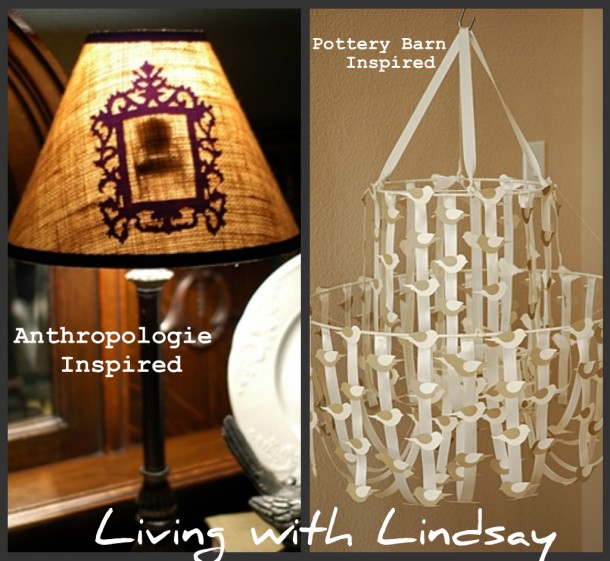 3.  Know Your Tool Arsenal
Readers can smell a novice from miles away, so if you're going to tackle that sewing project, table refurbish or birthday banner on your Cricut machine, then be certain to educate yourself in advance on proper technique. Ensure you understand the lingo that goes along with the project, make test runs before you plan to post.  Readers are coming to you for an easy reference for completing their projects so make sure you give glitch-free advice and they will continue to return to your blog.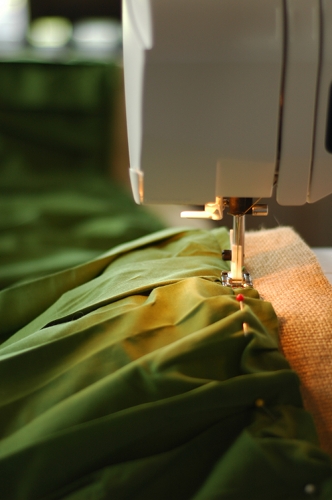 4. Professional Development Needed
If you're looking to take your Craft/DIY blog to the next level, a little education is in order. In addition to knowing your tools and machines, consider a class at your local community college or technical school to provide you with education on proper techniques and best practices. You can also head to your local craft store (Micheal's, Ben Franklin etc..) or hardware store (Lowe's, Home Depot, Ace Hardware) for their free classes. If they aren't free, it's a nominal fee. Invest in yourself, your passion and your blog by becoming educated in all things Craft/DIY.
5. Offer Freebies
Consider offering printables or ebooks/emagazines that offer printable tutorials for your readers to print off for easy use. We don't all have wireless internet that reaches our little craft haven or into the garage where we are sanding our dining room table for resurfacing, so offer us a few tangible options.
Not a digital guru? Then do the searching for your readers like Cindy from Skip to my Lou did when showing her readers how to create a notepad. She found a lovely printable from Vale designs and then showed her readers how to create a Mom's Got a Latte Do notepad from that printable.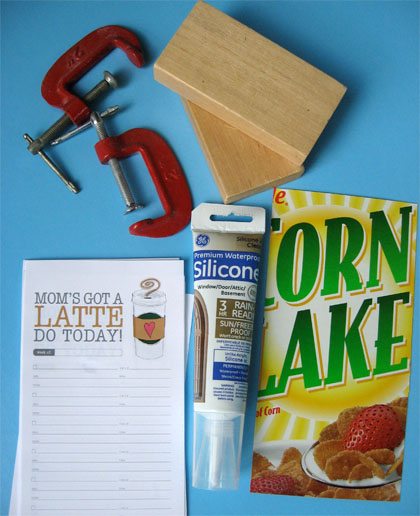 6. Variety is the Spice of Life
When you are just starting out, variety is a great way to go. If you're not Amy from Modge Podge Rocks living in your own niche within the niche – then you should consider posting a variety of craft projects using a variety of mediums.  Woodcrafts, paper crafts, fabric crafts, sewing, modge podge, scrapbooking, digital printables, etc… By taking a varied approach at the start of your DIY/Craft blog, you will meet the interests of many and at the same time you will develop your talents as a "jack of all trades" DIYer or crafter.
As a part of your professional development add learning something new into your weekly schedule. Whatever the latest and greatest technique or machine is, you should consider giving it a shot. Don't have the budget or not sure it's worth the purchase? Hit up your crafty friends or craft stores that allow testing out machines and tools to give your latest favorites a try and make an informed decision on the purchase. Do the work for your readers and become their "go-to" resource for all things crafty/DIY.
7. Find a Niche Within Your Niche
While variety is the spice of life, consider also becoming the guru of one thing after you have spent some time building your site. If you haven't found your specialty, then take my professional development challenge. You may find your crafty or DIY passion that way. Be observant, look for a hole somewhere and fill it! But, make sure you are passionate about it before you commit to being the guru. You don't want to spend all your speaking engagements talking on cross-stitch if you loathe it.
So go forth into the Craft/DIY world with renewed focus and know that your SITStahs are rooting for you!
More From Our Niche Blogging Series: