This post may contain affiliate links which may give us a commission at no additional cost to you. As an Amazon Associate we earn from qualifying purchases.
As the due date of my latest baby approached, I decided that hosting some guest posts on my site would be a better idea than trying to write while sleep-deprived. While I had submitted posts for a few other sites before, I didn't have any experience hosting other writers on mine. So I didn't know how to attract people.
I stalked a few other blogs looking for their guest posting policy, thought about how I wanted to run things on the little screen time I'd have as a new fourth-time mom, and came up with the following tips to solicit guest posts for your blog.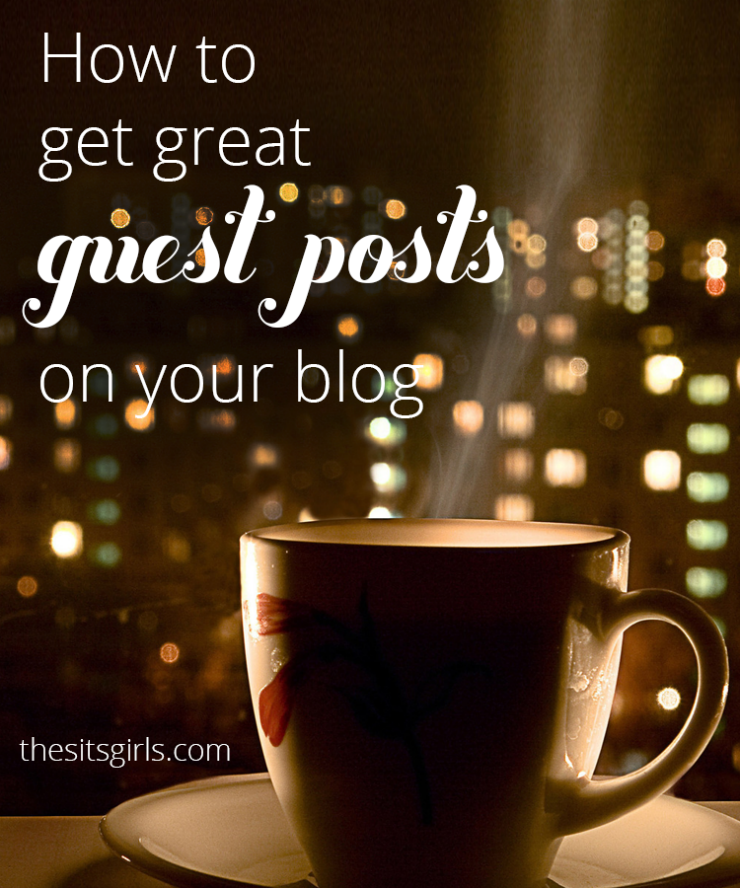 How To Get Great Guest Posts For Your Blog
1. Decide what you want
Will you expect your guest to answer his/her own comments on your blog? What works for word count on your blog? If you make your expectations clear you'll really help your guest and avoid conflict over deadlines, editing, etc. later on.
2. Make your contact info accessible
An email address, Twitter handle, contact form – whatever method you prefer is fine, but if you make people look for it they… won't.
3. Advertise
Twitter was most successful for me, but I also posted my request for posters on my blog and Facebook.
4. Ask your friends
Bloggers you interact with on a regular basis or some of your most loyal followers might be the most eager to write for you. Look for opportunities within your niche to reach out.
5. Provide a topic
People don't always do this for me, and it makes writing a post incredibly difficult sometimes. When potential guests ask me for a topic, I skim through their blogs and try to come up with a unique topic that will interest both of us. Your guest needs to know what your audience wants.
6. Leave plenty of time before the publishing deadline
If the post falls through, you want to have time to come up with alternate content.
7. Return the favor and write for them
It's an easy way to compensate your guest. Swapping posts will keep up your traffic and might challenge you to write outside the box, too.
8. Commit to being a great host
Be prompt in responding to questions. Advertise his/her work like you would your own. Make it worth your writer's time to be with you instead of at home for the day.
Bottom line? You'll be most successful at recruiting guest posts if you make writing for you a pleasant, simple experience. If you treat people the way you want to be treated, word will get around the blogosphere that you're a worthwhile person to write for.
Looking For More Blogging How-Tos?