This post may contain affiliate links which may give us a commission at no additional cost to you. As an Amazon Associate we earn from qualifying purchases.
After you've been blogging for a while, it's easy to work yourself into a blog rut: always blogging about the same topics, feeling like there's nothing you haven't already said in one way or another.
A blog rut can leave you feeling uninspired, like you are simply going through the motions. And your readers will sense that from you, too.
How to Pull Yourself Out of a Blog Rut
So, how do you pull yourself out of that blog rut and get back on the road to success?
Here are the five tips you need to ultimately understand how to blog better.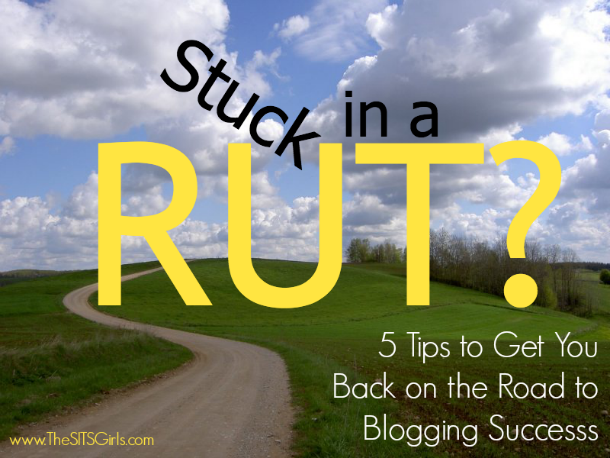 1) Argue with Yourself
Chances are, if you look back at your old posts, you can find one that you now totally disagree with. Or at least now see another side to. Share your new thoughts on this topic with your readers and why you changed your mind. I have an old post about how to deal with your child's teacher that I could now argue against after a bad experience with one of my boy's teachers.
2) Do Something New in Real Life
If you keep doing the same things in your daily offline life, you'll have the same experiences to write about on your blog. So be adventurous and try something new. Consider getting out from behind the computer and attending a blog conference or even joining a local moms' group. You just might find a hobby or a group of people that you love. Even if it's an uncomfortable experience, it will give you something new to blog about!
3) Take Advantage of Idea Banks or Memes
Kat from Mama's Losin' It and Kludgymom both have great resources for writing prompts. Whether you are looking for blog link ups that have themes or specific topics or a seemingly endless idea bank, you will never be at a loss for topics.
Choose a prompt that is different from what you usually write about. Sometimes a prompt can help us remember something we totally forgot about but that would make an interesting story (you know, like that time there was a warrant out for my arrest).
4) Use Someone Else's Words
I'm not talking about the cardinal blogger sin of plagiarism: do not ever, ever do this. But you can ask someone else to guest post for you. You'll give yourself a break from having to come up with a post and perhaps be inspired by their topic to write your own post.
5) Be YOU!
This last point might sound a little silly to you. After all, isn't that what our blogs are? Where we share our stories? But chances are that you don't always share all of you. And while I'm not suggesting you spill those private details that are better left offline, I am suggesting that you share something more about you.
Sometimes we get so caught up in telling stories that relate to our blog topics that we forget that our readers don't just care about our topic but about the person behind the blog.
What are your tips for pulling yourself out of a blog rut?
Feeling Inspired? Keep Reading!
If you liked this post on pulling yourself out of a blogging rut, we have more!