This post may contain affiliate links which may give us a commission at no additional cost to you. As an Amazon Associate we earn from qualifying purchases.
This is part three of my Blogging 101 series. By now, you should be understanding the basics of creating a niche for your blog, as well as the process of building your community. Now it's time to analyze your Daily To Do's in order to continue to grow your blog into a business.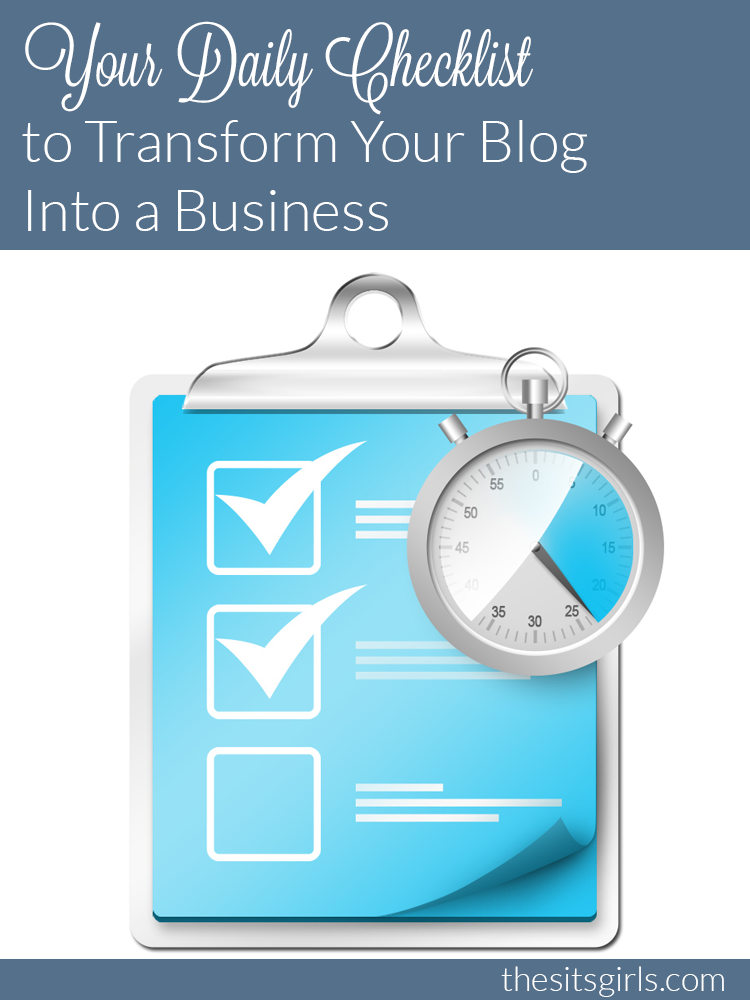 Below is a checklist of things you will need to do daily (or as much as possible) to grow your blog business.
Blog Business Checklist
Blog
Post a blog/vlog daily.
Twitter
Tweet 5 articles and/or posts from others (relevant to your niche for the most part)
Tweet at least one interesting thing. A quote or something happening in your life that is relevant to your niche.
Tweet one question to your followers. Make this as relevant to your topic as possible. Sometimes I do a "complete this sentence" tweet. Sometimes I ask a question with multiple choice. You get the idea.
Follow at least 10 new people per day. One easy way to do this is to creep your favorite tweeps "Following" list.
Tweet out your blog post. As soon as I finish my blog posts, I schedule three tweets spread throughout the day.
Facebook
Post a daily question then tweet out the question with a link back to your Facebook page.
Post your blog post.
Follow other blog pages on Facebook. You can tweet out this question daily to find them, "I would love to follow your blog on Facebook. Tweet me the link."
Google+
Same as Facebook.
Pinterest
Every post should have a pinnable photo and you should EVERY. SINGLE. DAY. pin your daily post.
Emails
Respond to all emails you get from a PR agency. I have created several stock email responses that I can just cut, paste and personalize.
In Addition to Your Daily To Do's:
Keep an ongoing list of post ideas either on your phone or in a notebook that is always with you. You are busy and post ideas will pop in and be forgotten just as quickly unless you track them.
Create Google Alerts for your niche and check in daily. You will get news and blog updates in your niche that will inspire post ideas.
Create an editorial calendar. You will have categories within your niche and it will help you create post ideas and will help your readers know what to expect.
So there you go! Tell me, how many of these items do you actually accomplish on a regular basis? Are there any that I am missing? Let's discuss in the comments below! Be sure to leave your additions to my blog business checklist.
About the Author:

Stefanie Mullen is the co-author of Chicken Soup for the Girlfriend's Soul and owner and founder of Ooph.com, a site devoted to the parenting of tweens and teens. She is the co-host of Your Family Matters on WSRadio.com. Stefanie has been featured in the New York Times and has appeared on NBC, Fox, KUSI and NPR. Connect with Stefanie on Twitter @Ooph.