This post may contain affiliate links which may give us a commission at no additional cost to you. As an Amazon Associate we earn from qualifying purchases.
Increasing productivity is something we are all striving to do. As bloggers we have so many tasks that need to be accomplished during the day, on top of raising children, taking care of the house, going to school and for some working out of the home. It is easy to start to feel overwhelmed. It is easy to feel like giving up! Knowing how to increase productivity can help you feel better and live a less stressful life.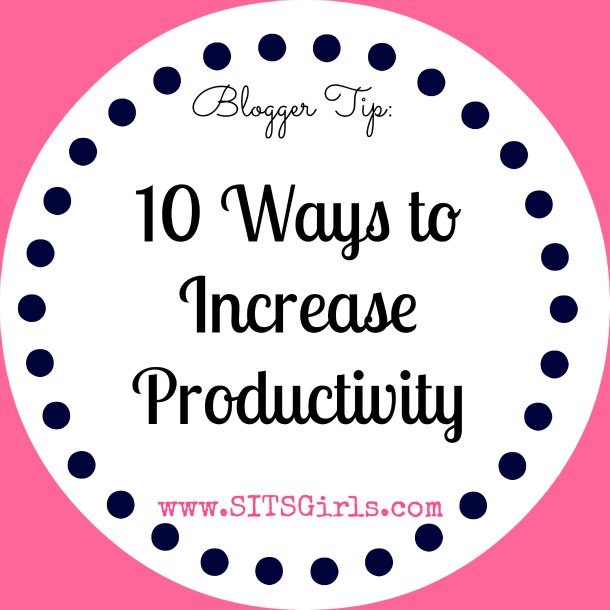 10 Ways to Increase Productivity
Today we are giving you 10 tips on becoming a more productive blogger!
1. Use a Calendar System:
The type of calendar you use really doesn't matter. What matters is you use one! In order to stay productive you need to know what needs to be done and when. There is nothing worse than missing a deadline because you didn't have it written down. You can use a traditional day planner, Google calendar or create your own system.
2. Organize Your Email:
Nothing will slow your day down like going through hundreds upon hundreds of emails. Organizing your email is key to staying productive! Set up labels and organize your conversations so they are easy to find. Use filters so your  email automatically gets filed for you. Flag items that need to get done right away. The biggest tip I have for you is to unsubscribe! Look at every email you get and decide if you really need to be on that mailing list. If not hit the unsubscribe button, the less email you are getting the better.
3. Limit Social Media Time:
Oh the love hate relationship we all have with social media! It's so fun to chat in Facebook groups, Tweet with our friends, search for the bottom of the Pinterest page and follow all of the gorgeous pictures on Instagram. Hours and hours can go by with nothing getting done besides looking at social media. To avoid getting sucked into social media, set an online timer. Give yourself 15 minutes in the morning, 15 minutes in the afternoon and maybe 30 minutes before bed. As bloggers we fill like we need an online presence at all times! Use programs like Hootsuite to schedule your  tweets and Facebook posts.
4. Hire Help:
Hiring help is a huge time saver! Having an extra set of hands will allow you to get more done. If hiring help isn't a possibility for you right now look into other options. Ask another blogger to guest post for you, have your significant other take the kids to the park on Saturday mornings or swap babysitting duties with a local mom. Another great way to get help without paying is to swap duties with another blogger. Maybe you are really horrible at making graphics, but your really good at writing eye-catching tweets. Try swapping those tasks with a blogging friend. Yes, you are still doing work but this way you are doing something that comes easy for you.
5. Say NO!
You have to say no sometimes! It just isn't possible to do it all, at least not without help. At Bloggy Bootcamp Phoenix, our fellow SITStah Tiffany said "If it isn't a hell yes, then it's a NO!" I think this is such an amazing piece of advice. If you aren't so excited about the opportunity, then you should probably pass on it.
6. Use a Reader:
There are so many amazing blogs on the internet and it's nearly impossible to read them all. Thankfully, there are readers like Blog Lovin and Feedly that help you organize the blogs you read. Give yourself an hour a day to look through your reader and read your favorite blogs.
7. Budget Your Time:
You budget your money so why not budget your time. Every morning map out your day using time increments. Knowing exactly how your time will be budgeted that day, will allow to check things off your list without getting overly stressed. Knowing how much time you have for each task will give you a clear picture of where you need to focus your energy that day.
8. Prioritize:
As bloggers we have a lot going on! On any given day you need to write a blog post, interact with your tribe, take pictures for the next blog post, promote your giveaway, comment on other blogs, review a product and a million other things. Figure out which things need to come first. If you have a sponsored post due tomorrow, make that priority #1 and maybe skip on social media for the day.
9. Make a Daily List:
Lists can be your best friend if you know how to use them. I used to make a daily list that had 20 or more tasks on it. I would spend a lot of time looking at my list throughout the day, but not a lot of time actually working on my list. I found that having to many items on my list does nothing to increase my productivity. I try to limit my list to 3 must-do items and 3 items I would love to get done but aren't a priority. Working with a small list motivates me because as I check off items, I feel like I really am accomplishing something.
10. Use Mobile Apps:
Mobile applications can help you accomplish so much! Some of my favorite apps are Feedly, Word Press, Mailbox, Twitter, Google + and Facebook. While I'm waiting for my kids at school, waiting for my husband while in the sporting store or sitting in the doctor's office you can normally find me using a mobile app. I can reply to tweets, update my Facebook, organize my email and even start a blog post all on my phone!
Looking for More Posts Like This One?
If you liked our tips on becoming a more productive blogger, keep reading!
How do you stay productive? We'd love to hear your tips and suggestions in the comments.