This post may contain affiliate links which may give us a commission at no additional cost to you. As an Amazon Associate we earn from qualifying purchases.
Guest posting can be a great opportunity to drive traffic to your blog, gain exposure and build long-lasting relationships with other bloggers.
But…before you jump in to the world of guest posting there are some things you should do and some thinks you should NOT do. Following these tips could be the difference between an awesome guest post experience and a not-so-good experience.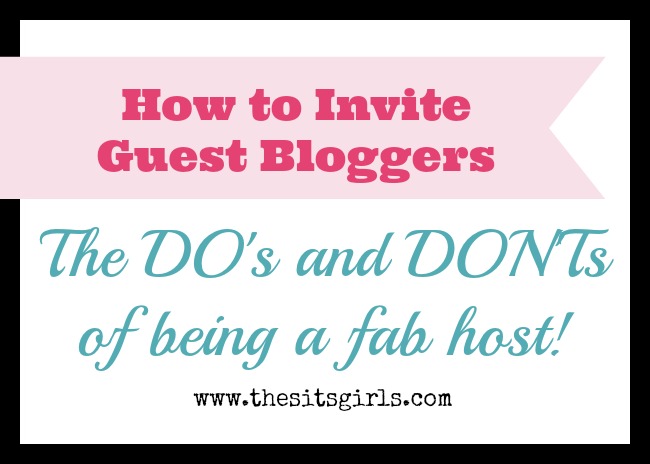 The Do's and Don't of Guest Posting!
DON'T Send Blast Email Invites. 
Try to stay away from email invitations to more than one person. Take the time to reach out to your potential guest individually. Let them know in the email what you love about their blog and writing and share a little about why you're inviting them. Take the time to make your invitation personal. After all, you are asking for them to share their time with you.
DON'T Be Bossy.
Nobody likes a bossy host. Although you want to be clear in your invitation on what you're looking for, you don't want to put too many restrictions on their writing. That's a huge turn off. If you're making the choice to invite them over, you should be familiar enough with their writing style and blog that you can trust them to come up with quality content on their own.
DON'T Ask At The Last Minute.
Ya know how annoying it is to be invited to a birthday party at the last-minute? Yeah. Don't do that. Be sure to give a few weeks notice in your invitation. You don't want your guests to feel pressured to drop everything just to come over to your place. A decent notice will increase the chances that your guest will accept the invite and let's them know you value their time.
DON'T Keep Bad Company.
Just like in real life, you are who you hang out with. Make wise choices in the friends you keep online. Your guests are a representation of you and your blog. Be sure to reach out to those bloggers who you can trust to value your space and your readers as you would.
DO Clean House.
Nobody wants to come over to a cluttered and chaotic blog. Before you send out the invitation, clean your place up a bit. De-clutter your sidebars and footers. Make sure your site navigation is user-friendly and your design is easy on the eyes. Make it a cozy place that others would be proud to be at.
DO Make Your Guest Feel At Home.
Plan to block out some time the day their post goes live and promote it on your social media outlets. Join the conversation in the comments section of their post. Jump in on twitter threads and "like" the comments people leave on Facebook about their post. It's nice to let your guests know they are not alone.
DO Introduce Your Guest To Others.
Tag their Facebook page in a post, invite your Twitter followers to follow your guest too. Send a tweet that says "Have you met @______? You'd love her blog!". Get a conversation going on Google+ related to their post topic with a link back. Make your guests feel special.
DO Be Gracious.
After they share their time with you and your readers, send a heartfelt "thank you" in an email. A genuine thank you means a lot to people. Let them know how much you enjoyed having them over and how great it was to introduce them to your readers.
Now get those invites going and feature some of your favorite bloggers this summer!
Looking for More Posts Like This One?
If you found our overview of Guest Posting helpful, be sure to check out these too: