This post may contain affiliate links which may give us a commission at no additional cost to you. As an Amazon Associate we earn from qualifying purchases.
I've been researching this post for you since the beginning of January! We are that committed to your blog life here at The SITS Girls. Always looking for ways to pare down and really focus on content, we're bringing you 7 areas to comprehensively* KonMari your blog to pared down perfection!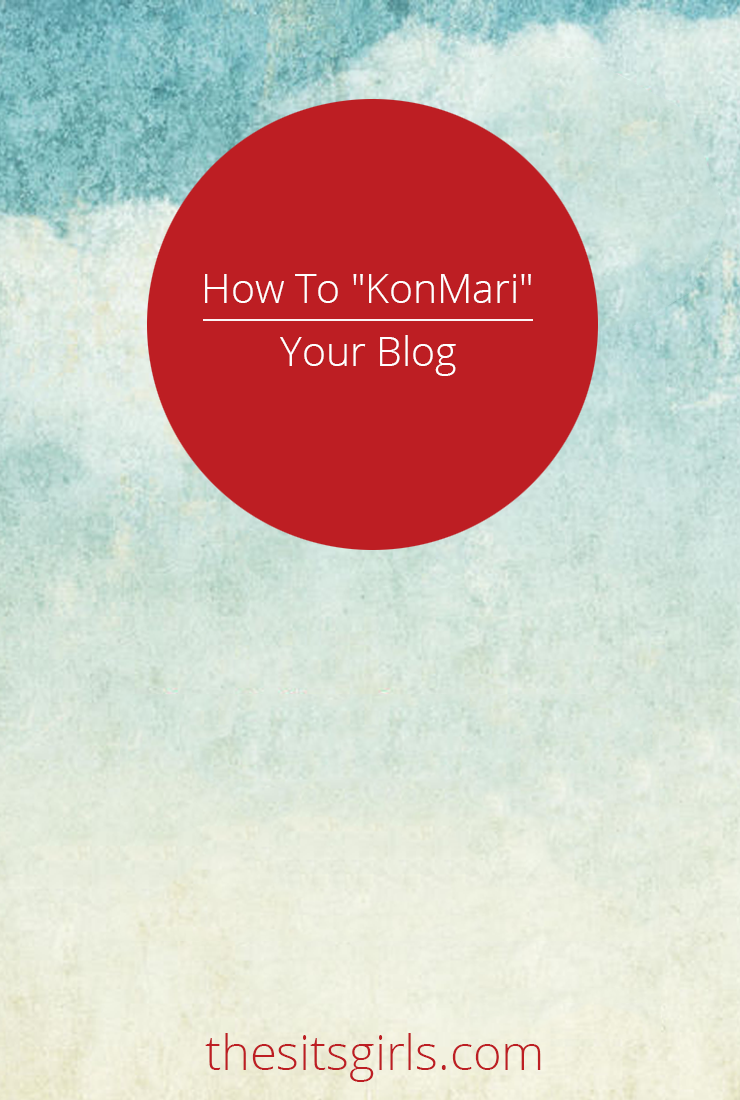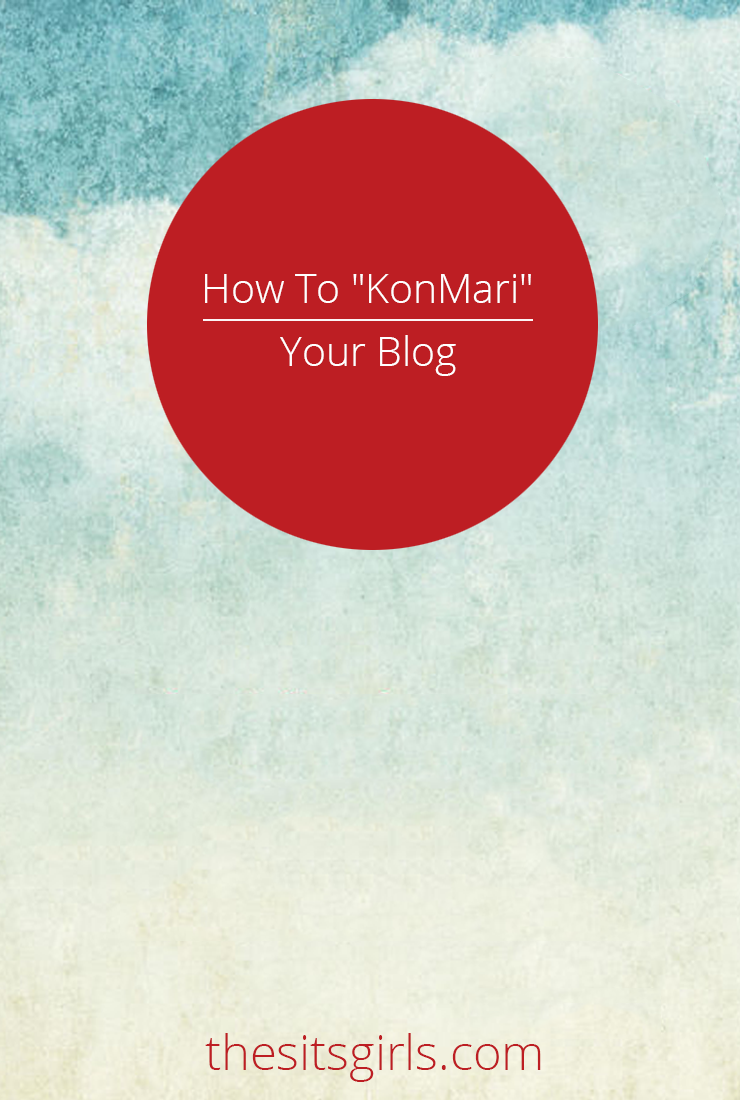 How To KonMari Your Blog
After reading through The Life Changing Magic of Tidying Up by Marie Kondo, I found the theme almost immediately (and because it's repeated so often in the book.). If it doesn't bring you joy. Toss it. Now, you would think that this blog post, showing you how to KonMari your blog, would be a short post. In fact, I joked with my girlfriends about it. "This KonMari post? Easy. Get rid of all your junk!" But that's easier said, than done. Let's get started.
Respect Your Blogging Space
Think about it, when you go on a diet and lose weight, say 10 pounds, who is likely to notice, the friend you have coffee with once a month, or your spouse who sees you every day?
As a blogger, you are up close and personal with your blog. You see it every day. You're always in the back end tinkering, or sharing it on social media. You're too close to your blog to just purge everything. You need to pull the blog apart, and examine it, before deciding whether to keep it or get rid of it.
Marie Kondo talks about respecting your clothes. To consider their feelings. My first thought was, who cares if my socks are stretched out. But then I really looked at my drawers. The reflected how I felt before the big purge. Like nothing fit. I've since lost a little weight and fit back into my pants, thank you very much. I digress! Really look at your blog. Does it look happy to you? Consider it's feelings and respect that it is a space you are creating, but it's kind of a living, breathing thing.
Categories & Tags
These pile up quickly, don't they? What is your blog's focus? Even lifestyle bloggers should have core topics they write about. Pare these down to 3-5 max. Where do I get this number from? It's manageable. Should you have 8-10 categories, maybe you should be an aggregate site and get contributors, because that's pretty scattered, you ask me. If you're unsure about your niche, head over to this post, Finding Your Blogging Niche the Easy Way.
There are widgets that give you the option of showing your tags as a cloud, and sure, that looks cool, but do you really need all of those tags? Tags are meant to help readers drill down into your content, and for you to search on the back end and say, pull together a quick round up post of all of your St. Patrick's Day content.
How do you pare this down? Think about how your reader will find content on your site, and then tag accordingly. For example, for the Category of "holidays" you would have a sub category for Valentine's Day, Halloween, St. Patrick's Day, etc. Sticking with St. Patrick's Day, in this example, you could have the following tags: desserts, meals, crafts. So when you're readers are searching your site, they can find all of your "desserts" content, "meals" content across all holidays, or all of your "St. Patrick's Day" content, easily.
Header & Footer
These are your blog's brackets. What holds all of your amazing content in a pretty little package. Take a look at your header as if you were a new to your site reader. Is it appealing? Is it inviting? Or is it dated, cluttered, or worse – pixelated because you didn't have the size right? If your header falls on the dated, cluttered, or worse side, I highly recommend you head to Canva right now, and create something clean and simple as a placeholder until you can find a graphic designer or until you can read through this post and implement the steps!
Most people read blogs and other online content on their smart phones. The chances of someone scrolling down far enough to get to your footer are slim, unless your content is SO slammin' that they want to find you, and follow you on all the places. First things first, *high five* for your content.
However, we don't need to have the kitchen sink down there either. If you'd like to have your bio with a cute image, an email sign up and your social links OR (not and) Instagram feed, that's perfect. We don't need to have posts you've liked, a blogroll, inspirational quotes, your favorite pin, no.
Give your reader a little credit, if they love your blog, they'll get to your social platforms, they will get to know you and learn who your favorite bloggers are. Your footer shouldn't be a catch all for widgets. Please.
How are we doing so far?
See how we're moving up on the blog, going from smaller things to the larger items that may be harder to part with? That's KonMari! We're building your purge muscles by starting small!
Sidebar
Oh the sidebar. We blogging ladies love them, don't we? We need to have social icons, a picture, a short-captivating-informative-but-funny-and-oh-so-real-bio, a Pinterest board, our Instagram feed, the Facebook like box, a search bar, an email sign up, a blogroll, a long list of categories, a tag cloud, archives, ads, network logos, NaNoWriMo achievements…the list goes on, and on, and on.
You know what? If your readers are reading a blog post (on their smartphone, remember?) they don't see your sidebar. *GASP*. They don't. Sidebars will usually be seen at the end of all of the posts you have on your homepage, or after your post. Do you think your readers are going to scroll and see if you slayed NaNoWrimo back in 2010? I didn't think so either.
I say, yes to the profile pic and bio, yes to the social links, yes to the email signup , yes to the search bar, and yes to one ad. ONE! And that's it. I know, you worked hard on that novel back in 2010. It's time to move on. Your blog will thank you. Don't believe me? Check out this post: Don't Make This Mistake: Declutter Your Sidebar
E-content + Subscriptions
This is huge. Think about everything you've downloaded this month. All of the freebies and webinars you signed up for that had the one freebie that was going to change your life. You may not have even attended the webinar! I speak from experience. Go through the files on your computer, and check the last modified date. If you haven't touched them in a month, toss it. Why? You will never read it. If you really need it, or want it, you can download it again by resubscribing. Trust me.
Social Media
Which platforms are you using? Better question, how many social media platforms are you using consistently? The best question, the KonMari method question — which social media platforms bring you joy? If you are loving Instagram, but hate Facebook, drop Facebook! No one says you have to be on Facebook, just like no one said you have to be on Twitter.
Your readers and followers will respond where you are authentically engaged. If you are phoning it in, I promise you, they'll see that. For example, I've been on Pinterest vacation for a hot minute. I know. That's pretty much a HUGE no-no in the blogging world. But, it's not bringing me joy at the moment, and that's totally ok. I didn't get rid of the account, because I know that I'll eventually go back to it, but for me, these social platforms run hot for a time, and then they cool off. Focus on what brings you joy, don't waste time and energy on things that don't.
The Ultimate Purge
One Lent, a friend and I did a creative cleanse. Sounds intriguing, doesn't it? We spent thirty days tacking our desktops, blog files, about pages, emails, physical spaces…you name it. It feels so nice to have everything organized when you sit down to blog.
And just like that, as you remove those items from your blog that fail to bring you joy, you will know when enough is enough. That is, you will know what appeals to you and your newly trained eye. You will be able to easily decide whether you want that new plugin, or profile on the shiny new social platform (you know there will always be a new platform). You simply ask yourself if it brings you joy.
Maybe that means trying it out to see if these shiny new objects spark joy. That's ok. Like all muscles, they need to be used and this process of letting go, is all part of training those aesthetic muscles.
If you really want to KonMari your blog, schedule a day, and knock it all out in one go. Chances are, if you take a break, you'll never finish. You'll procrastinate, other priorities will pop up and snag your attention, and you'll lose steam. This is a tall order, but anything worth having is tough, so, on with it.
*You'll notice I added email and ecourses/downloadable content here, too. Why? Because, as bloggers, we're in a content frenzy. Always striving to be the best blogger we can be, we sign up for every newsletter there is to get that freebie. Hey, it works for email list growth right? But like Marie Kondo notes in her book, you have to grab everything and put it all in one place. Get it all and purge.
So tell me, do you think this will be a piece of cake, or do you think we should have cake first before we begin? I would love to read your thoughts in the comments! Happy Purging!
Keep Reading