This post may contain affiliate links which may give us a commission at no additional cost to you. As an Amazon Associate we earn from qualifying purchases.
You can find linky parties almost everywhere you look in the blogging world. Some are centered around a particular topic and some are basic "following" linkies.
Have you ever linked up and then thought that they aren't worth it because you aren't getting anything in return?  I'll share some hints on how to make the most of a blog linky!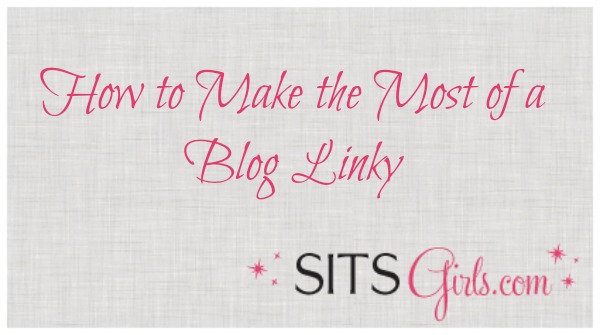 First of all, before we even get started, make sure that YOU are following the rules for whatever blog linky you are joining in with.
When you enter your link, you should be linking directly to a particular post, not to your home page. That way, if someone follows the linky the next day or days later, they can find what post you meant to link.
Somewhere in your post, you should mention that you are participating in a link up- some have a button, but if you don't use that, you should at least include a text link back. Otherwise, it might not be obvious that you are joining in and the person managing the links might delete yours because you look like spam. Plus, it's good manners: the linky gives you traffic, you should give your readers a way to find it, too
Make sure that you really are participating in what you are linking to: do not link a giveaway or a follow me post to something like MamaKat's Writer's Workshop or my Pour Your Heart Out. There are linkys out there specifically for those types of posts: find the right ones to link up to!
Now that you have your post done and are linked up, here are some tips to make the most of a linky:
Try to link up as early in the day as you can. While I don't think you need to fight to be first, if you link at the end of the day, you aren't going to get as much traffic.
Do NOT just link and run. If you link and then do not visit anyone else, do not expect a ton of traffic.
Visit as many of the other linkers as you can. You can do this in any order that you want- you don't have to go in order.  Visit the ones after yours, visit the odd numbers, the evens, the ones that end in 3 or 4 or whatever number you choose.  For a huge linky,  where you might be #327 to link up, start visiting those directly above you and worked your way up. Then, visit those who linked up after you.
Leave a thoughtful comment when you do visit. Saying "I'm stopping by from  SITS Christmas Cookie Link up, come visit me at ….." really doesn't do anything to encourage someone to visit you. A comment like that means you probably didn't read their post, so why should they go read yours?  We all want our words to be heard- show you've read theirs and they will be more likely to go read yours, too.
The same goes for if someone comments on your post from the linky- do not go to their blog and just say "Thanks for visiting my blog!" without reading their words.
You can mention where you are visiting from or thank someone for visiting your blog- but there should be more to your comment.
An exception might be if you are participating in a Follow Blog Hop. However, if you cannot find anything to say about that blog, then WHY are you following?
Don't get discouraged- some people do return visits and others don't.  But, the more that you try, the more likely that others will find you, too.
A blog linky is what you make of it!  They can be great places to find new blogs, but YOU have to be an active participant. There isn't a magic linky out there that will draw in tons of new readers without you doing any work.
Do you participate in linkies? Do you have any tips to add or stories to share?