This post may contain affiliate links which may give us a commission at no additional cost to you. As an Amazon Associate we earn from qualifying purchases.
Joining us today is Liz from a belle, a bean & a chicago dog. Not only are we thrilled to have Liz guest post, but she is providing information that you just can't miss! If you are in the market for a fabulous and FREE About Me page, then your search stops here. Learn more from Liz about the About.Me website and how you can have a one-stop description just as fabulous as hers.
Undoubtedly, your blog's About page is something you've crafted with great care. An About page is a necessary website element, and probably the first item a new reader will check out after reading your latest post. The SITS Girls have already done a great job of providing tips and ways to razzle dazzle readers with your blog's About page, so today I'm going to talk a bit about a different type of About page: an About.Me profile page.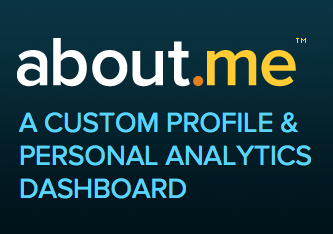 What is About.Me?
About.Me is a free, custom profile builder that lets you create an online hub of sorts for everything related to – well – YOU! About.Me is an easy-to-use and completely free tool that allows you to create your own .com, with details about yourself and links to all your sites and related social media accounts. About.Me provides you with a branded URL (About.Me/FirstNameLastName) and includes basic statistics like visitors, time on site and Klout.
Below is my About.Me page.
Your About.Me Photo
If you haven't seen an About.Me page before, you might be taken aback by how "front and center" the photos are. About.Me does allow you the option to include a thumbnail image of yourself in your Biography section, and also provides a limited selection of basic backgrounds to choose from. However, you'll see when viewing their directory that the best and most distinctive pages are of a single unique photo that fills the screen.
Your About.Me Bio Box
From the Edit Profile mode, you can build your biography box with your name, additional text about yourself and links.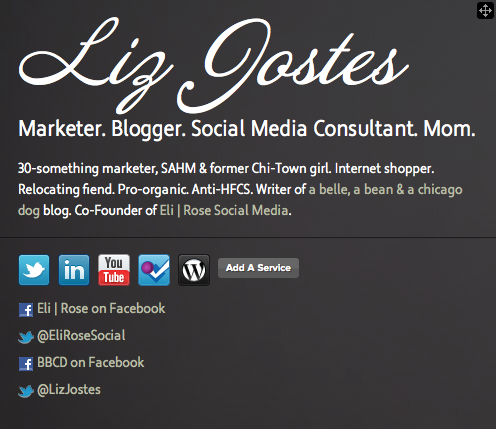 You can choose your font colors and styles, the color of your links and what services you'd like your Bio Box to include.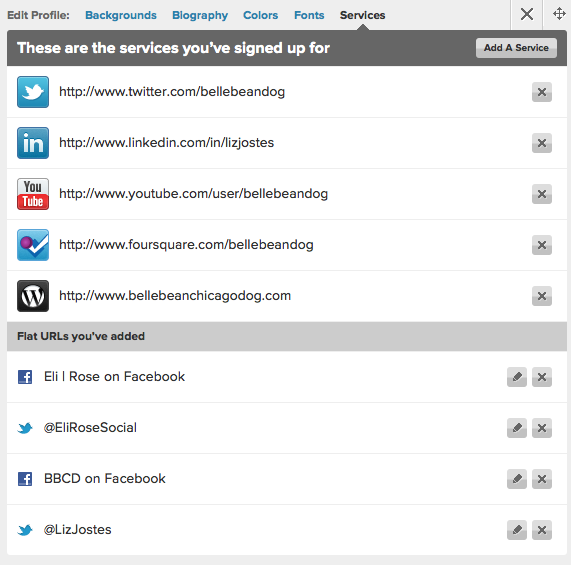 Once you have written your bio and added your services, you can drag and drop your Bio Box to whatever position on the screen works best with your background photo.
Who Should Create an About.Me Page?
Anyone who finds themselves saying, "Well, I have a personal blog at this web address, run two Twitter accounts, do some freelance ork for a couple sites and – oh – here's my Facebook fan page and LinkedIn information, too!"
It seems like the longer you are active in the blogosphere, the more sites and profiles seem to attach themselves to you. While we all work hard to include all relevant links to other sites and profiles on our main blog, we usually can't display our other affiliations as prominently as we'd like there. Creating an About.Me site makes it easy to share (and remember!) all your information with 1 short URL.
All About About.Me on Vimeo
About the Author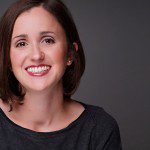 Liz is a 30-something marketer and mom to 2 girls and a dog. She writes about parenting, marriage & life in general at a belle, a bean & a chicago dog, tweets from @BelleBeanDog and helps small businesses use social media at Eli | Rose Social Media.
More Tips on Creating Your About.Me Page