This post may contain affiliate links which may give us a commission at no additional cost to you. As an Amazon Associate we earn from qualifying purchases.
Starting a blog seems like such an easy decision – until you actually start doing it. Suddenly, that one little decision turns into dozens of big decisions – and none of them seem all that simple!
First of all, you need to decide what kind of hosting you're going to use; then you have choose a niche for your blog. You need to think about all the choices for monetization, and what social media platforms you want to focus on.
But perhaps the most difficult decision of all, the one that causes bloggers to lay in bed at night worrying, is "What am I going to name my blog?"
Choosing a name for your blog is the first, and likely, the most important, step towards branding yourself as a blogger. It's also a decision you have to make before you actually start blogging, which can be frustrating if you haven't got any experience with it. Think about it – one of the most important decisions people have to make with their blog, and it's a decision they must make before they even really understand what blogging is about! So, what should you keep in mind when it is time to name your blog?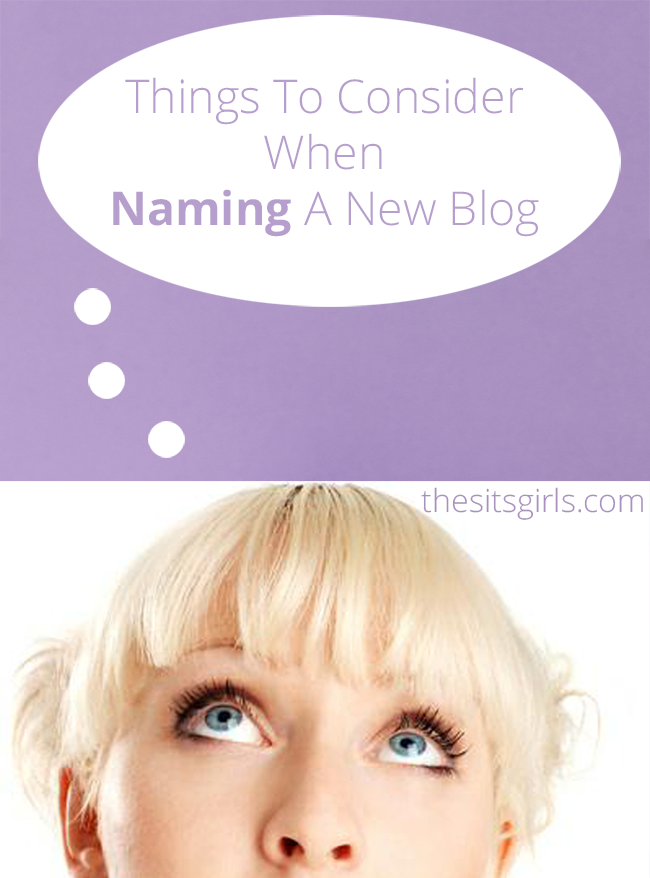 How To Name Your Blog
Your blog name will be your identity, the way people recognize you, so it's important that it portrays the right image to the reader. It's also important that it will be easy to market. With that in mind, here are a few tips that should help you choose the perfect blog name.
Using Your Own Name
This can be a great option, especially if your blog is going to be supporting another business. For example, if you're a freelance writer or a life coach, having YourName.com looks super professional and is a great way for your clients to find you.
But this choice does have it's drawbacks to consider. First, your name may not be all that original – if you have a common name, it's likely already taken as a dot com. If your name is difficult to spell, that can also make it harder for people to find you.
However, if you really want to use your name, you can get around these problems. If you're name is common, try adding something about your blog to your name, like JaneSmithWrites.com or JaneSmithCoaching.com. If your name is hard to spell or remember, you can shorten it. For example Sara Bratiklovavich can become SaraBee.com or "CoachSaraB.com". A little imagination will help you come up with the perfect combination.
Choosing a "Branded" Name
On the other hand, there are many of us who prefer keeping our name out of the spotlight. In that case, it's a no brainer to come up with a cute, memorable name for our blog. Well, the idea is a cinch, actually coming up with a name can take a little more thinking!
Start by thinking about the subject of your blog. For example, you may be writing about family, crafts and DIY. Make a list of words that fit those topics (use your thesaurus!): homespun, homecrafted, handmade, homegrown.
Next, think of a few words that describe you: Mom, wahm, girl, chick, gal, crafter; then toss in any other words that you think apply to the "feel" of your blog: love, happiness, joy.
You can even make up words if you want, like "knitalicious" or "craftapalooza." The goal here is to make a huge list of words that feel like "you".
Finally go over your list and look for combinations that feel right. Just from this quick list I've made here, I've got ideas like HomeSpunLove.com, TheHandmadeFamily.com or HappyCraftingMomma.com. Any of those would be a fun blog name (they may already exists – I didn't check!).
Whether you're going with your name or choosing a branded name, there are a few tips to keep in mind:
1. Generally, having a "dot com" is the best option. There is something to be said for some of the newer extensions, especially if you can work it into a clever name, like CraftWith.me; however, you run the risk of people searching for CraftWithMe.com.
2. It probably goes without saying, but don't use any trademarked names in your blog name. Even if it's just a clever name, and your blog really doesn't have anything to do with that brand, don't do it.
3. Keep it short and simple. You're going to be typing your blog name a lot. Make it something that's not going to drive you crazy. Also, avoid cutesy usage of numbers in place of words, like Home2School.com. It's not an absolute no-no, but it's always best to be as straightforward as possible.
4. Write your blog name out all as one word, the way you would type it into your browser. How does it look? Have a friend or two look at it. Make sure that the words don't form any embarrasing, unintended meanings. For example, the website "Teacher's Exchange" looks a bit odd as "teachersexchange".
5. Consider buying various versions of your final choice. I own two versions of my blog name, with and without the word "The" at the beginning. Either way someone searches for me, they'll find me. It can help to have every domain extension, if only to prevent someone else from buying it and piggybacking on your hard work. You may at least want to consider purchasing the .com, .org and .info version of your blog name.
These tips should make choosing a name for your blog easier and more fun. The most important thing is to find something that's meaningful for you and that will stick out as memorable to your readers.
Now that you have chosen a name, you are ready to start a blog. Use this guide and get your new blog set up in 20 minutes!