This post may contain affiliate links which may give us a commission at no additional cost to you. As an Amazon Associate we earn from qualifying purchases.
Have you been thinking about starting a link up on your blog? Bloggers love having the opportunity to share their posts. Before you start a blog link up, you need to have plans in place to make it successful from the beginning. If run correctly, link ups are a great way to build a community around your blog, and to bring in more traffic.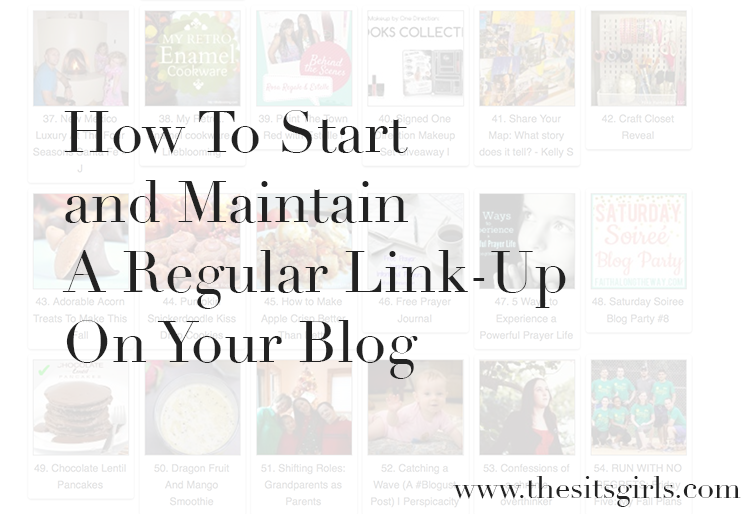 How To Start A Blog Link Up
There are several decisions that need to be made before you start a blog link up. Planning carefully will help you to start strong, and keep you from having to make changes later.
Brainstorming and Planning
1. Blog Link up Theme. The first thing you need to decide is the theme of your link up. It should represent at least one of the topics that your write about regularly on your blog. It could also represent something broader, like the central theme of your blog. The important thing is that the theme fits naturally with your blog, so it doesn't throw off your readers.
2. Blog Link Up Name. Once you have a theme for your link up selected, you will need to come up with a name. This name should clearly represent what the blog link up is about. It is fun to come up with a clever and catchy blog link up name, but if it doesn't clearly represent your theme, you could end up with people stopping by to share posts that don't have anything to do with your link up.
3. Blog Link Up Hosts. You need to decide if you want to host the linky on your own, or find a co-host whose blog has a theme or focus similar to yours. When you have a co-host, you have more than one blog reaching out to the followers of the link up. This helps to take some of the pressure for promotion off of your shoulders, and also helps you to reach a wider circle of bloggers from the very beginning. The Sunday Showcase link up I feature each week has several other co-hosts, and it works well for us. If you decide to invite a co-host in, make sure it is someone who you can count on to participate each week.
4. Blog Link Up Timing. Deciding whether to make your link up a weekly or monthly post will also need to be discerned. I have always hosted my link ups weekly. It is easier for people to remember to come back to link up more posts when they do it every week. You have to decide what schedule will work well for your theme and focus. There are blogs that offer a monthly link ups, like the Virtual Book Club, that are really successful.
Making a Badge
Creating a badge for your link up is really important. You will want to invite the people who are sharing on your blog link up to display the badge at the bottom of the post they are sharing. You can easily create your own badge in PicMonkey. Most badges are 250×250 pixels. They display the name of the link up, have a graphic that represents your theme, and link back to your blog.
After you have badge, you will want to create a button code to display under the badge in your sidebar and link up posts. Don't worry if you haven't created code before, you can go to Grab My Button Code Generator to easily create the code needed for your badge.
Guidelines for Those Joining Your Blog Link Up
Another thing you want to decide is the guidelines you are going to share with the people who are linking up. It is important to state what you are expecting from each person that links up.
Do you want them to visit the person that linked up before them or three others on the link up?
Do you want them pick their favorite post in the link up, and share it with others via social media?
There will be people who just drop a link and run. What will you do if they do it week after week?
What is going to happen to the links that are shared that have nothing at all to do with the theme of your link up?
Are you going to create a disclaimer sharing that by linking up they are giving you permission to share their post in next week's link up or on Pinterest?
Blog Link Up Services
Finally, you will need to decide on a link up service. I have used both Linky Tools and inLinkz to host link ups. I tend to like inLinkz better, but that may be because it the one I have used the most. Both services cost about $2 a month, and both are easy to use.
You have words or picture link up options with both services. If you are a site that doesn't use a lot of pictures on your posts, you may want to select a link up with just words. If have site that uses pictures to illustrate your posts, you definitely want to select a picture link up.
Getting Your Link Up Going
It is really important to get the word out that you are starting a link up. You need to invite your followers and subscribers to stop by and share their posts. You can do that by sending out an e-mail, sharing the start date on your favorite social media sites, or creating a post to share about it.
You can also leave a comment on friend's or people you want to be your friend's blogs, and invite them to share a particular post on your link up. I love to be invited to join a link party.
One last tip before you get started. Visit a bunch of blog link ups. Write down what you love about how they are organized, and what you don't love. In your link up, include your own version of the things you loved.
How To Maintain Your Blog Link Up
Getting started is only part of the battle. Now that you have started your blog link up, you have to maintain it if you want to see it grow.
Comment On Every Link
One of the keys to maintaining a link up is to stop by and thank each and every person who participated for taking the time to join your link up. It is like sending a thank you note to them. Make sure to leave a quality comment on their post along with your thank you. This is the community-building portion of hosting a blog link up, and it will keep people coming back to participate week after week.
Support Your Participants And Share Their Links
Each week you may want to share some of the posts that were linked up the previous week. You can share a picture from a few of your favorite posts along with a link and a short introduction. People love to see their work featured in a link up. They will be more likely to return to link up again when they know that someone noticed their work and thought it was special enough to feature it.
You may also decide you want to create a Pinterest board for your link up. You can share your favorite posts from the link up on that board during the week.
To take it one more step, you may decide to share some of the links from your link up on Facebook, Google+, or Twitter. The people that have linked up will love that. Other bloggers will see how much you care about the posts that were shared, and want to come share theirs as well. Remember in each share to mention that the post was shared at your blog link up.
I hope these tips will help you as you think about taking your blog to the next level by hosting a link up. And don't forget to check out our weekly DIY and Saturday Sharefest link ups here on SITS.
Keep Reading
Looking for more information about growing your blog? Here are a few posts you'll find helpful: