This post may contain affiliate links which may give us a commission at no additional cost to you. As an Amazon Associate we earn from qualifying purchases.
I wrote a personal story style blog before I started writing about blogging, social media, and my creative endeavors. I wrote about my unequally yoked marriage (he was an atheist and I am Catholic), my children, my miscarriage, and my abusive childhood. Each of these posts have been read over and again, commented on, featured on larger aggregate sites, and started email conversations that turned into friendships.
How can you turn your heartache, joy, sadness, and even the daily mundane into blog posts others want to read? I will share how I navigated the often painful, but personally fulfilling process of capturing any moment in your life, on the page, or in this case, in a blog post.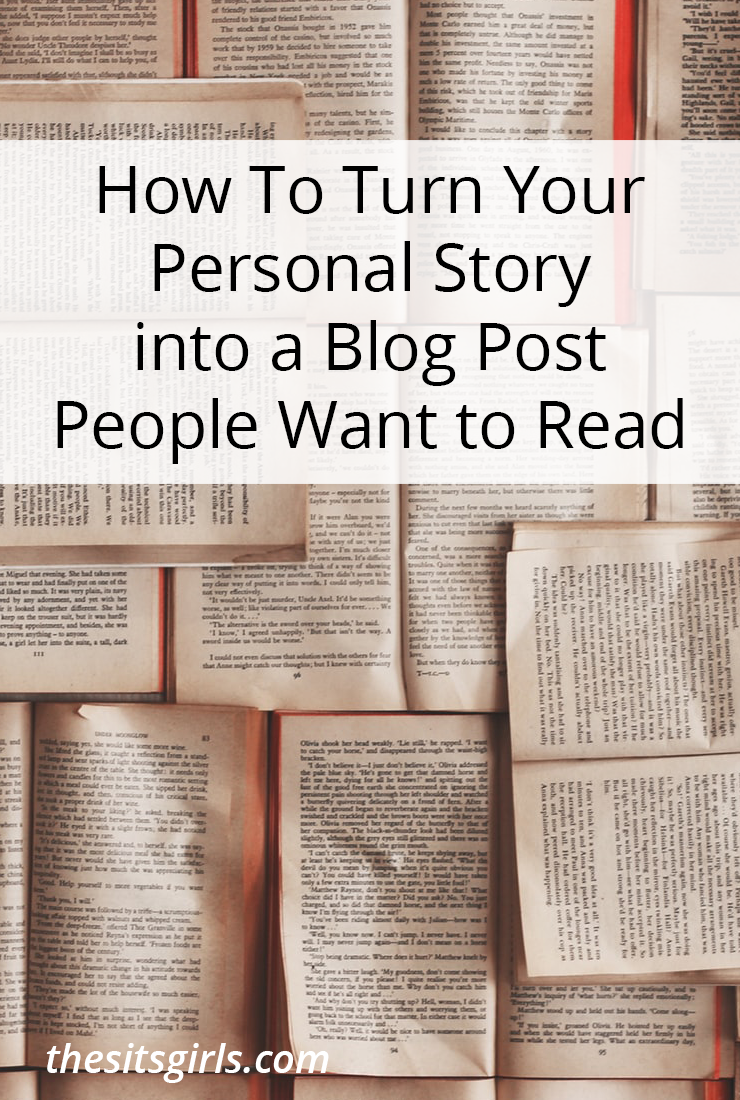 How to Turn Your Personal Story into a Blog Post People Want to Read
Be a Storyteller. People love stories. When you share your personal story with others, you become the narrator and want to keep the interest of your listeners. This is the time to break out the bells and whistles with a thesaurus, adjectives, and alliteration. Embellish with words, certainly, and share your perspective, Schererazade style. Remember her? She was the ultimate storyteller, saving her own life by telling the king amazing tales.
The story goes, that the king took a virgin to bed every night and cut her head off each morning. Schererazade, however, told the king a story, stopping halfway each night to keep the king's interest. He couldn't kill her, he had to know what would happen next! She repeated this for 1001 nights, in the end, when she had no stories left to share, the king couldn't kill her. He was in love with her and made her queen.
Need help improving your writing skills? Read this post on books to improve your writing.
Be Genuine. I noted to be genuine directly after storytelling for a reason. If you aren't a single mother with 3 children, going to school in the evenings, writing a novel and struggling to make ends meet, don't write that story. We've all seen viral stories on the internet where people embellish a little too much and they're found out. Just because you don't have a super heroine day to day life, doesn't meant that you can't find the jewel in your day that others can learn from.
Keep a journal, or a google doc, even a quick memo on your phone of little things that you see, feel, remember, and notice. I guarantee you that you can turn it into a story, connecting the dots with a life lesson others will need and want to read. The key is learning how to be more aware and self reflective with every moment in your day, to glean stories that can be shared in an authentic and genuine way.
Need help working on how to convey that authenticity? Read this post How to Authentically Connect With Readers.
Be Humble. Do you love blogs where everything is perfect? Let me paint it for you, perfect pictures, with crisp white backgrounds, children dressed in color coordinating outfits, flowers lovingly arranged on a table, homemade, vegan, fresh from their little farm out back meals, and the most loving, romantic relationship this side of eharmony? BARF. Show me pretty, but show me ugly, too. I am all for the blogs that show the wonderful sides of their life, but to really hook me, and your readers, you need to show your imperfections.
Why? Because we're human and imperfect. Readers can relate to others who show that maybe they don't always have it together. It's the humble blogger that is willing to share that on the blog. The caveat here, is not to share just the ugly, or worse yet, complain all.the.time. That's not humble, that's egoism turned on it's ear. Keep it balanced and you're golden. An easy way that I do this, is post the occasional selfie on Instagram with no makeup! I want my followers to know, this is me, warts and all.
Need more Instagram help? Have a look at all of our Instagram posts here.
Be a Teacher. Show the reader you've learned something or changed your outlook because of the memory you've shared or the moment in your day that you felt compelled to write about. Within the telling of your story, share why this important for the reader to read, or how will they be enlightened by your piece. Don't do this in a straightforward way a la "this is important for you to read because…", but in a way that shows you've learned the life lesson. Share how this particular story has given you pause to delve more into your feelings or perspectives. Write out what you've learned. Subconsciously, the reader will take your lesson in, and you don't come off looking like an egomaniac.
Want an inspirational take on this? Read this post Why I Still Write: Sharing Personal Stories on my Blog.
Be a Friend. Remember that you are writing for others to read. This is not a personal diary where you rattle off what's going on. Write to that one person you always write to on your blog. You have one of those, right? Before you even begin writing at all, you need to know who you are writing to. It should be one person and you should know that person well enough to call them a friend. This person can be someone you know in real life, a stranger you saw on the street, or a stock image you picked out online. Name this person, give them a history from favorite foods to education, to the kind of job they would have. Do not overlook any detail at all in this exercise.
Why is this so important? By writing to this person, you are cultivating your ideal audience. Just because you don't know a 29 year old, Fine Arts degree having, single woman who loves to paint, and eat snickerdoodles, with her blue and brown eyed toy Corgi, doesn't mean you can't get to know her in your head. Developing this ideal person to write to will open you up, especially when you're writing about the hard stuff, because she's become a friend that you write to all the time. Trust me on this, just ask my ideal, made up person to write to, Therese.
Need more writing tips? Read this post with 29 blog posts that will help you become a better writer.
Be conscious. Don't write like this. Four word sentences are great. But not in succession. Not continuously in a paragraph. This is boring. Can I stop now? Please, be conscious of your sentence structure. Mix short sentences with longer, flowing ones. On a subconscious level, this keeps the reader interested in your turn of phrase. If your posts are composed of 4-5 sentence paragraphs, I guarantee you, they won't be able to click away fast enough. After you've written your piece, go over it and just check that in your attempt to capture the events as they happen, you aren't rattling off a list that could rival a phone book.
Why is this important? If you are sharing personal stories, you want to ensure that what you share is compelling and worth giving your heart on a platter to strangers. Make it worth your time, effort, and piece of your heart. Otherwise, why bother?
Worried about other common grammar mistakes? Head to this post that shares common grammar mistakes that bloggers make.
Be Comfortable. If you're not comfortable with what you're sharing, don't write it. Put it in draft and sit with it a while. If after a few days, you're still nervous or second guessing publishing the post for the world to see, maybe it's best left in drafts, or transcribed to your personal diary. Just because it happened doesn't meant that you have to share it. Some memories are best kept to yourself.
Protect the innocent, but, be brave in your truth.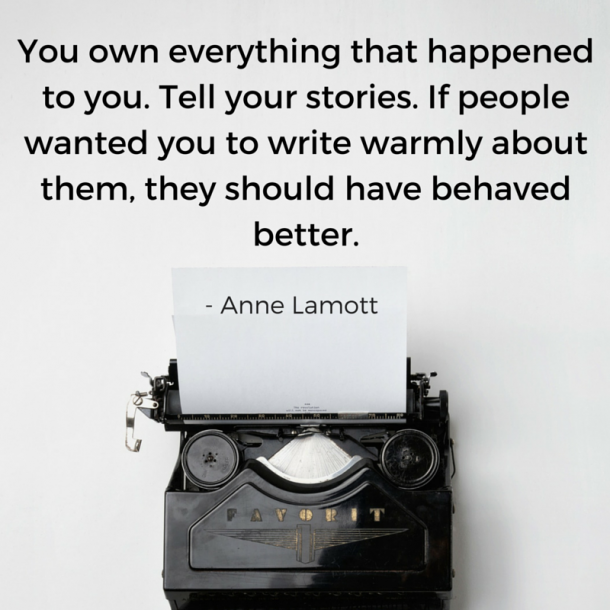 I don't need to add anything else to what Anne Lamott wrote in her book, Bird By Bird: Some Instructions on Writing and Life.  
If you still aren't ready to share your whole heart on the page, try sharing a small snapshot of your week. Work your way up to the bigger stories.