This post may contain affiliate links which may give us a commission at no additional cost to you. As an Amazon Associate we earn from qualifying purchases.
We have a fun tutorial to show self hosted WordPress bloggers (Blogger blogs coming soon!) how to use My Live Signature. This is a free service that allows you to add a blog signature to the end of your blog posts.
It can give a blog a personal touch and let's face it, they're kind of fun to add!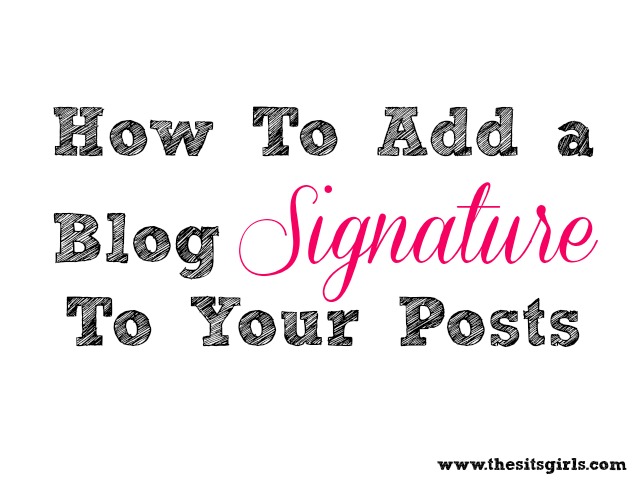 Create a Signature For Your Blog Posts Using My Live Signature
The very basic steps to use My Live Signature are simple. In addition to the below video tutorial, here are the steps you'll need to follow:
Create a signature at My Live Signature: http://www.mylivesignature.com/ (You could use PicMonkey or any photo editing service, but this seemed quickest). Click "start now" and then use the signature creation wizard to develop a signature in your own style.
Save the finished signature image to your computer.
Upload your signature image to photobucket.
Go to your plugins dashboard and add/activate the  "Add Signature" plugin.
Go to settings to edit the "MVP Add Signature".
Copy the html code from the signature image you uploaded to Photobucket.
Paste the code into the first signature line.
Select where you'd like your signature to show up.
Save!
It's that easy, but I'll admit watching this quick video to see exactly how it's done will make it seem that much more manageable! Take a look:
Now It's Your Turn!
Let's get to chatting about blog post signatures.
Have you ever considered a custom signature for your blog? What are you using to create a signature?
More Video Tutorials
We're steadily growing our blogging and social media video tutorials each week! To check out everything we've published to date, head over to our YouTube channel or click through the links below.