This post may contain affiliate links which may give us a commission at no additional cost to you. As an Amazon Associate we earn from qualifying purchases.
How to write a blog post. It starts with a simple idea for the most part.
After all, you are a writer.
Ideas flow naturally for the writer in you, just as water flows in a stream.
Now you need to put that idea into words to actually compose a blog post that will grab your readers' attention.
But how on earth do you do that?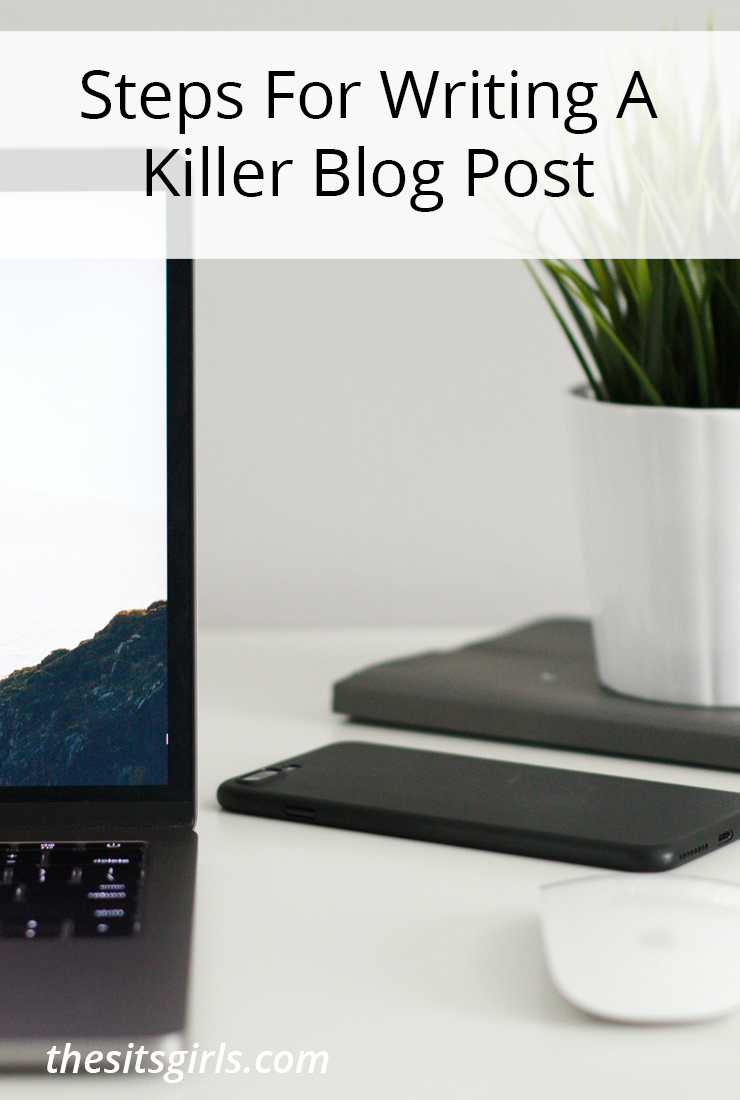 Blogging Tips For Beginners: How To Write A Killer Blog Post
These simple steps will help you learn how to write a blog post for any niche.
1.  Know your audience
Writing a blog truly starts with your readers. Let's say you are a lifestyle blogger, if so, you don't want to blog about quantum physics anymore than the tech blogger wants to blog about potty training their kids.
When writing, you need to try to remember that those who read your blog come back time and again, because they not only enjoy your voice, but your niche, as well.
2.  Start with a general topic and working title
Once you have a feel for your audience, you need to decide on a blog post topic that will work with those who follow your blog. The topic is a crucial component in composing your blog post, and one that needs to worked on before you can take the next leap forward.
Along with the general topic decision comes the need for a basic title. Don't get too hung up on this title, as you can most certainly tweak and change it before you hit the publish button later with a more click worthy title, but put a working title up there — it will help you narrow down your topic/title when beginning to write.
3.  Create an eye-catching introduction
I think most of us know the intro is what pulls in your reader after glimpsing your title. If your intro falls flat, most likely you will lose your reader faster than you can blink.
It is for this reason you want to make sure you have a solid and strong introduction, to not only entertain your reader, but to also pull them in to to read the actual meaty contents of your blog post. Your intro should succinctly explaining your article's purpose, as well as showing readers how you will address your post's main topic.
4.  Write an outline of what you want to say in your article
Once you have your introduction formulated, you will want to outline the actual blog article's content.
For this you can use bullets, lists, tips, or whatever works for you.
Remember this is truly just a way to help organize what you actually want to convey in your article.
5.  Write Your Heart Out
Now that you have a working title, introduction, and an outline, it is time to get to the actual writing for your article.
How to write your article? Quite simply, you will fill in the blanks of the outline you created in the last step. You may use this chance to expand using your own knowledge, or even citing, with proper attribution (of course), other sites that will help back up your article claims.
6.  Conclusion and call to action
The introduction and main content is completed, but you still need to conclude your thoughts, because any article worth reading needs a great conclusion to finish strong.
At this stage you want to wrap your article up in a nice, pretty package for your audience. It is also here that you will want to include a solid call to action, so you will have your visitors engaged even after your article has been read and digested.
You may have the reader subscribe, comment, or read further articles on similar topics. No matter what you choose as your call to action, you want to make sure to give them the incentive to do any or all of these before you end your article.
7.  Edit, proofread, and add a feature image
You have written your article, but it still isn't quite ready to hit the publish button just yet.
Why?
Well, now it is time to proofread what you have written for spelling, grammar, and content, too.  You can use online tools, such as Grammarly for this.
This is also when you make sure to add appropriate images, as well as decide on a featured image that works with your overall blog topic.
Also, at this stage, you will want to make sure the visual appearance of your blog article in preview form looks the way you want it to, because this all adds to keeping your reader hooked while perusing your article.
8.  Finalize your title to make it click bait and catchy for your audience
Your article is just about ready to be published, but you still need to nail down the perfect title before you send the article out for the world to read it. This is the time to make your title a bit more sexy and click bait-worthy, if possible.
Also, at this stage, you need to remember that your title has to adhere to Google's SEO guidelines and no exceed 65 characters. So, in essence you have 65 characters or less to grab the reader's attention and keep it.
9. SEO is where it is at
Your title is now SEO friendly from step 8, but you need to make sure the rest of your article is, as well.
The three key components to SEO at this point for you to concern yourself with is as follows:
a. Key Words that identify what your blog post is about and would be a term or words someone would potentially search if they were looking for the information you are writing about in your blog post;
b. The Meta Description or short sentence description to sum up what your article is about for possible viewers who reach your article by using search engines like Google;
c. Anchor Text or a word or words that link to other web pages like your own or other outside websites that have similar content to your article that may very well boost the rank of your page in a search result.
Now that I have given you all the proper tools to compose a killer blog post above, go forth and write that next viral worthy article for the masses to read and feel free to sign up FREE with me for your own copy of a killer blog post outline.