This post may contain affiliate links which may give us a commission at no additional cost to you. As an Amazon Associate we earn from qualifying purchases.
I started blogging about six months ago, because I missed writing. It was as simple as that. I finally felt as if I had time in my life to concentrate and be creative. With parenting responsibilities waning and my father's long illness and death over, I felt the time was finally right. I started writing with both trepidation and excitement.
My first few blogs on WordPress were met with approbation and enthusiasm by my friends and family. As a stay at home mother for the past 25 years, I had a tendency to sometimes think what I was doing wasn't as good or important as curing cancer, building a business, or solving the Middle East conflict. So it was kind of thrilling to be acknowledged for an accomplishment beyond tending to the needs of my family.
Putting my thoughts and words out there was a little (ok, a lot) scary for me at first, but as I gained a little confidence (something we SAHMs sometimes lack), I submitted a few pieces for publication and was elated when they were accepted. I didn't get paid for my first published pieces but it was enough for me to see my name on something more than a field trip consent form.
With a growing resume, I started submitting to various sites that paid. When I got my first (albeit small) check, I stared at it with something akin to wonder. For a while, I felt as if I were on a roll. I wrote about my kids. I wrote about my dog. I wrote about my brother. I wrote about loss, and I wrote about writing. But then I started to hit a wall. I felt as if perhaps I had used my best stories and material. Each rejection felt personal and shook my already wobbly confidence. After only a few short months, I felt that perhaps my best days as a blogger were already behind me. I wasn't sure what was next on the horizon.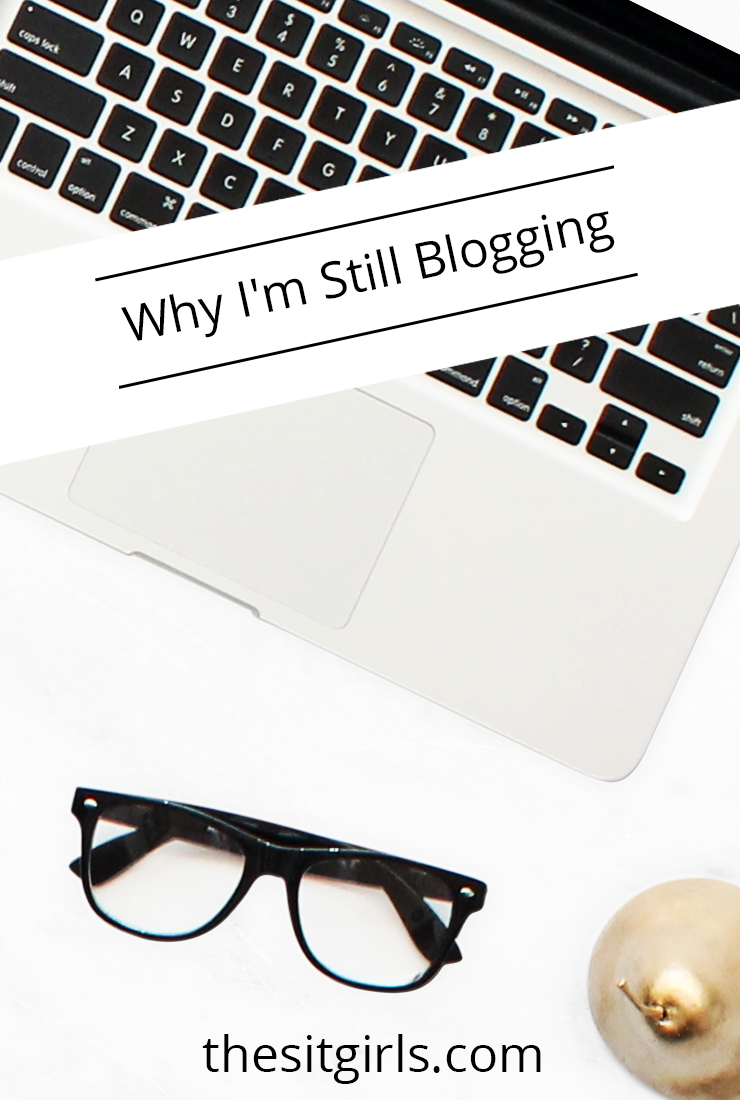 Why I'm Still Blogging
I thought about what I liked most about writing. One of my gentle readers commented that my pieces were leaving behind a legacy for my kids, and I felt really good about that. I admit that I enjoyed the accolades I was getting and the fact that my name finally appeared in a Google search for something other than being the next of kin in an obituary or an attendee at a class reunion.
A good friend of mine, who is an amazing writer, took a year off from blogging before resuming her work with a vengeance. I know that I am extremely fortunate to be able to write when the inspiration hits me and not for food money. I have also come to realize that even the best writers aren't brilliant each and every day. In addition, although I have told some of my important stories, the thing about life is that there are always more tales to be told; inspiration often comes from surprising sources and when we least expect it.
In the brief amount of time since I started writing again, I have gained and learned a lot. By telling my stories, I have become more self-aware. I am coming to recognize that, as a mom, I did cure and solve a lot of things, and that I have indeed built something. And although it's nice for my kids to see that I can do more than food shop, even if I had never written a word, it would have been ok. They already know my thoughts and my stories and what is in my heart, just as I know what is in theirs. My own validation is becoming enough.
So in the end, it all comes back to where it started; the writing. I think that, although I may take breaks and I may not always get published, now that I have found my way back to doing what I love, it would be almost impossible to stop. For anyone else out there who is questioning the "point" of writing, or is having a bad day and wondering where it is all going, try to remember how great it feels when the words flow and the joy that comes when the last edit is done.
Forget the frustrations and rejections, look past the hard parts, and know that you are indeed a writer.
For me, that is enough.
Author Bio: Marlene Kern Fischer
Marlene Kern Fischer is a wife, mom of three sons, food shopper extraordinaire, and blogger. Her work has been featured on Grown and Flown, Kveller, Beyond Your Blog, Ten To Twenty Parenting, The Erma Bombeck Writers' Workshop and Her View From Home. You can read more of her work on her site: Thoughts From Aisle Four.