This post may contain affiliate links which may give us a commission at no additional cost to you. As an Amazon Associate we earn from qualifying purchases.
When you start to make money from your blog, you will hear from people, "Make sure you treat your blog as a business." But what does that mean? For many people, the first step in treating your blog like a business is incorporating with the Secretary of State. Before we talk about the differences in corporate forms, here are a few reasons why you benefit from incorporating your blog.
The biggest benefit to incorporating your blog is that it limits your liability. That means that if you maintain the appropriate corporate formalities, you should not be held personally liable for the debts of your business. In other words, if your business has a debt or your business gets sued, your personal assets, like your house or savings, are protected.
Additionally, incorporating can aid in the legitimacy of your business. Prospective partners often give more credence to your business when they see that you have gone through the incorporation process. Incorporating your blog can also help you protect your brand since only you can register a business with that name in the state where you file.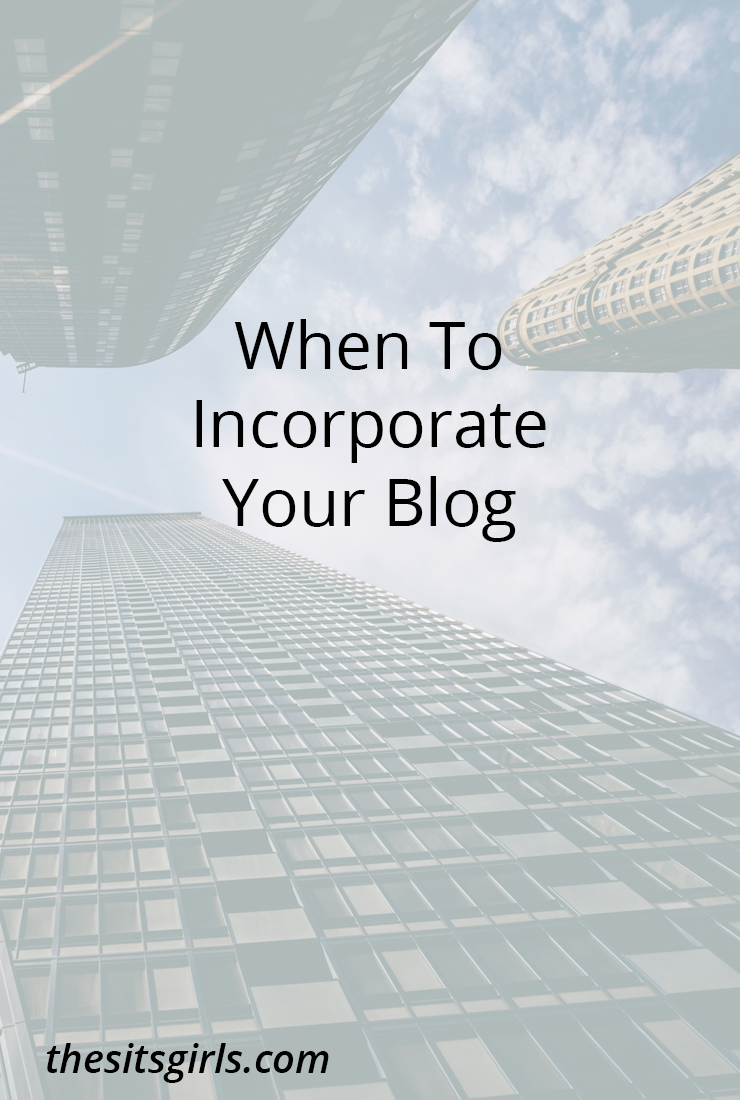 Incorporating Your Blog
Now that you know the benefits, how do you know which corporate form is right for you? Here is a list of the most common type of business structures, along with the pros and cons of each. (Note: There is a free printable checklist at the bottom of this post you won't want to miss!)
1. Sole Proprietor
If you decide to run your blog as a business, with you as the sole owner, and you haven't filed any paperwork with the Secretary of State, you are a sole proprietor.
Pros of Sole Proprietorship for Bloggers:
No specific paperwork or fees to be a sole proprietor
You are in control of your business with no other shareholders or directors
Cons of Sole Proprietorship for Bloggers:
You may still need to file for a business license. You can check here to see if your state requires a business license.
If you are using a different name for your business (other than your own name), you will need to file a DBA. (See below.)
You will be fully liable for all assets and liabilities of your company. For example, if your company were to be sued, you would personally be responsible for any judgment against your company and your personal assets could be seized.
2. General Partnership
If your business has two or more people sharing ownership, it's a partnership. This is comparable to a sole proprietorship in many ways.
Pros of Sole Proprietorship for Bloggers:
It's generally less expensive to file for a partnership than another type of entity.
You share the financial commitment with another person.
Cons of Sole Proprietorship for Bloggers:
You will still need to file and obtain any necessary licenses.
You would need to file for your DBA.
There's no limited liability. You and your partner are equally liable (unless otherwise agreed to in writing) for all assets and liabilities.
3. DBA
We are regularly asked about whether a blogger needs to file for a DBA, which stands for "doing business as." This type of filing is typically called a fictitious name registration (but the phrasing may vary depending on where you live). Generally, this is used when your business has a different name than the entity that owns the business. For example, if you are Elizabeth Wakefield and your blog is named Sweet Valley Happenings, you would want to file for a DBA as Sweet Valley Happenings.
Remember, a DBA does not take the place of a business license for a sole proprietor.
4. Corporation
A corporation (sometimes referred to as a c-corp) is an entity owned by shareholders.
Pros of the corporations for Bloggers:
Shareholders are not personally liable for the debts of a C Corp.
Ability to raise revenue through the sale of stock.
Cons of the corporation for Bloggers:
All corporations must be organized and filed with the Secretary of State.
Corporations are highly regulated and require more formalities than other structures. Shareholders elect directors and the directors appoint the officers of the corporation.
Annual board and shareholder meetings (and corresponding minutes of those meetings) are required.
5. S Corp
Legally, an S Corp is still a corporation, like a C Corp; however, an S Corp is a special designation with the IRS to receive different taxation than a C Corp. We recommend talking with your accountant to see if the method of taxation used for an S Corp makes sense for you personally.
And, if you decide that you prefer the LLC as your legal business structure, you can still elect to have your LLC taxed as an S Corp.
6. LLC
An LLC is a limited liability company, which offers many of the benefits of a corporation (limited liability) without the same formalities of a corporation. Taxation is also handled differently.
Pros of the LLC for Bloggers:
Governed by LLC Members
Typically, members are not liable for the LLC's debts.
Fewer formalities than a corporation.
Cons of the LLC for Bloggers:
Annual filings required through the Secretary of State.
May be less desirable if you are seeking funding because you can't issue shares of stock.
Which form of incorporation is right for your blogging business?
It's ultimately up to you to decide which form is right for your business. Typically, we hear that most bloggers debate between the S Corp and the LLC. The right form for you will depend on your ultimate business goals. However, we typically recommend an LLC for bloggers since it is easy to set up and requires fewer corporate formalities than a corporation.
Prior to making a decision on the right corporate form, we always recommend that you talk with a lawyer and a CPA to discuss your business goals and determine which entity form is the best for you.
Author Bio: Danielle Liss
Danielle Liss is a lawyer at Hashtag Legal. From contracts to LLCs, Danielle's goal is to make the law feel more accessible and a little less daunting for influencers.