This post may contain affiliate links which may give us a commission at no additional cost to you. As an Amazon Associate we earn from qualifying purchases.
Have you ever stopped to take a look at how many blogs are out there in the blogosphere? There are MILLIONS – with thousand more starting up every day (and almost as many being abandoned).
It's no wonder that trying to create a following to your blog can be tough going – there's so much competition!
The good news is there are a lot of things you can do to boost your following and get more blog subscribers. It takes work, but once you get to a certain point, you'll find it gets easier to keep going.
Let me show you how you can increase your blog subscribers with these easy ideas.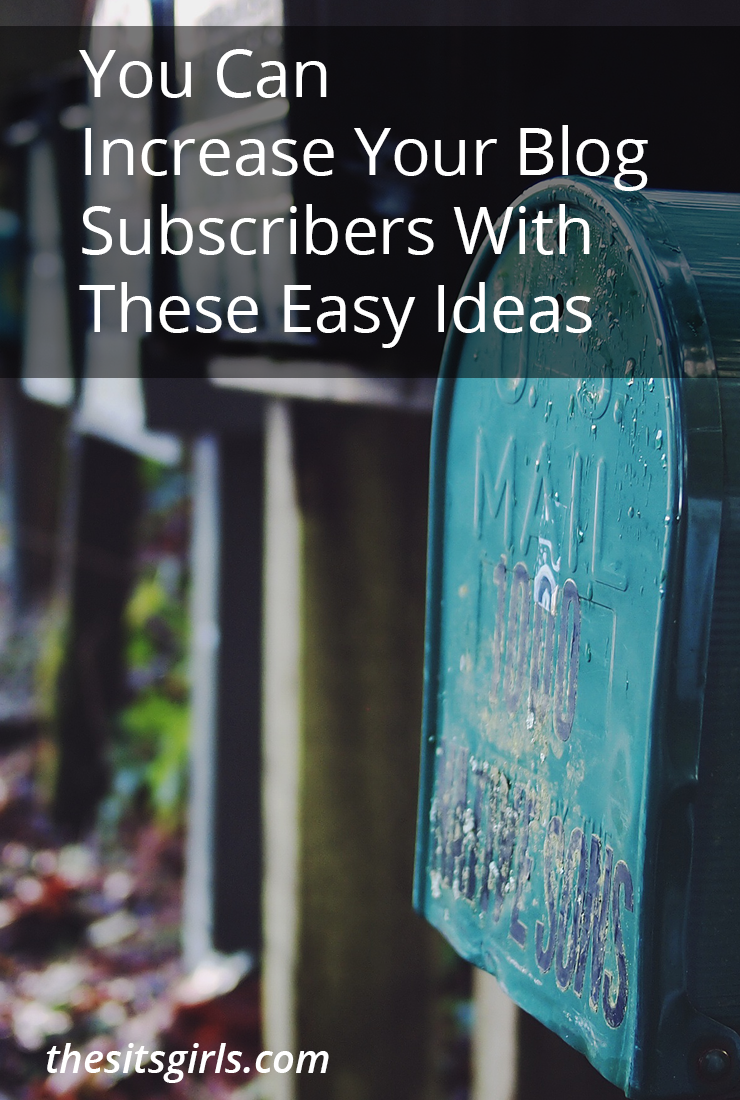 Increase Your Blog Subscribers
Make It Easy To Subscribe
There's a reason this is the first thing on the list – if the option to subscribe isn't super-easy and super-obvious, people aren't going to do it.
See, here's the deal: when people come and read a post on your blog, they might really love it and think to themselves "This was awesome, I need to remember this blog and come back to read more."
And then they forget.
You can't depend on readers to bookmark your blog to come back to, either. How many blogs have you bookmarked that you never go back to? Yeah, you aren't the only one that does that!
So make sure there are plenty of options for subscribing on every page. Try an action bar across the top of your blog, an opt-in form in the side bar, and an opt-in at the bottom of every post. You might feel like it's off-putting or overkill – trust me, it is not.
Bribe Your Readers
Ok, it sounds a little skeevy when I put it that way – but DO offer a great incentive for signing up to your email list. After all, you're asking people to trust you with their email address; they should get something awesome in return for that trust.
There are lots of options you can use as a subscription incentive (which sounds much nicer!). Digital downloads, printables, ebooks, even email or video courses all make great incentives to get people to subscribe.
Just make sure that what you offer will be attractive to your target audience – don't offer a budget shopping guide if your blog is about healthy eating.
Give Readers Options
While the best option is to get readers to subscribe to your email list, there are some people who just won't ever do it. So it's important that you give those people some other options. Let them know how to subscribe to your RSS feed, and make sure you have social media follow buttons located where they're easy to find. If you're connected to any blogger networks, let them know they can find you there, too.
Give Them Quality
One of the best things you can do to increase the number of subscribers to your blog is to make sure every post you publish is high quality. Do your research – find out what your readers need, what their problems are. Do keyword research and find out how they're searching for those solutions. Then create content that makes them want to come back over and over.
Make It Easy to Share
It should go without saying, if you want people to share your posts, it needs to be easy to do. Use whatever plug in you need to make sure you've got big easy to find share buttons.
And don't just stick buttons up there – tell people to use them! Add a quick call to action when you wrap up your post, reminding them to click on a share button if they liked it.
If you don't know what a CTA is, it's simple: you're literally telling your reader what action you want them to take next. In this case – make sure you always remind readers to subscribe to your blog or newsletter.
Post Consistently
New bloggers often ask me how often they should post, and my answer is always the same: The frequency of your posts isn't nearly as important as your consistency.
When a new reader goes to your blog, they aren't going to see any value to subscribing if it doesn't look like you post consistently. Likewise, people who have already subscribed will lose interest if they aren't seeing regular updates.
Guest Post
Posting on other blogs is an excellent way to get yourself out in front of new eyes – which can lead to more people subscribing to your blog. Take full advantage of your guest posting by making sure to have a link in your author bio that goes to a lead page where they can subscribe!
Comment on Other Blogs
Each week, you should spend some time searching out other blogs in your niche and commenting on their posts. Your goal here is twofold – it's great for connecting with these other bloggers to build relationships, and it's also a good way to be seen by other people who read their blog.
You can't just pop in and write "Great post!" though! You need to leave a thoughtful comment that adds to the conversation. If you have a post on a similar topic, make sure you link up your URL (if that option is available).
These are just a few of the simplest ways to get more readers and blog subscribers. Blogging isn't difficult, but you can't just sit back and wait for readers to show up – you need to work at finding them and keeping them.
Take the time to create a relationship with your readers, and you'll find them coming back for more.