This post may contain affiliate links which may give us a commission at no additional cost to you. As an Amazon Associate we earn from qualifying purchases.
I have to be honest, I'm one of those people that if something seems intimidating I will keep putting it off. That's exactly what happened with my blog's newsletter subscribers. I just kept my regular sign up, if someone wanted to know when a new post went up, they would get emailed and that was okay for me. But, then I saw all my blogger friends jumping on the bandwagon and getting super fancy newsletters. I got jealous. I just had to get one of my own, and customize it, and make it pretty. Lucky for me, people actually wanted to sign up! Amazing!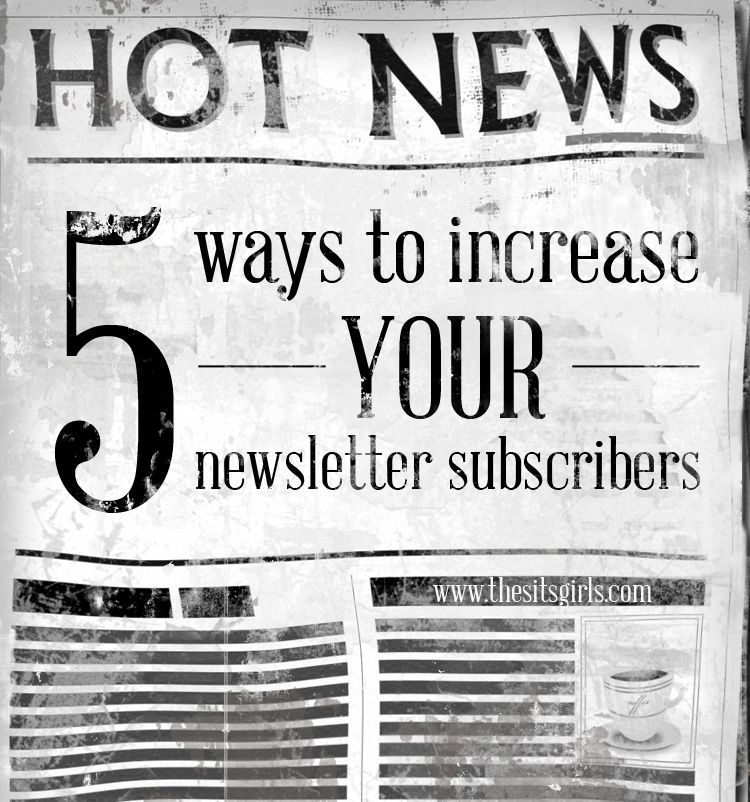 5 Ways To Increase Your Newsletter Subscribers
Here are tips to increase your newsletter subscribers, reader tested, blogger approved!
1.) Make it easy to sign up
There is nothing worse than wanting to follow your favorite blog and not knowing how. The easiest way to get more newsletter subscribers is to have your subscription box plain as day on your sidebar. Don't make us work for it; make it easy!
2.) Free offer
This is probably the most common way you will see other bloggers to get you to sign up for their newsletter. I have seen anything from free printables to eCookbooks. If this is something you can do, then go for it! But, make sure it is something relative to you and your readers, and something you know they will enjoy!
3.) More than just one opt-in form
Offer more than one way to sign up. Along with your sidebar sign up box, have a way for them to sign up at the end of your posts. There are plugins that you can easy use that will insert your sign up box code easily and pain free. You can also use Hello Bar and have a floating sign up box at the very top of your page, there are even pop ups if that is your thing.
4.) Customize graphic for sign up form
This one is a little bit more tricky, but still doable. Instead of using a generic sign up box, customize it! This will ensure your readers will see it and want to sign up. Make it stand out!
5.) Link from social media
Link your newsletter into your Facebook profile. You know where it shows your photos on Facebook, on the very top by the header? You can also make one of those boxes a newsletter sign up! Now, when people go to "like" your page, they can sign up for your newsletter at the same time. Here you can also show what you offer for signing up if you offer anything. You can find a tutorial on doing this with MailChimp on Tomas Jones blog.
These are all simple, doable steps for every blogger to increase their newsletter subscribers.
Do you have any more tips to share? How do you grow your lists?
Keep Reading
Looking for more information about building your email list and newsletter subscribers? Here are some posts that you'll find helpful: