This post may contain affiliate links which may give us a commission at no additional cost to you. As an Amazon Associate we earn from qualifying purchases.
Have you been blogging for a while, but feel like no one notices? Are you having trouble getting traffic, and not seeing much interest from other people in sharing your posts?
It can be really frustrating to feel like you're working for nothing, and to have to struggle and fight for every page view! But there's usually a reason for it – and often, that reason is that you aren't presenting yourself as an authority in your niche.
Creating a successful, profitable blog is all about finding the right niche and then showing the people that you are an authority in that niche. Whatever it is you write about, when people think about it, you want them to think of you! When they Google your niche, you want your name, your posts, your videos to show up on the first page of the search results.
So how do you make that happen? I have a few simple tips that will help.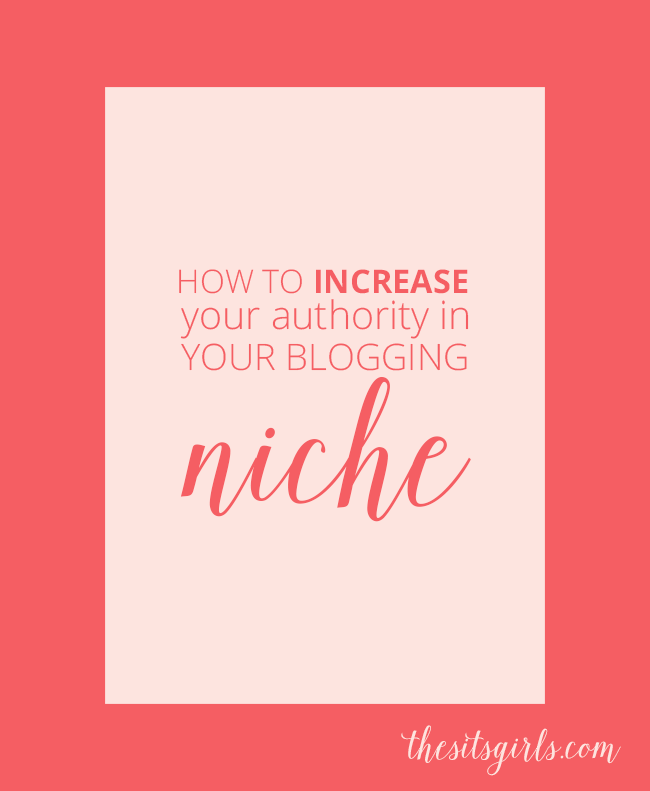 How To Increase Your Authority In Your Blogging Niche
1. Be Different, Be Valuable
The first thing you need to do is make sure that you've found the right blogging niche. It's really hard to convince people that you're an authority when you don't have anything original to say about the subject. It's important that you're able to share information that stands out from the crowd.
There are going to be lots of other blogs in your niche – you need to be able to speak from your own experience if you want to be noticed. If you're just repeating what all the other gals say, there's really no reason for people to read your blog at all. You'll look like just another follower, and not a real authority.
This is true no matter what kind of blogger you are! You can't be successful by copying other people. You'll only be successful by creating a blog that is true to you. By doing so, you'll be able to create information that people haven't seen anywhere else – and that's what will start turning you into an authority.
2. Prove Your Expertise
In a similar vein, you have to be able to show your readers that you know what you're talking about. Your about page should let people know exactly what experience you have in your niche, so they know just why they should be listening to you.
Sometimes, this can be pretty simple – if you blog about crafts or food, you can pretty easily show the projects you've done. Let people know if you have a degree in arts, or design, or if you went to a culinary school.
Other times, it can be a little more tricky. If you blog about living frugally, for example, your about page will need to mention things like how you've raised your family on a budget while paying off your house 10 years ahead of time, or similar achievements.
Whatever it is you blog about, let readers know about your background and what you've accomplished, because it builds confidence in you and increases your status as an authority.
3. Showcase Your Creativity
There are literally millions of blogs out there – if you want to stand out as an authority, you need to be more creative than the others. There are quite likely thousands of other blogs in your niche, so find ways to present the same information that will help you stand out.
Branding yourself is important. Your logo and blog color scheme should be uniform in everything you do. Create infographics and images that are instantly identifiable – pay a little money to have some designed for you if you have to. One or two excellent infographics can really boost your authority.
Make videos! Just appearing in videos elevates your authority in ways you can't imagine. Even though literally anyone can make a video these days, we still feel like people we see in videos are "stars". Look at how many people have become internet famous just for being in videos! Use that to your advantage.
4. Stay Ahead of the Pack
Make sure that you keep on top of news in your niche – if you can be the first place people hear news from, you'll quickly be seen as the authority in that niche. You can create blog posts, email your list or share on social media – but the earlier you can share breaking news, the more authority you'll gain.
5. Connect With Other A List Bloggers
Build relationships with top bloggers in your niche. Follow them on social media, share their posts, comment on their blogs regularly. Send an email to a favorite blogger, thanking them for a helpful post – don't ask for anything, just let them know you're out there. It can take time, but they'll start recognizing you as someone serious in the niche – and when they do, they'll start sharing your posts, too.
When a major blogger in your niche shares your post or retweets your tweet, your authority level will make a huge leap forward!
6. Prove Your Authority to Google
Letting the search engines know you're an authority is just as important as showing your readers! So how do you do that? Well, proper SEO is what's going to make it happen. Your on-page optimization – the things you do on your blog – are going to be vital for this.
First, you'll want to make sure that you're using keywords, both long-tail and short-tail, that are in line with your niche. Make sure you're doing keyword research to find the phrases that people use to search, and include those phrases in your posts.
Also, while it seems like exactly the wrong thing to do, you should be linking out to other blogs in your niche. I know that feels like you'd just be sending all your traffic to the other sites, but what it actually does is show your readers and the search engines that your site is a hub for information in your niche, building your authority.
Be patient and keep taking consistent action every day. It won't happen overnight, but you can be an authority in your niche!