This post may contain affiliate links which may give us a commission at no additional cost to you. As an Amazon Associate we earn from qualifying purchases.
One of the most important pieces of advice we give to influencers is to get it in writing. Every. Single. Time.
But, we get it. Contracts can be filled with pages of tiny-print legalese that makes your head spin. And you trust the other party, so it's fine to just sign it, right? (Of course, you know that's a trick question.)
Since many influencers find contracts confusing, we want to help take away some of the mystique. And, remember, if you don't understand a term in your contract, find a lawyer who understands your business and can help you navigate the terms.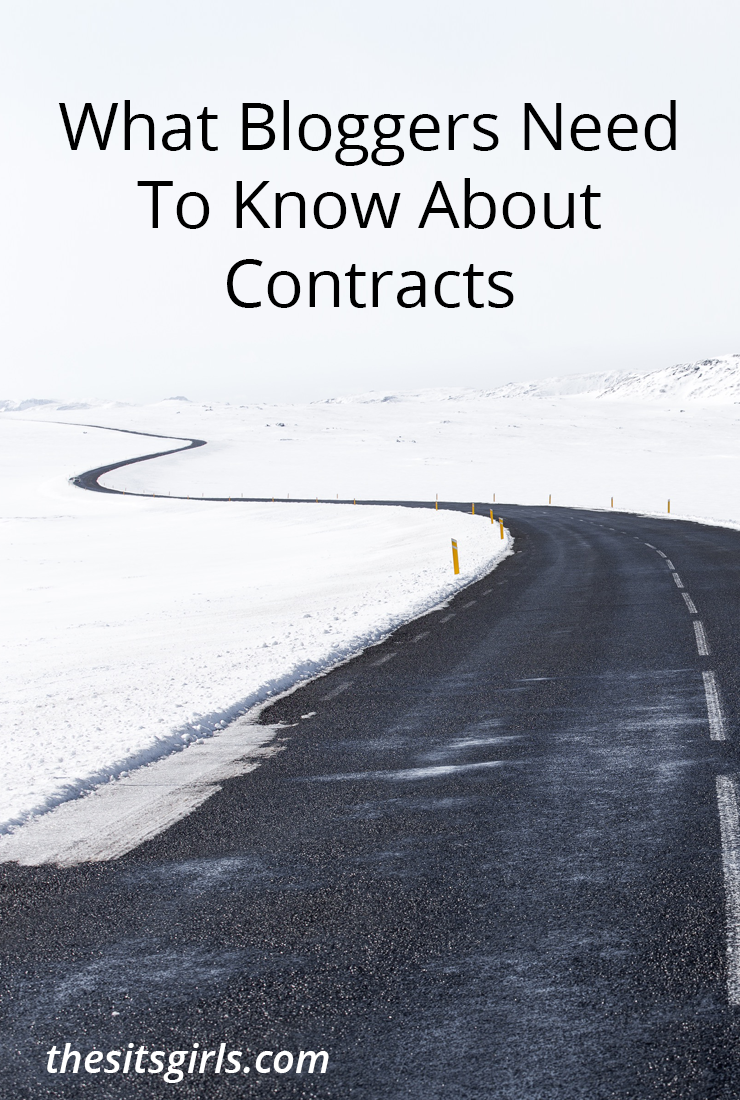 What Bloggers Need To Know About Contracts
What is a contract?
A contract is an agreement between two or more parties that is enforceable by law. A good contract should outline the rights of each party and what each party is expected to do to complete the contract.
Businesses of all sizes enter into contracts regularly. If you think that you don't need contracts because you're "just a influencer," we're here to say, yes, you do.
Typically, we say that if something of value is being exchanged (money, or an exchange of some sort that isn't necessarily financial), you should have a contract outlining the terms of the agreement.
Who Influencers Contract With
Not every influencer has the same business model, but we typically see that influencers most frequently enter contracts with the following:
Sponsors: networks, agencies, and brands who are placing sponsored content on your channels.
Service Providers: People who provide a service to your business, such as a graphic designer or WordPress maintenance consultant
Contractors: As you grow, you may hire contractors to help support your business, such as virtual assistants, social media managers, or other consultants.
Important terms for your contracts
Now that you know who you need an agreement with, what should the contract contain? Here are the terms you will want to include in most contracts.
1. Deliverables
Every contract you sign should specifically outline the deliverables. In other words, what is each party responsible for doing under the agreement.
For example, in a sponsored content contract, you may be paid to create content for your blog featuring a brand. Your contract should outline what is expected.
2. Payment Terms
Your contract should set forth the following important terms regarding payments:
How much are you getting paid? If this is a multi-month contract, ensure that it specifies how the payment will be broken down. (In other words, is it paid monthly or just once at the end of the contract.)
How do you get paid? Do you need to send an invoice or take any other action to trigger payment? Be sure you know what to do, so you don't delay your payments unnecessarily.
How long will it take to get paid? Some contracts are due upon receipt of invoice. Others may be net 30 or net 60. If you see that term on an invoice, it means that payment is due within 30 or 60 days.
3. Confidentiality
Always know what you can and can't talk about. Way too often, we see influencers talking about contract specifics in Facebook groups that may fall under a confidentiality clause. Be sure you know what's covered before you discuss anything.
4. Ownership of Intellectual Property
For influencers who are creating content, it is critical to understand how your content can be used pursuant to the contract. In most sponsored content contracts, either you will own the contract or the brand will own it. It's important that you know the terms because this impacts how each party can then use the contract. (And, if the brand wants to own the content, it can often impact the price.)
5. Termination Provisions
It's always important to know whether or not you can terminate the contract and what steps have to be taken. For example, a contract may permit either party to terminate the agreement with 30 days written notice to the other party.   This provision should also address how payment should be handled in the event of a termination. In other words, you need to know how will you be paid for work performed up to the time of the termination.
How To Get A Contract Signed
Once upon a time, getting a contract signed for a virtual business was such a process. Print it, sign it, scan it, then email it back to the person. Now, due to the ease of using virtual signatures, getting a contract signed doesn't have to be hard. There are tons of options, so find the one that you like best. We recommend trying HelloSign, DocHub, or DigiSigner if you are looking for a service. They are all easy to use and make getting your contracts signed simple.
Ready to take the next step?
Check out our free Contract Checklist to help do a self-audit of your contracts.
For more great information about setting up your blogging business, check out our guides on incorporating your blog and creating website policies to protect your business.
If you want to purchase contracts, (affiliate note: we will get a small cut of any purchase you make with this link) Businessese has DIY templates created especially for influencers.
Author Bio: Danielle Liss
Danielle Liss is a lawyer at Hashtag Legal. From contracts to LLCs, Danielle's goal is to make the law feel more accessible and a little less daunting for influencers.