This post may contain affiliate links which may give us a commission at no additional cost to you. As an Amazon Associate we earn from qualifying purchases.
If you're just getting started as a blogger, you're probably trying to spend as little money as possible to do it. It's hard to know where to invest in your blog in the beginning. So often, I see newer bloggers having a difficult time trying to justify spending any money on something when they aren't sure if it will pay off.
This is a totally self-defeating attitude to have. This mindset says "Well, I'm probably going to fail, so I'm not going to try very hard," which, of course… leads to failure!
I totally understand if you're starting out with little or no money to invest. In the very beginning, there's no crime in trying to save money building your blog. But as your blog starts growing, you should absolutely be investing money back into your business to help it grow.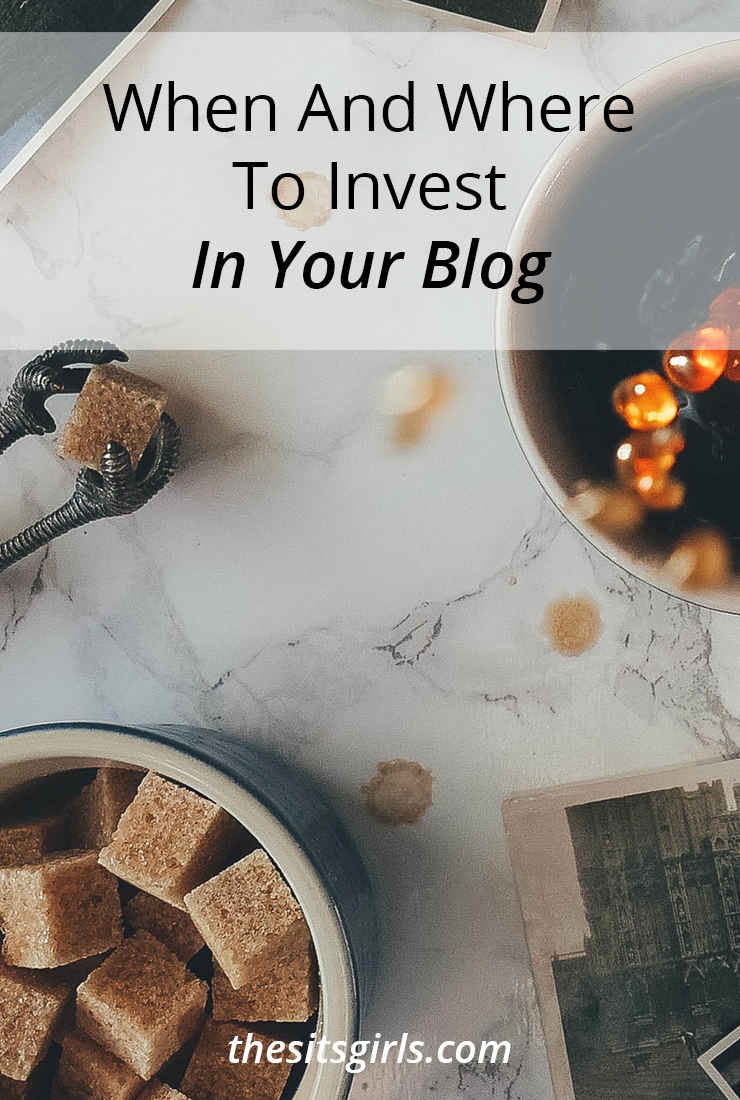 When And Where To Invest In Your Blog
Here are some of the things that you should be spending money on as you start, and as your blog grows:
Purchasing A Domain Name
I'm a big believer that a self-hosted WordPress blog is the best option if you're serious about creating a legitimate business. I know not everyone agrees, and there are people finding success with sites like Blogger. 

But even if you decide to go with a free site, you should absolutely purchase your own domain name, and you should do this right from the start. This way, when people try to find your blog, they'll be able to go to "www.YourBlog.com", instead of "www.YourBlog.blogspot.com" or "www.YourBlog.Wordpress.com".
Having your own URL makes it easier for people to find and remember your blog, and it also lends credibility to your site. Most importantly, if you start on a free site and later decide to move to self-hosted, you'll be able to take your domain with you. Domain names are inexpensive yearly fee, but are an invaluable investment for your blog.
Hosting
If you do decide to go the self-hosted route, it's fine to start out on what's called "shared hosting" — you won't be the only website hosted on that server. SiteGround is a highly recommended hosting service, and starts around $4 monthly for shared hosting.
As your blog grows, you'll may eventually reach a point where your traffic is too much to continue on shared hosting. But by the time you're getting that much traffic, your blog should be making enough money to cover the cost of upgraded hosting.
Theme and Design
Here's a little secret: I've been blogging for over 10 years and have never paid for a theme. I've always used free themes from the WordPress theme directory. It is not obligatory or even necessary to pay for a theme when you're starting out. 

In fact, your blog design is one of the last places I'd worry about spending money as a beginning blogger. It's far more important to focus on creating good content and building your subscriber list. People will follow you for your content, not because they think you have a cute header.
Find a simple free theme that doesn't take much tinkering to make functional. You can use a free online graphics program like PicMonkey to create a custom header to add your own style to it, or find someone to do it for you inexpensively on Fiverr or Etsy.
There are two reasons I recommend waiting: One, you may decide 3 or 4 months down the road that blogging isn't really what you want to do. All that money you spent on a custom theme, design, and images is going to be down the tubes.
Two, after you've been blogging for a little while, you may realize that your niche is moving into a direction you didn't expect and you're going to want to change some things. Again, it's going to suck that you already spent all that money.
Once you've been blogging 6 months to a year, start feeling comfortable in your niche, and have started making some money, then it's a great time to revamp and invest some of that cash into a professional design. Many people find that investing in the Genesis framework gives them the functionality and versatility they need. 

The only time I'd recommend investing in blog design right from the start is if you have very limited time to work on your blogging, no time to learn the basics, and need something that's completely ready to go. In that case, you can check Creative Market for a simple but original theme that's ready to install.
Email Marketing
This is one of the absolute must-haves for any blogger. An email subscriber list is a fundamental part of creating a blogging income, and you should start sooner, rather than later. 

The good news is that you can start out free with a service like MailChimp, which will allow you to grow your list to 2000 subscribers. Once your list grows to a size where you need to start paying, you'll be able to compare services like Aweber, ConvertKit, and GetResponse, and will be able to make a more informed choice based on your needs and the price.
Like hosting, by the time you need to upgrade your email service, you should be able to make enough money with your list to cover the cost.
Hardware
For most folks, a basic laptop or desktop is sufficient to get started blogging. I know a few people who have gotten started with nothing but a smart phone!
But depending on your blog niche, you may find you have needs that go beyond the basics. You nay need to do photo or video editing, which will call for a more powerful computer. Especially if you're in a niche where you take a lot of your own photos or create images – like food, fashion or beauty – you'll need to invest in a camera and editing program. 

For food, especially, you may want to purchase or create a "light box" and some inexpensive photography backgrounds for your platings. Images are very important in this niche, so it's one place I would recommend investing as soon as possible.
If you're going to make basic videos, a smart phone will generally work just fine – but you may want to invest in a separate microphone for better sound quality. You may also find that a smart phone tripod will help you get steadier shots. If you don't have an adequate spot for filming videos in your home, you may want to purchase a backdrop to look more professional.
On the other hand, if you're going to do food prep or DIY process videos, you'll need a good quality camera and editing program.
Other Blog Investments
Virtual Assistants: As your blog grows, you may find that you don't have enough time to do all the things that need to be done. When you start making a little money with your blog, it may be time to invest in a virtual assistant. You can find VAs that perform a vast variety of blogging tasks – everything from designing your images, to social media posting, to actually formatting and scheduling your blog posts for you.
Decide which tasks are most tedious for you and take up the most of your time – pay someone else to do them and it can free you up to handle the more important tasks.
Learning/Coaching: It's true that everything you need to know about blogging can be found on the internet. But is sitting on Google for hours trying find the exact information you need really an efficient use of your time?
And how do you Google for information that you aren't even aware that you need to know?
That's where training programs and coaches come in. Once you get over the initial "how to set up my blog" hurdle, it can be very beneficial to invest in learning. Be aware of what your goals are for your blog, and focus on programs that will help you reach those goals. And if you're not really sure of what your goals are, a blogging coach can help you clarify things.
Finally, it's important to realize that not all blogs and not all niches are equal. What you invest in your blog, how much you have to spend, and when you're ready to do it are all personal choices that you'll have to make as you grow your blog. But hopefully, the guidelines in this post will give you some idea of when and on what you should be investing your money.