This post may contain affiliate links which may give us a commission at no additional cost to you. As an Amazon Associate we earn from qualifying purchases.
Hello and welcome to Problogger's 31 Days to Build a Better Blog with The SITS Girls! For the month of June, we'll be working through Darren Rowse's ebook, focusing on improving blogs everywhere and helping bloggers to connect with one another.
If you are just joining us, you have two options to participate:
Work through each of Darren's assigned tasks Monday through Friday in The SITS Girls discussion forum.  Because we will not be working on weekends, you'll be done with the program about mid-July.
Focus on only a handful of the 31 activities.  Our plan is to slow down the program more than ever. On Mondays and Thursdays, we will publish a post in the Education channel here on SITS, bringing you some of our favorite ProBlogger tasks.
You can read more about these options, as well as sign up to participate in a group, here.
For those of you who are working with us at the slower pace (aka Option 2), we're kicking off our Problogger event with Day 9: Join a Forum and Start Participating.

Join a Forum and Start Participating
One of the most commons questions for a new blogger is how do I increase traffic to my blog? How do I build an audience of readers and commenters?
Although commenting on blogs in the hopes that others will come by and visit you is one strategy, often times it is not the most effective use of your time. Say you leave 30 comments on 30 different blogs. Is it likely that all 30 people will return the favor and visit you? Probably not.
A better way to spend your time is to join a forum and start participating. Posting regularly in a busy forum can often bring dozens of visitors back to your blog.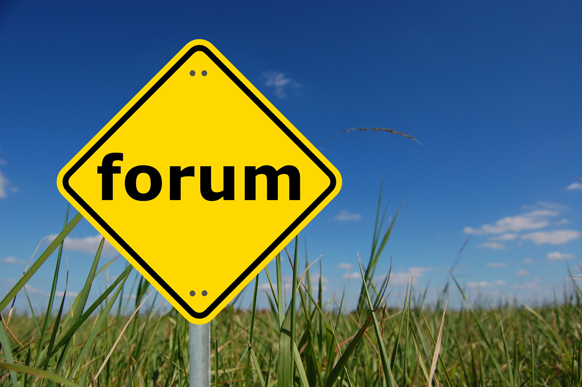 Why Participating in Forums Works:
Becoming an active member of a forum has many benefits, some of which include:
Profile Building: Put consistent time into a large forum on your topic and you can build a significant profile in your niche. Keep in mind the "What's In It For Me" perspective for your potential readers. If you are able to provide value in the form of information, advice, or support, you are much more likely to develop fans among other forum users.
Driving Traffic: When you provide value and become a useful resource for others in a forum, people will want to know more about who you are and what your blog is about, ultimately getting people to click over to your site.
Understanding Your Niche: A hidden benefit to joining a forum is that it can be a great place for gathering ideas and understanding the needs of potential readers. Keep your eyes open for questions being asked repeatedly and and then write posts to answer them. Doing so will convert your fellow forum users into readers on your blog.
Joining a forum couldn't be easier. If you have a particular niche, then definitely get active in a community focusing on your topic. You should also be sure that you're using The SITS Girls discussion forum…especially during the Problogger challenge. Joining our community is a great way to connect with other bloggers and get the feedback on your blog that you're looking for.
To join our forum and get active in the #SITS31DBBB event, go here. If you're having trouble understanding how to sign up, check out this post that covers the process.
Once you join a forum, there are several steps you'll want to make sure you complete in order to guarantee your experience will be a successful one.
1. Create a Signature That Gets Noticed
Your forum signature will appear beneath every post you write. And unlike comments, where the only way to link back to your blog is via your name, you have plenty more control and ways to get creative with your signature in a forum. In addition to your blog name, you can add your tag line, Twitter URL, Facebook page, maybe event link to a post (or series) that was particularly successful for you. Also consider using color, different font sizes, and creative formatting to get more attention.
2. Make an Lasting Impression
As with most things in life, the quality of your forum posts will far outweigh the quantity. The secret to being successful in a forum is inspiring users to want to know more about you.
There are plenty of ways to accomplish this, such as:
Be your own welcome wagon. Everyone wants to get to know someone who is friendly and welcoming.
Be helpful and provide input when asked.
Start a popular discussion thread.
Answer a question in the forum by creating a mini-post. Maybe even have this post conclude on your blog.
Post regularly.
3. Think Outside the Box
Yes, when used correctly, a forum can act as a tool to drive more traffic to your blog. However, there are plenty of lesser known benefits to keep in mind too. Forums allow you to make connections with potential guest posters, as well as other niche bloggers, experts or people with skills who can ultimately help you.
In The SITS Girls Forum, there are plenty of ways to start getting connected with other bloggers, even outside of the #SITS31DBBB event. Take a look at the Tribes, promote a giveaway that you have happening, or consider guest posting either on your blog or for someone else. Ultimately, you'll be glad you did!
Your Assignment
If you're ready to dive into a forum, then let's get started! Your assignment for today is to get active and spend time connecting with other bloggers. If you're new to the world of discussion forums, be sure to check out this post on how to set up your profile picture. You'll need to use a website called gravatar.com.
For those of you who signed up for a group, we'll be e-mailing your group assignments this morning. Once you have those in hand, start connecting in the June Group Work thread here. Introduce yourself and your blog.
And if you're looking for a bit more from this activity, answer these questions within your group:
What is your experience with forums? Are there any that you have found to be particularly useful at driving traffic to your blog?
If you've successfully driven traffic from a forum to your blog, what do you think contributed to your success? Share your secrets!
For those of you who are working through the entire challenge with Shelley, you can find the Day 1 activity in the Daily Activities thread.
Stay tuned for our next post on Thursday when we focus on how to build a community around your blog.
The content for this post was compiled from the 31 Days to Build a Better Blog eBook by Darren Rowse and from the Build Your Blog with Forum Traffic guest post on ProBlogger. To buy your own copy of the eBook, go here. Darren has generously offered us a coupon code that reduces the cost of the book by 33%. Simply enter the code, SITS33, at check-out and save big!

The
31 Days to Build a Better Blog Summer Challenge
is a program that Darren Rowse, aka Problogger, designed so that bloggers can improve their sites in about a month. Follow along
in our Forum
, with the
#SITS31DBBB hashtag on Twitter
, and on
Facebook
. It's never too late to jump in!
Here are the topics we've covered to date: