This post may contain affiliate links which may give us a commission at no additional cost to you. As an Amazon Associate we earn from qualifying purchases.
What makes a post go viral? If I only knew the exact formula, I'd be a rich person (in money and in knowledge). But we are held hostage by so many variables as bloggers and content creators:
Alogorithms on Google, Pinterest, and Facebook that control who sees our content and how often
Competition for keywords and topics
Lack of control over how many times our content is shared by readers
Having said that, there are definitely some keys that are in your control.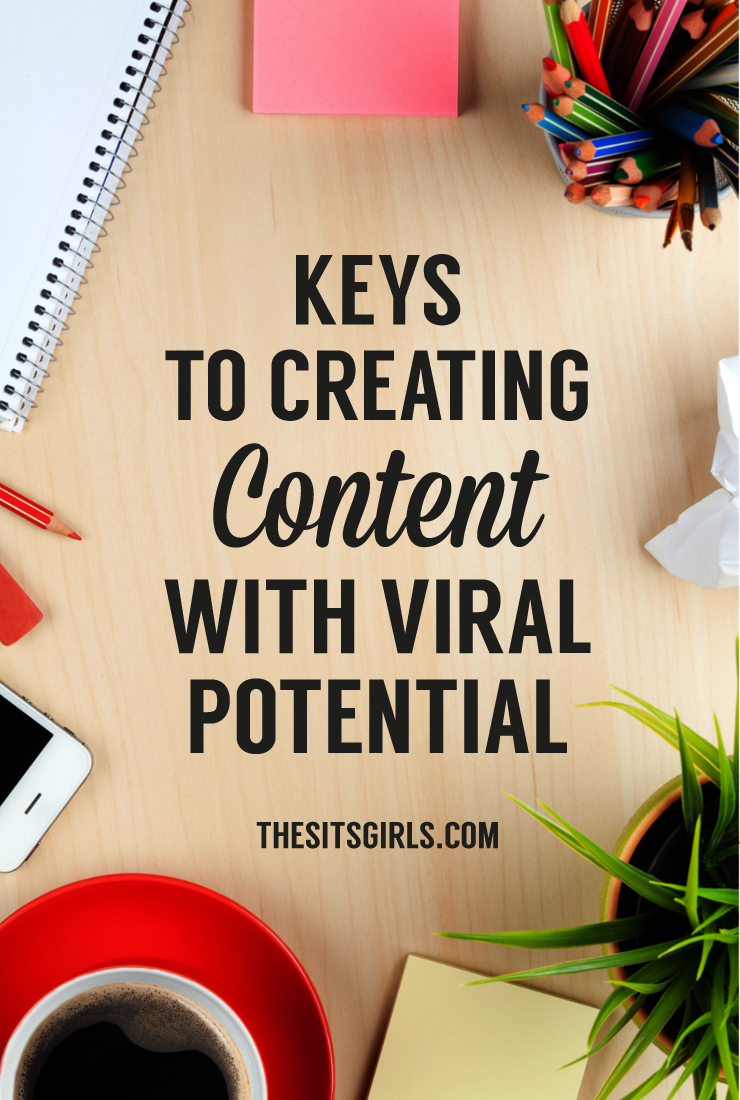 Keys To Creating Content With Viral Potential
QUALITY CONTENT THAT SOLVES A PROBLEM
Have you heard of pain points? It's essentially a problem that people — and hopefully lots of people — face, which you can solve. If you're a food blogger, maybe your audience's pain points include small budgets for groceries or the need to cook healthy meals for food intolerances.
DIY bloggers, your audience might struggle with knowing which products are worth their investment, or how to create certain designs. And fitness bloggers like myself might try to solve the pain points for bloggers who can't afford to to to the gym or who want to train for a race but don't know where to start.
Be the authority. Instead of focusing on your life (what you ate, what you made) turn it around and use your experience to teach others, and be specific.
Not sure what your audience needs help with? Try a google search! You'll get some amazing ideas just with the autocomplete or the Google Keyword planner. Start a phrase like "How do I" and see what comes up, or be more specific "What workout do I do if…" and "How do I make…" and see what comes up. Then answer that question.
Quick analytics tip: make sure you have enabled Google Search Console as well — you can get some great information there.
EASY TO NAVIGATE POSTS AND WEBSITES
If your website is cluttered, has ads all over, has font in 10 different colors, and is not formatted at all, it doesn't matter how great your information is — people won't want to share it. And between search and social sharing, those are really the biggest drivers to viral content.
So audit your site (or hire me to do it for you!). And I highly recommend recruiting a friend to go through your site as a reader. Is it easy to comment? To share on Pinterest? Are your sharing tools set up to include your Twitter or Facebook name in the share?
CALLS TO ACTION THAT MAKE IT CLEAR TO READERS WHAT YOU WANT THEM TO DO
Your readers want to reward you when you have great content, but if you don't make it crystal clear what you want them to do — they often just go away without doing anything.
Pick your top three actions that you want someone to take and make sure it's laid out to make it as easy as possible. For me, I want:
Signups to my email list
Pins on Pinterest
Follows on social media
In every post, I include an opt-in form, pinnable images, and easy links to my social spaces. Comments, shares to other networks, etc. are just not that important to me, so I remove them as obvious options.
SMART ADVERTISING AND PROMOTION
There are times when I think paying to get your content in front of a targeted audience is smart. If you're selling products, driving signups for a special blog challenge or event, OR you have a post that you think should do well with a specific demographic, spend some money to make sure you beat the organic algorithms. Facebook allows you to create ads or boost posts very inexpensively, as does Pinterest.
Also, don't be afraid to aggressively share your links to specific influencers BUT be smart and don't be spammy. If you create a recipe about gluten-free muffins, you can email some of the top food bloggers in that niche to see if they might be willing to share it with their audience or on social media. See if there are link-ups that work for that post, or even reach out to brands to see if they'd be willing to share it (especially if you used their gluten-free product in that recipe).
OPTIMIZATION FOR INDIVIDUAL PLATFORMS
Image sizes for Facebook, Pinterest, Twitter, and Instagram all differ. Some platforms work well with hashtags and some don't. Some allow links in captions and some don't. And then of course SEO is its own special unicorn.
I see so many bloggers who don't take the extra 5 minutes before publishing a post to carefully optimize for each platform, and I think it's a huge mistake. Visual appearance is crucial to getting someone to share your content, so it's worth taking the step. I use tools like Yoast SEO and Social Warfare to make this work on my own sites and on my clients' sites.
So go forth and be viral!
Keep Reading