This post may contain affiliate links which may give us a commission at no additional cost to you. As an Amazon Associate we earn from qualifying purchases.
When you first start blogging, it can often feel like you're having to learn a whole new language! Words like hyperlink, widgets, favicon, and long-tail keyword quickly become a part of your everyday vocabulary.
One phrase that many bloggers have heard but may not understand well is "landing page". It's a term that's been used by online marketers for years – and it's something that all professional bloggers should understand and know how to implement. In this post, we're going to talk about what a landing page is and explain how you can use landing pages for your blog.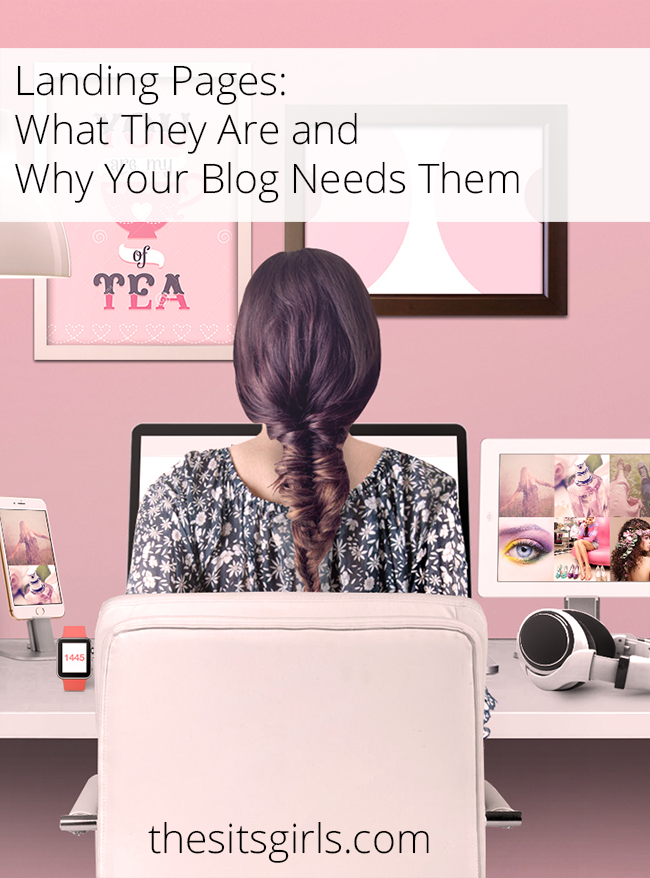 What Is A Landing Page?
The simplest definition of a landing page is that it is quite literally the page that a reader lands on when they first come to your blog after clicking a "call to action" somewhere else. Technically, any page or post on your blog can be a landing page. But more specifically, it's a page that's been explicitly designed to greet targeted visitors to your site and lead them into taking a specific action.
People often confuse landing pages with the squeeze pages, and really a squeeze page can be considered a type of landing page, depending on how it's used. But the biggest difference is that a squeeze page (also called an opt-in page) is designed to "squeeze" something out of the viewer. In most cases, we're trying to get their email address in exchange for a free gift of some sort.
You may be thinking "Why shouldn't I just send people to my blog home page? Won't they find what they want?"
Sure, you can do that – but the key to a good landing page is to direct your reader to do exactly what you want and get the conversion – either as a sale or a new subscriber OR to lead them to related topics. Your landing page should not have all the navigation that your home page has. With a landing page, you're giving people a specific choice that you are directing – they can opt in to your email list, or they can click a download button, or they can click a "Buy Now!" button.
I mentioned targeted visitors above; by this I mean the people to whom you target your blog. Any landing page is going to be specifically targeted to a certain type of reader – this is called "message matching".
Think of it this way: your blog may appeal to a variety of readers. Perhaps you have a lifestyle blog where you mostly write about homeschooling and cooking with real food. People who come to your blog looking for real food recipes aren't always going to be into homeschooling, and vice versa. If you comment in a food forum, you could link your comments to a recipe-related landing page, because that's the targeted interest of the people you're connecting with there.
5 Ideas For Great Landing Pages For Your Blog
There are many different ways you can use landing pages to your benefit – here are a just a few:
1. Welcoming New Readers
Imagine the situation I described above; you could create a page on your blog that welcomes people who are interested in your foodie posts, and has a list of your top recipes or recipe categories. That would be a great landing page for those readers!
2. Social Media
In the same way, you can create a landing page that is particular to people who found your page through social media. Darren Rowse of ProBlogger has this page connected to his Twitter account: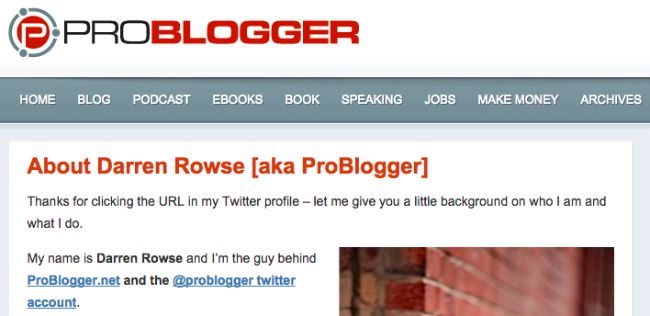 It gives new visitors a snapshot of who he is and what he is doing.
Facebook now gives you the option to add "Call to Action" buttons in the header of your fan page. You can add the "Sign Up" button and connect it to a special opt-in landing page just for Facebook readers.
3. Guest Posting
If you do guest posting, you usually get an opportunity to link back to your blog. Why not make a special landing page for people who click through? You can welcome people directly from that site, and point them in the direction of other related posts on your site, as well as add an email opt-in. If they've clicked through on your link, they're already interested in you – it's the perfect time to invite them to join your list!
4. Marketing Pages
You should never start a new marketing campaign on your blog without having a landing page for it. It could be a blog post where you do a review of the product or service, or it could be a specific page that you've made just for that product.
For example, I'm writing a book on email marketing. When the book is ready for sale, I will create a landing page that will have all the information on the book, with a link to the sales page. I can link to that landing page from any social media. I especially love making videos with a quick tip or "how to", then tell viewers "to learn more, click on the link in the video description!" – and of course the link takes them to my landing page for the ebook.
5. Squeeze Pages
You can also use a landing page to give away free ebooks or other offers with an email opt-in. This is another great page to share frequently to your social media accounts, to help build your email list. You may find that you'll create more than one squeeze page, if you have more than one thing to give away or if you're connected with different types of readers.
These are just a few of the ways landing pages can help you grow your readership and increase your conversions. Once you have people's attention, you need to make sure that you can lead them on to taking the next step, and turn a casual click into a regular reader.
What landing pages have been successful on your blog?