This post may contain affiliate links which may give us a commission at no additional cost to you. As an Amazon Associate we earn from qualifying purchases.
Not too long ago, one of my friends asked in a group text what each of us thought our superpower was. I said mine is coming up with great ideas.
Execution might not always be so great – perfectionism is my kryptonite – but I will always have more ideas about anything than I could ever possibly need.
Talk to me about something you're planning, and I'll give you a hundred ideas, too (as the summer camp coordinator at my daughter's school learned when she suggested I teach a class). I'm the queen of "what if" and "why not…?".
If you find yourself always staring at an empty editorial calendar or a blank "new post" screen in WordPress, maybe you could use some help generating ideas of your own.
Like other aspects of creativity, I think this is something we all have. We can all be idea people. Here are some things that might help.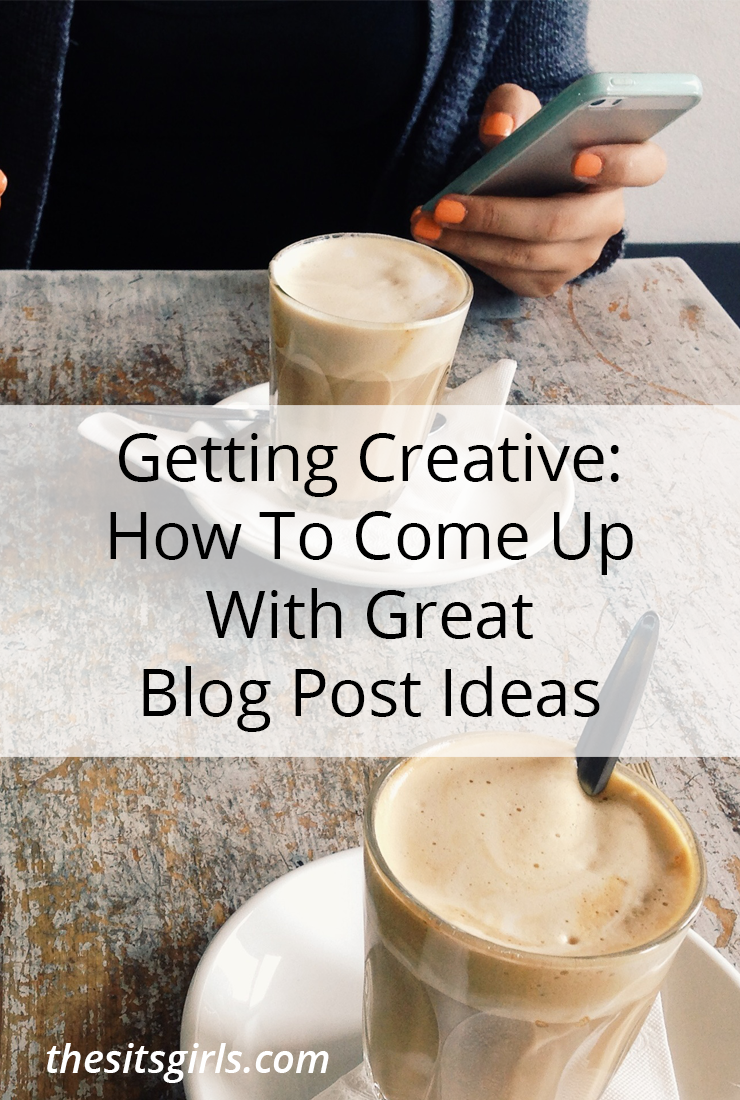 Let's Get Creative: How to Come Up with Great Ideas
Give Yourself Time
The first thing should be pretty obvious to anyone who's tried to come up with a blog post idea at the last second. Your brain needs time and space to come up with good ideas. You're not going to find them sitting at the computer.
Some experts say you actually need a degree of boredom to come up with creative ideas. I say you need that time where your brain isn't working very hard, where it has space to chew on your problem.
It's why we often come up with great ideas while in the shower, or washing dishes, while taking a walk or, in my case, while knitting. A little idleness and time is great for getting the brain going.
Give Yourself a Quota
It doesn't sound very creative, but if you're new to generating lots of ideas, it can be helpful to set a goal. Say you're going to sit down and come up with 10 or 15 or 20 new blog post ideas.
Even better, say you're going to come up with 50. Having a huge number in mind makes it more likely you'll write down everything you think up just to get the number, including the off-the-wall things and the things that seem off the wall at the time but are actually brilliant.
Consider Numbered Lists
Lists are perennially popular with readers in pretty much every genre, and if you're stuck on brainstorming they can be a good way to come up with ideas. Think about filling in the blanks of list titles like:
The 10 Best Ways to ___
7 ___ Ideas/Recipes You've Never Tried
8 Ways You're Ruining ___
5 Simple Tips for Getting Started ___
12 Things You Didn't Know about ___
6 Expert Tips about ___
What would someone really want to know about an area of expertise that you have?
Let Google Help
Have you ever started typing something in a search engine and had a good laugh at the ridiculous ways it tries to complete the search?
Well, sometimes those auto completes can be a good source of material. For instance, if I search nutella I see nutella recipes (of course) but also cookies, brownies, pancakes, cheesecake and mug cake, among others, which might give you ideas for recipe development or a roundup of recipes from other sources.
Type in a search term you rank highly for and see what other options Google gives you.
For example, I rank highly for "make your own gesso." I might want to expand my content on gesso to keep those searchers on my site longer. So I type in gesso and see things like gesso board, gessoed canvas and gesso on wood — all things I could write new articles about that link to that incredibly popular one I already have.
Related Searches
A riff on that last idea is looking at Google's related searches options. Type in your term and search it, then scroll to the bottom where it says "searches related to" whatever you searched.
Here I see things like alternative to gesso, diy clear gesso and coloring gesso, which is another great list to think about.
Analyze, But Not Right Away
Once you've made a huge master list of ideas, you'll want to go through it and see which of those ideas are posts you actually want to write. But it's important not to look at your list right away. Writing and editing are two different things that should be done at two different times, and idea generation and consideration are the same.
Put your list away for a few days, then come back to it with fresh eyes and an open mind. Yes, some of your ideas will still sound silly, but some of them – more than a few, I'm sure – will be really awesome.
Then go write them. And try to make idea generation a regular part of your blogging routine. I promise it will get easier to come up with great ideas!
Looking for more writing inspiration?
Check out our writing prompts for every day of the year!