This post may contain affiliate links which may give us a commission at no additional cost to you. As an Amazon Associate we earn from qualifying purchases.
Knowing how to use LinkedIn properly can not only send more traffic to your blog, but help you build your brand!
You're probably thinking that LinkedIn is for business professionals trying to get their resume out there. Yes, it is used for that purpose but it can also help you establish your own brand. Not only can you create a wonderful community on LinkedIn and network with like-minded individuals, but you can even land an awesome job in the process!
Are you interested in getting paid to blog, work as a social media manager or a community manager?  Maybe you want to gain more authority in your current niche. If so then LinkedIn is the place to be!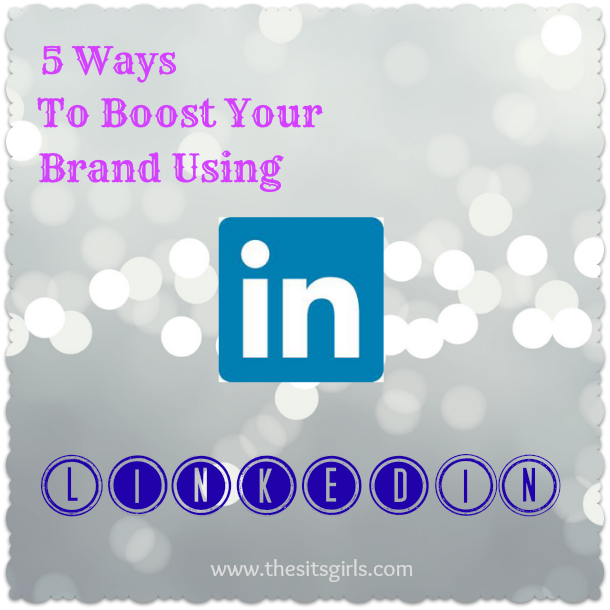 5 Ways to Drive Traffic to Your Blog Using LinkedIn
Today we are giving you the top 5 ways to give your brand a boost using LinkedIn!
1. Update Your LinkedIn Profile:
Now this should go without saying but so many times you will find that people have not completed their profile. Having a blank profile on any social media platform could mean a missed opportunity. Take the time to make sure your profile stands out above the rest, there is nothing worse than losing someone's interest before they have finished reading your profile.
Along with completing your profile make sure you have a great headshot. LinkedIn is not the place to put your cute blog button, if you want to be taken seriously make sure you putting your best foot forward.
2. Join Groups in Your Niche:
Just like on Facebook and Google + there are groups on LinkedIn. Take some time to find ones that fit with your own personal niche or career goals.
Once you have found a few groups in your niche make sure to actively participate. This is your time to shine and show other people you know your stuff.
Do not join a group just to link drop!
There is nothing wrong with adding your link when it brings value to the discussion but make sure it is helping someone.
Most importantly be professional! You never know who is watching you on LinkedIn, a possibly job connection or sponsor could be watching.
3. Use the Status Update Feature:
Now this is your time to link drop! Do you have a wonderful blog post or maybe you want your connections to take a specific action. LinkedIn allows you 148 spaces to get creative and draw people in for more! If you are a Twitter lover then this should not pose a problem for you.
Keep in mind that your profile is visible to any registered LinkedIn member, so once again keep it professional! LinkedIn isn't the place to complain about your husband, kids, boss or anything else. Save those updates for Twitter.
4. Make Connections:
Making connections on LinkedIn is similar to following people on Twitter or Google +. The more people you are connected with the better chance you have of getting traffic to your site. Connect with other bloggers, past employers, people you hope to work with in the future and people you want to get to know. The more connections you have the better it is for your brand.
5. Use the Recommendations Feature:
This is a great way to establish your authority in a particular area. Do not be afraid to ask fellow bloggers, past employers or anyone else that knows you to give you a stellar recommendation. Recommendations are published on your LinkedIn profile and are a way for people to endorse your skills, work ethic or any other expertise you have. The more recommendations you have the more authority you display in your niche.
Looking for More Post Like This One?
If you found our overview of LinkedIn helpful, be sure to check out these too: