This post may contain affiliate links which may give us a commission at no additional cost to you. As an Amazon Associate we earn from qualifying purchases.
With millions of bloggers flooding the internet, it can be a challenge to write something original. Everything has been done before, but it hasn't been done by you. The key to creating a fresh blog post is to bring your own perspective to the writing. It may not be a new idea, but it is an idea made new by viewing it through the lens of your personality. This is how you make an old topic new.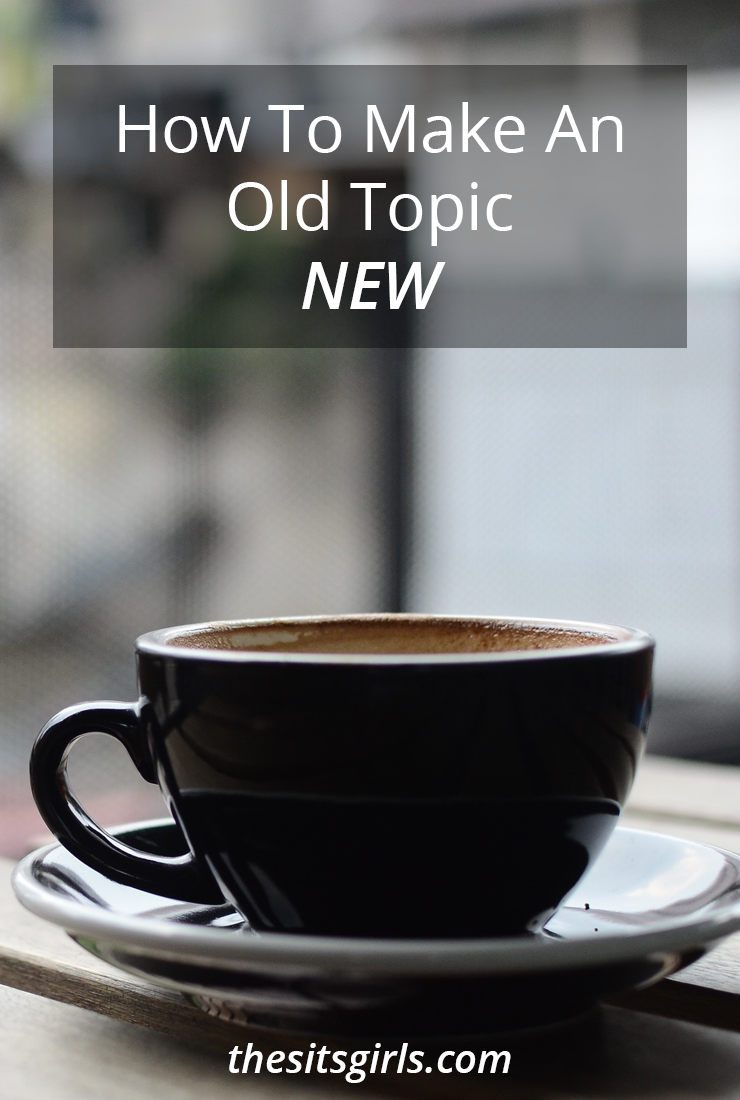 How To Make An Old Topic New
What can you do to turn a tired topic into a fresh one?
1. First, think about what makes you and your blog unique. Your loyal readers keep coming back not only because they like what you say, but because they like how you say it. Add that spin to your post. If you aren't sure, ask a few of your readers. I would be flattered if a favorite blogger reached out to me for feedback; don't be afraid to engage your audience.
2. Write with your signature style.
 Do you have one? You probably do, even if you aren't aware of it. I know bloggers who write with dry wit, bubbly optimism, wry self-deprecation, quiet strength, and sarcasm. Reread some of your favorite posts, and notice the voice and tone. Your style is most likely an extension of your personality, so stay true to the traits that make you unique.
3. If humor comes naturally to you, use it. Infusing humor into a blog post can refresh a topic and make it entertaining and fun. However, if being funny isn't your thing, don't force it. Failed humor  is not enjoyable to read!
4. Begin your post with a brief personal anecdote. Introduce a well-worn topic with an original story, and capture the reader's interest immediately. The story may end there, or you may return to it throughout your piece, turning bland expository writing into a compelling narrative.
5. Use your expertise.
You don't have to be a chef to write a recipe post, and you don't have to be a financial advisor to write a post about saving money. You are an expert in something, though, so use it. Mom bloggers are everywhere; if you are one, what is your expertise? Do you have all girls, all boys, or multiples? Are you a first-time mom, an older mom, a stepmother? Also think about what expertise you have based on your education and work experience, and use it as a filter through which you present a topic that's been done before.
6. Narrow your focus in order to stand out. For example, a quick search on Pinterest of "things to do with kids over summer" yields hundreds of posts. Choose a more specific topic, like "at-home activities that will keep your kids busy for at least an hour," or "free adventures for kids under 10."
7.  Embrace your imperfections. I am not a DIY blogger, but I have written about my DIY fails. Your readers can learn just as much from your mistakes as they can from your bright and shiny Pinterest-worthy posts. As a bonus, your honesty and authenticity may compel new visitors to become regulars.
8. Use personal photos. Stock photos are great, but a personal photo will breathe some fresh life into an old topic. They will distinguish your piece from all of the others, and help readers connect with you and your message.
9. Don't forget about social media! Even if the topic is well-used, you can promote your post on social media in a way that peaks interest. Make your meta description intriguing, lead your tweet with an irresistible teaser, or create visually appealing pins that will stand out in a Pinterest feed. Don't just drop a link on your Facebook page; write a sentence or two about why your post on this topic is a must-read.
Mark Twain said, "There is no such thing as a new idea….We simply take a lot of old ideas and put them into a sort of mental kaleidoscope. We give them a turn and they make new and curious combinations."
Use these tips to help you infuse your personality into an old idea, and you can create a piece of writing that is interesting, fresh and compelling.
Keep Reading