This post may contain affiliate links which may give us a commission at no additional cost to you. As an Amazon Associate we earn from qualifying purchases.
Toward the end of last year, I decided I wanted to try posting on my blog every day this year. I wanted to prove it was possible to do something creative every day by posting a project idea, however small, and finally living up to the name of my blog, Our Daily Craft.
In retrospect it was kind of a crazy idea, and I didn't put a lot of thought into how exactly it was going to happen.
I made it through the end of May, publishing at least daily, including weekends. In fact, I published 236 posts in those five months, or about 47 per month, 11 per week.
Then I published four posts in June.
I had a lot of reasons for stopping. My schedule got crazy with my daughter being home, me working at her school and our family going on vacation.
I got the feeling no one would be disappointed or even notice if I stopped posting daily. No one would miss it, including me.
There are a lot of posts in there I am proud of, but posting just for the sake of posting isn't the best way to go about building your blog.
But just because you don't have to publish every day doesn't mean you don't have to write every day.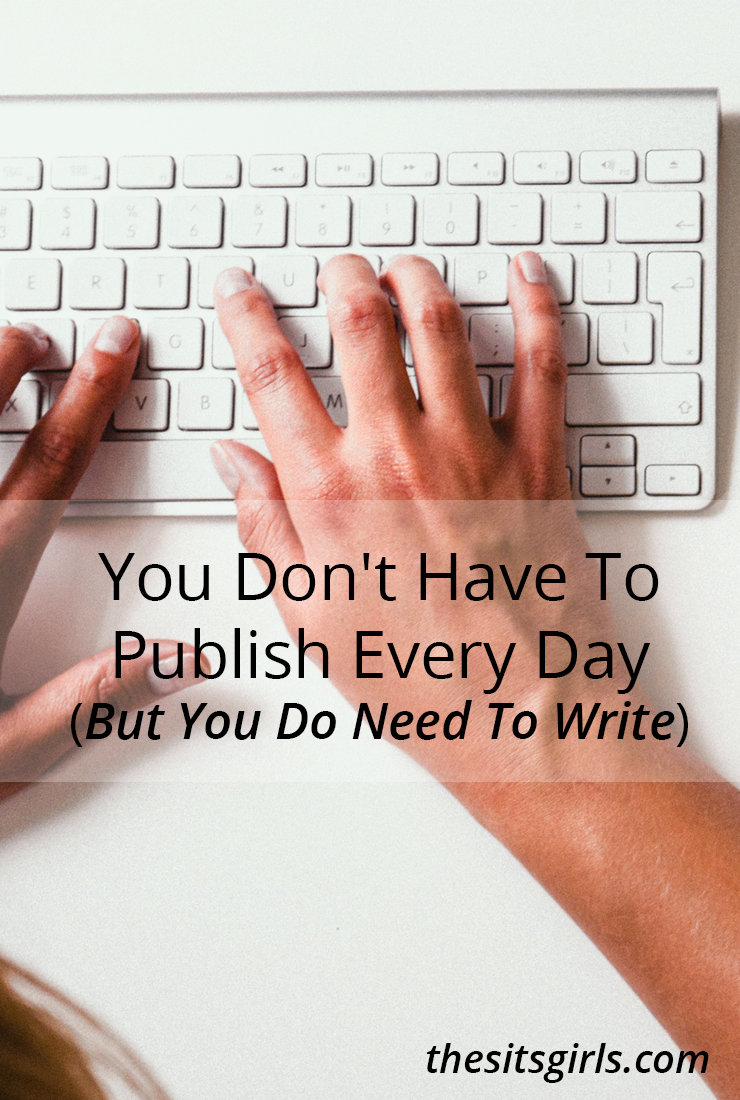 Why Write Every Day
Writing is a craft and a skill. You get better at it the more you do it. In fact, the only way to write better is to write more.
Your writing won't improve if you only do it when you want to, when you feel like it, when you have something to say. You have to work at it, every day, even when it's hard. Especially when it's hard.
Writing daily is a practice like exercise or meditation that will improve your life and get easier the more you do it. Try it for a month and you'll see what I mean.
Morning Pages or How to Write Every Day
I am a huge proponent of morning pages, an idea popularized by Julia Cameron. Grab a notebook and a pen (it really is different, and better, than writing on a computer) and write three pages, in the morning, every day.
My morning pages aren't always done in the morning, and they aren't always three pages, but the daily commitment to writing something is vital. I've done morning pages off and on for years, and while they're rarely publishable that's not really the point. It's about the practice of writing, building muscles.
You don't have to write three pages in the morning. You could do 10 minutes after work, or a couple of pages after the kids go to bed. Whatever works for you. The point is doing it in a way that you will continue.
How to Use Your Daily Writing
Morning pages are not meant to be a work of art or even something you would want to share with other people. They are a way to explore what's on your mind, a place to vent, explore your goals and dreams, whatever you want or need them to be.
Sometimes I write something that will become the seed of a blog post or article in my pages, but that isn't really the goal.
Writing without an audience is so important. When you know no one is going to see what you're writing, you're free to write what and how you want to write.
You learn to trust your voice when you hear it all the time. You can write without fear when you know that no one else is going to read it, and that confidence can spread into the rest of your writing.
Do you write every day, even when you're not publishing every day? I'd love to hear what your daily writing routine is like!
Keep Reading