This post may contain affiliate links which may give us a commission at no additional cost to you. As an Amazon Associate we earn from qualifying purchases.
You've done the writing, promoted your post, and then eventually it disappears into the archives of your blog. Hold on! That was a lot of work, so let's find a way reuse and repurpose that content to help you work smarter, not harder. There are plenty of ways to make your old blog content work for you in new ways.
Keep in mind that when we say "old blog content," we generally mean evergreen posts — the type of post that is timeless, meaning the story or information is still good no matter when it is read. A great recipe? A funny story? A DIY project? All evergreen. A post sharing what's on sale today at your favorite store? Not evergreen.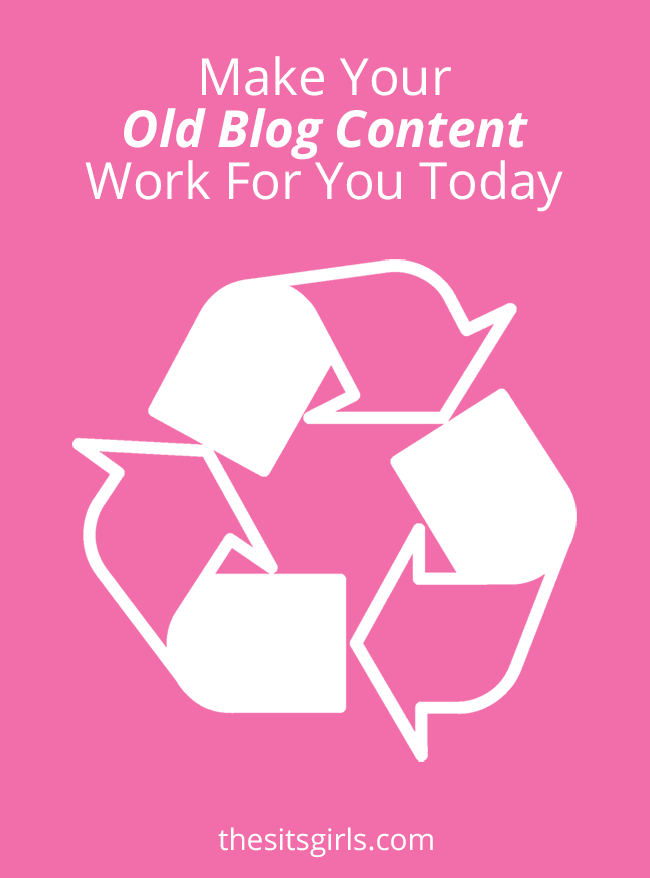 Make Your Old Blog Content Work For You Today
Update Old Posts
How do you decide which old posts to update? Take a look at Google Analytics and see what your most popular posts are for the past 6 or 12 months. If you're getting good traffic to older posts, start with those.
For most of us, the first update or improvement needed is larger or clearer photos. If necessary, take new photos or add a new graphic — include text on the image, to make it a Pinnable image. You can also tweak the title and add keywords to the post for better SEO; as long as you do not change the permalink of the post, you will not lose the links to the post from other sites.
Speaking of links, do you have current posts that can link back to this updated one, and vice versa? You'll keep readers on your site by sharing related content they may find helpful.
Monetize Old Posts
While you're revisiting those popular posts, it's a good time to add some affiliate links for related products that readers may find helpful. Remember to add an FTC disclosure as well (at the top of the post, before any links).
Promote Updated Posts
Now that your old posts are "new and improved," let's get them out there to new readers. Start by adding them to your social media calendar — push them out on Facebook, Twitter and Pinterest. Particularly with seasonal posts, bring them back each year at the right time so they can be viewed and shared again. You can also highlight these older posts in your email newsletter, in roundup posts, or in your sidebar in a list of favorites or seasonal content.
Make A Video
Another way to reuse old blog content is to change up how it's presented. If you have a popular older post, take that content today and make it into a Facebook video or do a Periscope. You can sprinkle in some updates while you're talking to freshen up the content. And the reverse is true — do you have older YouTube videos that still receive traffic? That means the content is drawing viewers, so consider making that into a post for your blog.
Condense Multiple Posts
Take older posts and condense them into one list, roundup, or printable you can use either as a new post or as a freebie for your email subscribers. When you're looking for material to share as incentives for readers to opt-in for your newsletter, look at those popular older posts to see what topics are still drawing eyes.
Beef Up Thin Posts
Rather than condense, go the other way, and beef up older posts to turn them into an eBook, video series, or e-course. Add value by updating the content and adding something new, then share it for free with your readers/subscribers or offer it as a paid product.
As you can see, there are many ways to use old blog content, so keep in mind that writing evergreen content pays off in the long run. Make it a goal to build up a body of valuable content in your archives, then bring those old posts back out for new readers.
Keep Reading
Check out these posts to learn how to get new traffic to old blog posts, find out what 7 numbers you need to check in your google analytics, and tips to help help you use the Google Keyword Planner Tool.