This post may contain affiliate links which may give us a commission at no additional cost to you. As an Amazon Associate we earn from qualifying purchases.
We're all working hard, heads down, writing and publishing and promoting our great blog content. When you're that focused, it can be easy to let some important tasks slip by. No matter your niche, these 7 things we want to see on your blog this month will help you get ahead.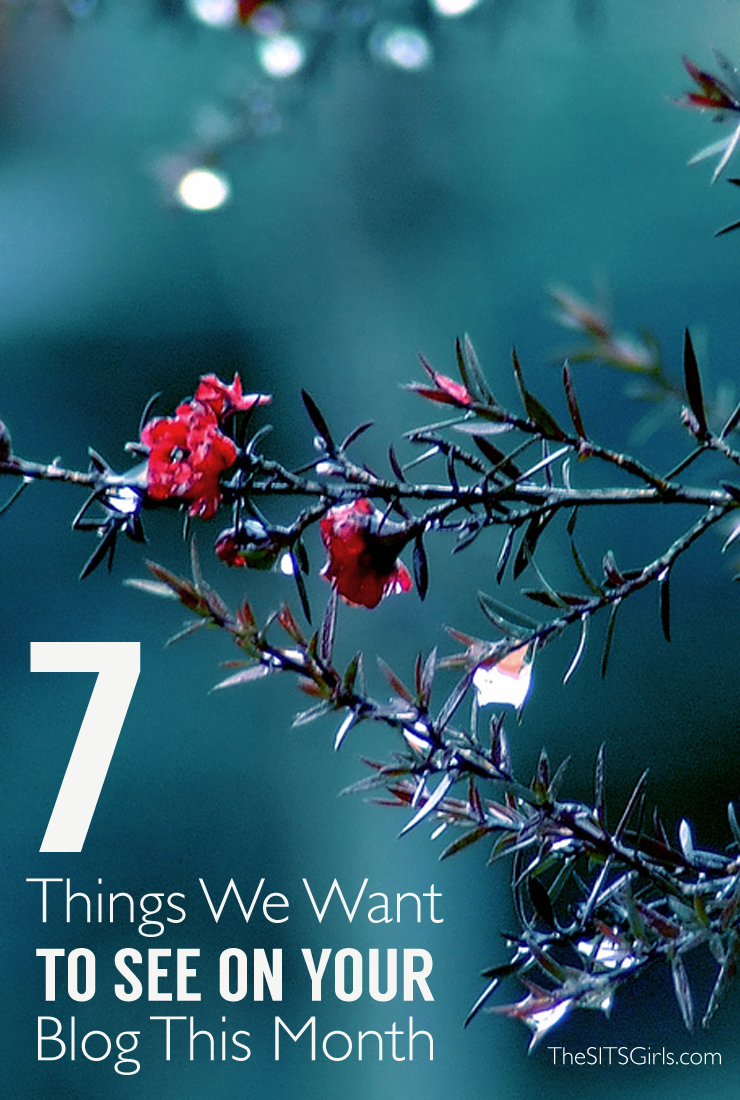 7 Things We Want To See On Your Blog This Month
1. You
Do you have a headshot on your main blog page? When's the last time you updated it? It's a good idea to update your headshot every 1-2 years and make sure it looks like you. Readers and companies alike want to see who they're dealing with, and having a photo adds your personality to the page. Speaking of personality…
2. Your Voice
No matter what your niche, you can add some personality into your blog posts. Get a little personal once in a while, share your feelings, and ask your readers to help you with personal challenges. You'll gain engagement and connections with your audience, and having a unique voice helps you stand out in the blogging crowd.
3. Updated Bio or About Me Page
When was the last time you revised your bio or About Me page? Have you moved or had children since then? Take a little time this month to update your biographical information and specify what your blog is about.
4. Clean Sidebar & Footer
Do a little spring cleaning on your sidebar(s) and footer. If you have your social media profiles there, are they actually gaining you followers? If not, get rid of them. Watch out for clutter, whether it's buttons and badges or ads and sponsors. That real estate is precious, so be mindful of what you put there.
5. An Easy Way To Share
Make it easy for readers to share your great content by using a plugin that puts buttons on each post. Then take the time to personalize each with your own handles. If you participate in "share threads" on social media, such as in The SITS GIrls Facebook Group, it's extra important to take this step.
6. Quick Loading Speed
Have you checked how long it takes your site to load? If it's taking too long, readers may just skip it and move on. Sometimes long load time is caused by too many images and ads (see #4 above). Sometimes it's from too many plugins. There's an easy way to check: use the P3 Plugin to see which of your plugins is slowing things down and decide whether it can be removed. While it may sound contrary to add a plugin, you can always delete this one when you're done. Mel Culbertson at BlogClarity has a great tutorial on how to use P3.
7. Video
Video is all the rage these days, whether it's quick recipes, unboxing, cosmetics tutorials, or just sharing your own humor and personality. Challenge yourself to include video on your blog. Try inserting a short video into your next blog post; talking directly to your readers is much more engaging than writing. You can also load videos directly onto Facebook, make short videos on Instagram, or record live on Periscope, then link to those social media accounts within your blog posts.
Before you get too far into the New Year, take some time this month to tackle these 7 items. What other ways do you spring clean your blog? Leave a comment letting us know what you find essential!