This post may contain affiliate links which may give us a commission at no additional cost to you. As an Amazon Associate we earn from qualifying purchases.
Writing a blog post that sustains the interest of today's reader is a challenge. You have about fifteen seconds to capture the interest of the average reader, according to data from Chartbeat CEO Tony Haile. We are accustomed to getting our information quickly and easily, and there are thousands of other bloggers competing for that coveted few minutes of uninterrupted reading. Fortunately, there are a variety of things a blogger can do to optimize blog posts for the busy reader.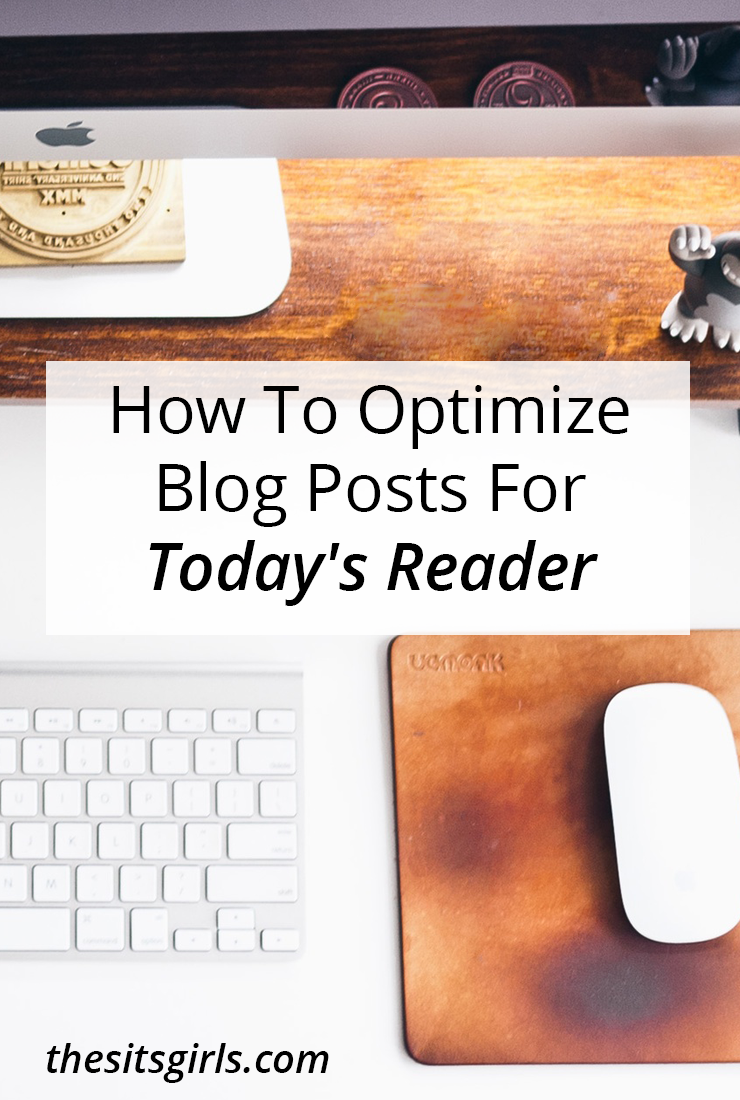 How To Optimize Blog Posts For Today's Reader
1. The Title
The most fabulous writing in the world will go unread if the title isn't strong and attention-grabbing. Be clear about what your subject is and why your post is worth reading. "How to Create a Princess Party in Ten Easy Steps" tells me exactly what I'm going to learn; "Suzy's Fabulous Cinderella Party" does not.
If you write more journal-type of blog posts, your title may not convey the content clearly. In these cases, make sure your meta description is enticing. Think of it as the book jacket of your post; potential readers will skim it and then decide if they want to continue reading.
2. Scan-ability
Most readers will quickly scan a blog post to determine if it's worth their time. The layout of your post is crucial during this once-over; your key points need to be clear and easily visible. Use headings in larger fonts, bold or italicize important points, and play with different text colors. 
One long, continuous block of text is not inviting to the average reader. Splitting large blocks into smaller three or four sentence paragraphs makes reading more manageable. Visually breaking up your text with lists and bullets can also optimize your writing for the short attention span of many blog readers.
An effective way to create an intriguing layout is including quality photos. When quickly scanning an article, engaging photos will not only break up the text, but they can garner interest in the writing. Remember when you read books as a child, primarily focusing on the illustrations? Visual images are still strong companions of the written word.
A final note on scan-ability: responsive design! Blog reading takes place on smartphones, tablets, laptops, and desktops. Your blog should be responsive so that it presents clearly on any device, without the reader having to zoom in or out to make the text legible.
3. Quality
Once a reader has decided to commit to your piece, she will only read as long as it is worth her time. Correct grammar, punctuation, and spelling communicate professionalism, as does thorough research. Cite reliable sources and make your expertise clear. A reader should feel like you spent a considerable amount of time creating your post. If you couldn't bother to take the time to make it strong, why should she take the time to read it?
4. Beware Of These
There are certain facets of blog design that can turn off readers. Most are personal preference, so each blogger must decide whether the potential benefits outweigh that risk.
Dark background and light text

Fancy fonts that are difficult to read

Music that has to be muted 

Floating or falling graphics that disrupt reading

Pop-ups that block text 
If you do use pop-ups for a subscription box or a freebie, monitor its effectiveness to ensure it is not simply a barrier to your reader. You can have it appear only to new visitors, or after a visitor has been at your site for a certain amount of time.
5. Keep Them Wanting More
A visitor to your blog has read your post; now get her to stick around and read more. Consider a related post plug-in at the end of each post, and include links within your post to other articles on your site. Encourage comments by asking a question at the end of your post, and encourage social sharing with a plug-in as well. Engaged readers are readers who will return to your site.
There will always be skimmers, and there will always be visitors who click on your site and quickly bounce off. The readers you truly want are the ones who stick around and engage. Use these tips and strategies as you write your blog posts, and those engaged readers will be back for more.
How do you optimize blog posts for your readers?
Keep Reading