This post may contain affiliate links which may give us a commission at no additional cost to you. As an Amazon Associate we earn from qualifying purchases.
Do you ever feel like there are some blogging secrets that you're missing out on? Do you feel like blogging success is waiting just out of your reach? Do you read all the blogging tips and tutorials you can find and still feel overwhelmed? Just hoping for one easy to follow plan that will help you accomplish your goals?
If so, never fear. Here are 6 top secrets revealed to help you take your blog to the next level.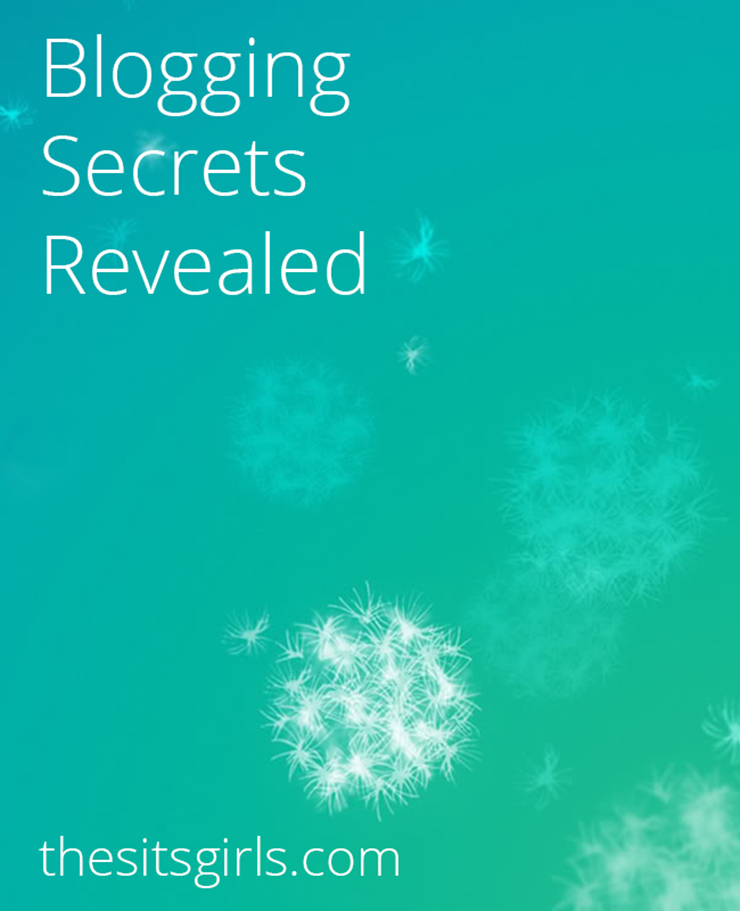 Our Best Blogging Secrets Revealed
Blogging Secret #1:
The look of your blog matters. Sure, content is king, but design is probably queen. Derek Halpern says that a bad web design can trigger distrust. Ouch!
If your blog has a homemade or free theme and you're wondering why it's not growing as quickly as you'd like, consider upgrading to a professional design.
Unless you're an expert seamstress (or is it 'sewist'?), you probably don't wear homemade clothes. Why make your blog do the same? The SITS Girls have some beautiful professional blog themes if you're looking for a place to start.
Blogging Secret #2:
It's all about the list, baby. The email list, that is.
Your biggest asset is your email list. As I told you last month, I grew my subscriber list to 5,000 in 6 months, and you can too. Facebook and Pinterest may frustrate the heck out of you, and Google may choose to send or withhold traffic. Email is about as much of a guaranteed direct line to your readers as you're going to get.
If you don't have an email list, get busy right away!
Pursue your list – nurture it, grow it, and make those subscribers feel special. After all, they've given you permission to email them directly – make it count!
How can you nurture your list?
Some people publish freebies just for their list. Some people are more personal in an email message to their list. Others offer special discounts and advance notice of new products and sales to their list.
Do a little brainstorming and you're sure to come up with some creative ways to connect with and reward your subscribers. They'll love you for it!
Blogging Secret #3:
Decide what you want your readers to do. Literally – do this for every post you write. Do you want them to leave a comment? Do you want them to check out a Pinterest board? Click on an ad? Read another article?
If you give them too many choices, they will get overwhelmed and pick something randomly or more likely, click away. Make it easy for them.
Guide your reader to your chosen action by using:
links
calls to action
graphics
questions
Also important is what you leave out. For instance, a few carefully chosen links will stand out much more clearly than a link in every sentence.
Blogging Secret #4:
Never forget your reader. When you're writing a post, make sure you keep it focused on the reader.
Are you going to tell them how to do something? Entertain them? Educate? Encourage them?
If you continually show them what's in it for them, they will keep reading. Lose that focus and you'll lose their attention.
After I've written a post, I usually read through it to make sure I'm not blabbering on about myself. I want my words to be useful / helpful / interesting to the reader. This read-through often results in a lot of deleting, but my work is better for it. 🙂
Blogging Secret #5
Headlines, bullets, and lists are your friends. You probably know that people don't read on the web; they skim. When was the last time you read every word on a blog post that wasn't your own?
So going along with making things easy for your reader, you need to break up your posts for them. Make your posts scannable. How do you do this?
Use lots of:
white space
line breaks
short paragraphs
lists
headings and subheadings
(See what I did there?)
The editorial guidelines for one of the larger sites I contribute to recommend paragraphs of 1-3 sentences and absolutely no longer than 4 sentences. This is not the way most of us were taught to write in school, but it's essential for the web.
Blogging Secret #6
Graphics make your site more sticky.
A good graphic at the top of your post is a must for Pinterest. But did you know that graphics used within your post will slow people down and keep them reading? It goes along with secret #5 in helping to make your post scannable.
My posts that contain multiple graphics have a longer average time on page than the ones with just one graphic. You want to draw your reader in and get them to stay a while and graphics help out tremendously with this goal.
Hopefully you already knew about these blogging secrets.
But if not, make some changes and you'll be set up for success.
Back to you. Tell me which one of these blogging secrets revealed you're going to focus on first.
If you leave a link in the comments to a post you want help on, we can all pitch in and give suggestions!