This post may contain affiliate links which may give us a commission at no additional cost to you. As an Amazon Associate we earn from qualifying purchases.
I've been blogging for more than four years, and one thing I've learned (and seen over and over again) is that the more you give in the blogging community, the more you get in return.
As in, the more you visit other blogs, the more comments you leave on posts, and the more you share, the more traffic and blog loyalty you'll see.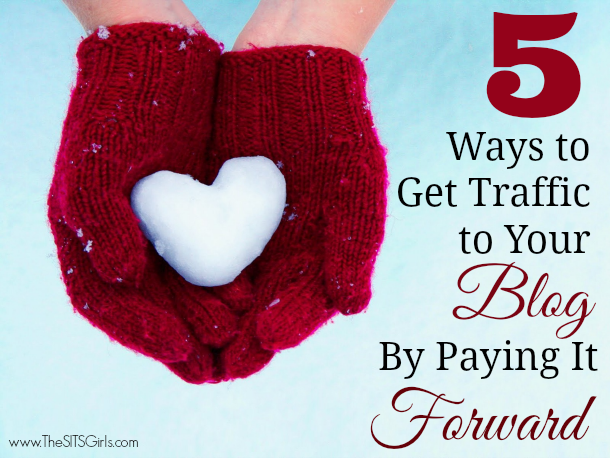 Five Ways to Pay It Forward
Doing something to get something in return isn't the best way to rack up the karma points. Being deliberate and thoughtful in the way you support other bloggers without expecting reciprocation can only add to the positivity in the blogging community, and who knows…maybe you'll find your own blog the recipient of that kind of support, too.
Here are five ways to reap the benefit of more traffic to your blog by paying it forward.
1. Always Be Nice
You don't have to agree with everything you read, even posts written by your best blogging friends. Respectful comments can lead to a civilized discussion, which benefits everyone. But rude, confrontational comments help no one. So, if you don't have anything nice to say, move along. And if you do, go ahead and say it. Let the blogger know that you were there and you appreciated the words on the virtual page.
2. Share
Even if you don't know the blogger personally, share a post that you enjoyed or think would be good for others to read. Your friends and followers will appreciate your kindness in passing along the information, as will the blogger who wrote it.
Or, if someone is working for a cause that you believe in, help them in any way you can and always share their efforts. Even if you can make monetary donations, you can help a blogger get that cause in front of other eyes that can by tweeting posts, sharing a fundraiser on Facebook or Google Plus, or sending an email to your friends and family. An extended network of people can do so much more good than one person's army.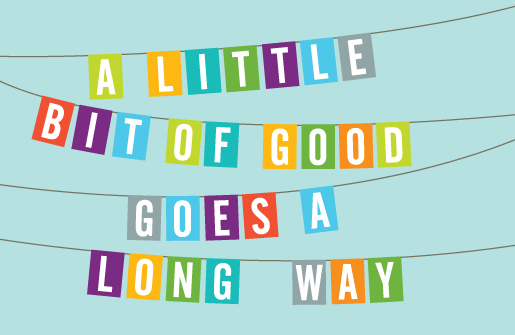 3. Shout It Out
If you found something on a blog or the internet in general that helped you, highlight it on your own blog. Did you try a recipe that turned out to be a hit in your house? Write about it. Did you read an article that moved you? Include it in a weekend round up post. But remember: always, always, always give proper credit and link back to where you found it. Stealing other people's stuff is the opposite of paying it forward.
4. Make Suggestions
If you have a Facebook page for your blog, chances are excellent that you're trying to grow your community there. I know that I often "suggest" my own page to my friends, but do you know that you can suggest other pages, too? Next time you "like" a page, look around for the "suggest to friends" list. People often send me links to Facebook pages that share a lot of gluten free ideas/recipes, and I love that. That shows me that people care and want to try to make my life a little easier. Know someone that's going through a hard time? Suggest a blog page that you subscribe to that always make you smile.
5. Pass Along Information
Have you learned something about blogging? A Twitter tip, a change in the way Facebook works? Pass along that information. For everyone that has already heard the news, there are five more people that haven't.
Your Turn
Have you tried any of these suggestions? What were the results?
Ready for More? Keep Reading!
If you enjoyed this post on paying it forward as a blogger, keeping reading. We have more for you!