This post may contain affiliate links which may give us a commission at no additional cost to you. As an Amazon Associate we earn from qualifying purchases.
About Me pages are often the second thing readers go to on your blog. The first is a post that someone shared on Facebook, pinned on Pinterest, or found in a Google search. Once the reader is drawn in, they want to know more about YOU: who you are, what you're about, and what YOUR story is.
That's where the About Me page comes in. It's your chance to tell your story, briefly, with links and pictures, send readers where you want them to go, and give the bullet points of your life; leaving them wanting more.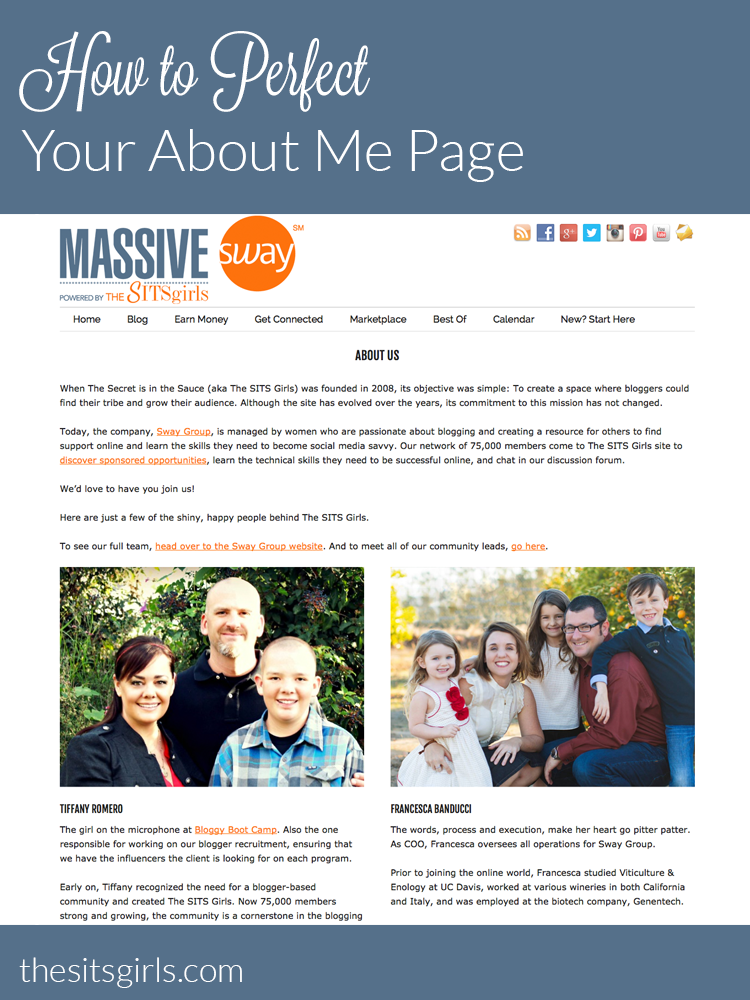 How to Perfect Your About Me Page
You, the blogger, want to write a fantastic About Me page so the reader will go on to the third, and fourth, and 100th visit to your blog instead of clicking away to find someone more interesting. Online attention spans are SO very short, and you need to grab those readers, reel them in, and do it quickly.
It's also the first impression that PR people, brands, potential advertisers, and curators get of you, as well as how to get in touch with you.
There are a few things you should include in your About Me page to make it helpful and memorable:
1. Your Personality
This is where you need your voice…you know, that thing you've worked so hard to develop and use consistently in your blog? That thing that lets readers feel like you're sitting down and chatting, rather than speaking to a blogosphere full of strangers. Yeah, that. USE THAT. If it seems difficult at first, just sit down and write the first thing that comes to mind. Free write for a while and edit later.
2. Your Focus
What is your blog about? What will readers find within your posts? Do you offer up gluten free recipes? Photos of the people in your hometown? Anecdotes about your day as a Stay At Home Mom of six kids? Fitness tips and plans? Whatever it is, talk about it.
3. Contact Information
Whether you work with brands or not, you need to have your email address and social media links easily accessible. You can always create an email address just for your blog if you don't want to display your personal one, but you need one. You never know when a reader/PR pro/curator/advertiser will want to tell you how great you are, or how your story affected them, or how he/she wants to collaborate with you. I cannot stress enough how important this is.
4. Photos and Identifying Information
Readers like to see you in their minds while they're reading your words. It makes more of a connection with them to see your face. And if you write a lot about your family, consider including pictures of them, either individually or as a group and some current information about them (like ages and the names you use to refer to them in your posts). If you're comfortable with it, include some general information about where you live. I always say that I'm in rural Kansas, surrounded by cornfields. Just that wording gives my readers a sense of connection with me…for example, they know it's a big deal to pack up all of my kids and go get groceries, because it takes 40 minutes for us to get to a store.
5. Favorite Posts
Whether you like them because they got a ton of views or comments, you're proud of the writing or photos, or they show who you really, truly are as a person, include links. Treat the About Me page as a jumping off point into the deeper waters of your story.
6. Fun Facts
Along with your voice, this is another way to let readers get to know your personality and who you are as a person. Do you run half marathons every other weekend? Have you cooked every one of the Pioneer Woman's dessert recipes? Do you board foster pets? Have you eaten sushi with Lady Gaga? Include snippets of what makes you interesting.
Remember, you want visitors to your About Me to remember you and come back for more. You must have contact information available, and you want to make a connection with them. Chat with them, offer them a cup of coffee, make an impression.
KEEP READING!
Looking for posts similar to this one on perfecting your about page? Then be sure to click through the below links or head over to our Facebook fan page to continue the discussion!