This post may contain affiliate links which may give us a commission at no additional cost to you. As an Amazon Associate we earn from qualifying purchases.
When starting a new blog, or re-branding an existing blog, one of the most daunting tasks (after choosing a title and URL) is choosing a tagline. For some bloggers, it can seem impossibly difficult to come up with a tagline. We put a lot of pressure on ourselves to get it "just right." So how do you choose the perfect tagline? It's actually not as complicated as we make it out to be!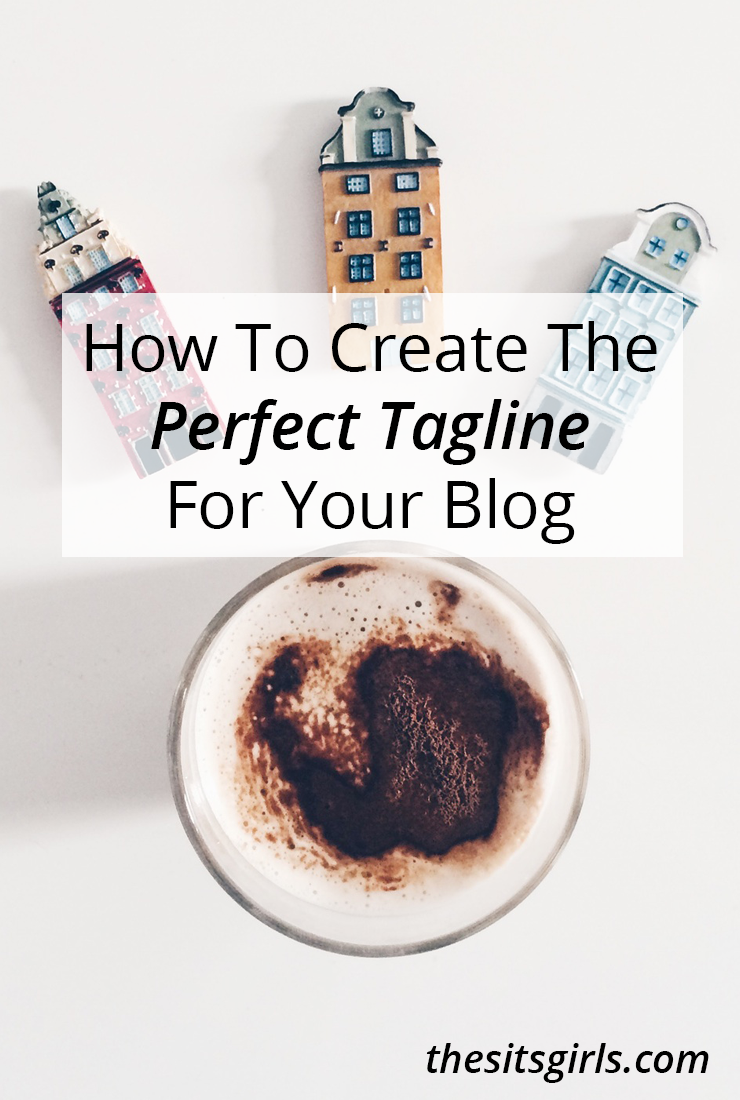 How To Create The Perfect Tagline For Your Blog
Your tagline should include the following 3 things:
Your intention: In only a couple words, your tagline needs to succinctly state what you aim to provide for your readers, and how you plan on providing it for them.
Your tone: Is your blog serious? Funny? Witty? Charming? Your readers will learn what to expect based on your tagline.
Your end-goal: Okay, so you have a mom blog, so what? You write about frugality? Big deal! Why should it matter to your readers? Sell yourself!
With those 3 components, the options are virtually endless. Sit down and take a minute to write out what it is that you want to provide for your readers and how you will provide it. This mini-mission statement will help guide your tagline-writing process.
Now take a look at the tone of your blog. Do you write with humor? Do puns make you roll your eyes? Are you very straight to the point? Your tagline should give your readers and idea of who you are and what you are like. Think of it as a complement to your title and part of the first impression or "curb appeal." It is likely to be one of the first things your readers see, so you want to make sure it reflects who you are. If your blog is a serious blog about political issues, having a cutesy pun-laden tagline is going to confuse your readers.
Once you have an idea of what your tagline should convey, come up with ways to make it catchy and memorable. Can you use a pun or play on words? How about an alliteration or rhyme? Think of product slogans, jingles, and taglines that stuck with you. What do they have in common?
After you've come up with 5-10 tagline ideas, run them by a friend or fellow blogger. Ask them if any of the taglines stand out as being memorable. Ask them if they would want to read a blog with this tagline. You want it to be short and sweet, but still "hook" readers into wanting to learn more!
Here's a few other suggestions to keep in mind for creating the perfect tagline:
Use cliches carefully. Don't pick something that is SO cliche it won't be immediately tied with your blog.
Avoid over-used phrases. Words like "musings" and "ramblings" are very overdone and won't be memorable.
Play with words, but don't go crazy. Using hard to spell/pronounce or overly lengthy words can make it difficult for readers.
Sell yourself! Don't be too vague. You have one chance to hook your reader so make it count!
Most importantly, don't stress out over the decision. While it's important to your branding to have a killer tagline, you can tweak it and change it if you find your tagline isn't working for you!
What's the best tagline you've seen from a blog or business?
Keep Reading