This post may contain affiliate links which may give us a commission at no additional cost to you. As an Amazon Associate we earn from qualifying purchases.
As bloggers, we have a propensity toward sharing some of the most private moments of our personal history. But it's a fine line to walk – how much do you share, and how? Today, 2012 BBC Speaker Robin Farr shares her tips on striking the right balance.
How to Blog Honestly Without Losing Your Dignity
"Authenticity" is practically a buzzword in blogging, but there's a reason: it works. It works because your readers are people and people like to read about other people, not other people pretending to be something they're not.
Most of us – though not all, to be sure – are authentic on our blogs. But there's authentic and then there's honest. Really honest. What would it take for you to be really honest?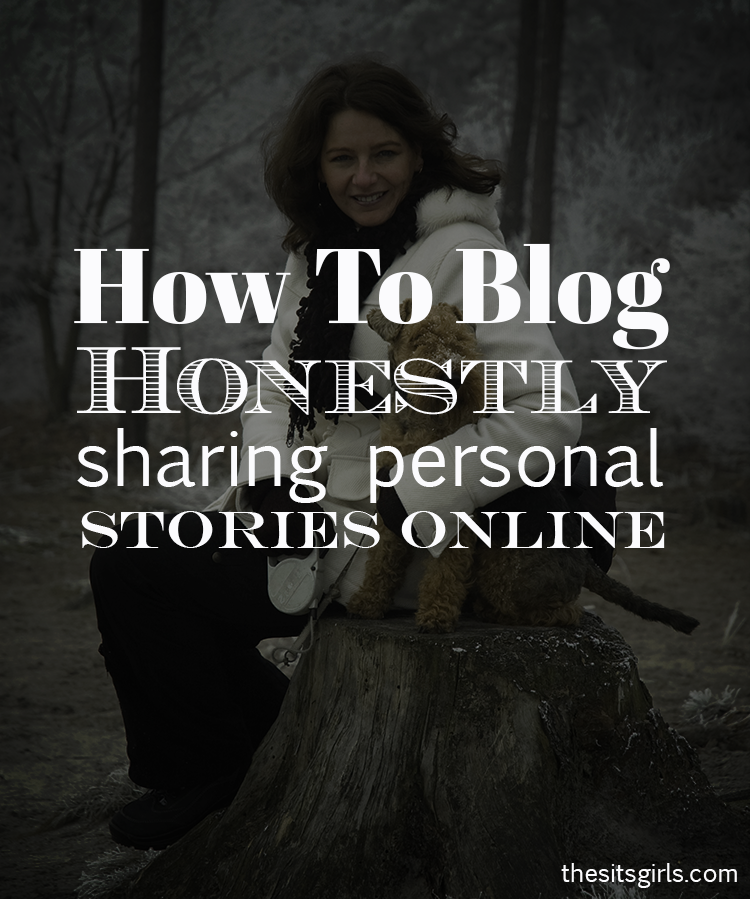 I'll start by telling you my most honest post – which I never, ever thought I'd write – was about my experience with postpartum depression and rage and how one day I got so mad I actually slapped my baby. (And I will fully admit that mentioning it again here makes me incredibly nervous even though I got a lot of support after my post.)
We all have something we're afraid of sharing. Some people write it and then don't publish it, which is cathartic, but what if you did?
Don't hyperventilate. Let's talk about how to be comfortable sharing personal stuff.
Define your boundaries
Some bloggers publish posts about things others can't imagine sharing – marital problems, miscarriages, mental health issues – while for others the line is much closer to home (with curtains closed, thank you very much). It doesn't matter. What matters is that you are comfortable with what you choose to publish.
Do it because you want to, not for validation
If you're comfortable writing about something sensitive, you should be fine (even if you're nervous). If you're looking for validation from others, you're probably not ready.
Don't just barf it out there
I'm the queen of writing something emotional, reading it through for typos, and then publishing it. Sometimes that's the only way I can do it. There are ways to increase your comfort level, though, such as:
Starting small. Work up to the brutally honest stuff or write it in pieces.
Sharing it on someone else's blog as a guest post, which, for many, feels a lot less vulnerable.
Writing the post and then coming back to it later to see how it sits with you.
Asking for backup. Several bloggers I know have told others they're writing a sensitive post. If you do that those people can then back you up with supportive comments once you've posted it.
Publication is Power
There are lots of examples of bloggers publishing something hard to share and feeling better for it. Here are two that stand out for me:
Cristi from Motherhood Unadorned on how she doesn't think suicide is selfish. That post sparked great dialogue and got syndicated on BlogHer to boot.
Yuliya from She Suggests recently posted about suffering from depression – a very hard thing to admit, but now she has some extra support and she's helping others as well.
My experience has been equally positive. In addition to overwhelming support for the post I mentioned in the intro, I also wrote about another aspect of PPD and submitted it for publication. It was accepted and now appears in Welcome to My World along with other bloggers' stories about being a working vs. stay-at-home mom. (I also had another piece published in a book about depression. See? Honesty pays!)
Whatever your big secret is, I guarantee someone else will have been through something similar, and if you choose to share it you'll be helping both of you.
Have you shared any really personal stories? (If so, leave me a link in the comments!) If not, maybe it's time to cross the bridge and step into the light.
Looking For More On Writing?
If you are looking for more inspiration on how to stay motivated both in blogging and in life, then you do not want to miss these posts:
About The Author
Robin Farr is a writer, wife, communications professional, speaker and mom. She experienced undiagnosed postpartum depression after her son was born in 2008 and started her blog, Farewell, Stranger, as a way of writing herself out of it. In doing so she discovered strength in brutal honesty and the power of community.