This post may contain affiliate links which may give us a commission at no additional cost to you. As an Amazon Associate we earn from qualifying purchases.
If you have blogged, tweeted or logged into Facebook in the past month, chances are you have heard about the latest social media craze, Pinterest.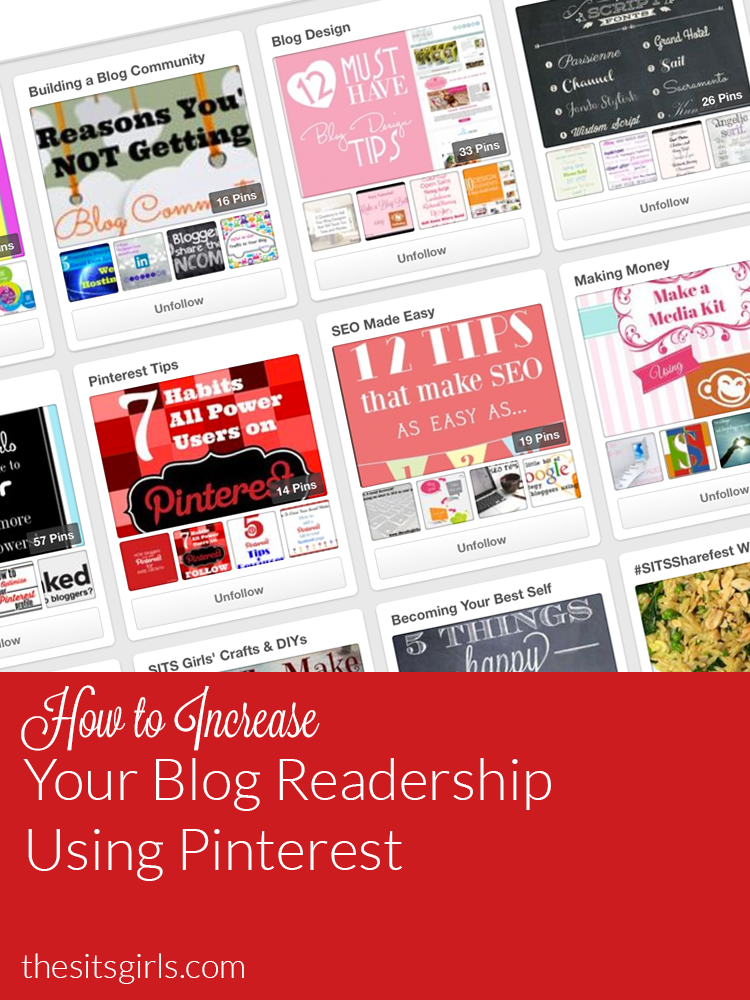 Pinterest is an excellent tool for bloggers.
The two most important things Pinterest can do for you as a blogger are:
Drive traffic to your site.
Connect you with potential readers.
Without creating the longest post in the history of SITS guests, I will try to give you an overview of how to do both.
Using Pinterest to Drive Traffic to Your Site
Pinterest is all about visuals. You have the ten seconds it takes for someone to scroll their mouse to the bottom of the screen to catch their eye, make them stop at your pin AND click on it. If you pin a pretty picture of your cat included within a blog post they may stop, "aww" at their screen, then move on. If you pin eye-catching text or an interesting visual they may stop, read what you have written and decide if they want to visit your blog for more.
The key is to always pique the readers curiosity. If you include too much information in your pin they have no reason to visit your blog, if you include too little they will smile at your picture and move on.
Here is an example:
I created a "how-to" post including all I had learned after my sweet little three year-old decorated our house in permanent marker. As much as I wanted to pin this photo of my now tiger-striped child:
I created a text image instead:
This gave readers a reason to stop, read what kind of information I would be sharing, and then click over to my blog for more tips.  This strategy increased my blog traffic dramatically.  On its best day, that pin brought over 5,000 unique visitors to my blog!
Use Pinterest to Connect With Potential Readers
You could probably classify me as a "mom blogger." Okay, you could. But there are two specific topics I write about often: autism and grief.
While my regular readers do read and comment on these posts, they also appeal to a target audience. By creating boards on Pinterest focused on these two topics, I am able to connect with more people with similar interests who have the potential to become new readers.
When I find a quote I like, articles of interest or write a post pertaining to one of these topics, I pin them to the appropriate board. Since each board is narrowly focused, they do attract fewer followers than my other boards but that is okay. The aim of each is to connect with people who share my experiences.
Increase Your Social Media Following on Pinterest
Another great way to use Pinterest to broaden your social media connections is to comment on pins. If you see a pin that rings true for you, comment on it. You may find someone who shares your love of coffee or your knack for screwing up recipes and next thing you know you have a great new blog to read or a person to tweet with the next time you burn dinner.
Pinterest is one more tool to add to your social media toolbox. Once you spend a few minutes (or ten hours, if you are me) scrolling through the site, you will find all kinds of creative ways to market your blog and connect with new people.
We love ourselves some Pinterest and would be thrilled to connect with you. You can find us at SITSGirls and TiffanyRom.
More Pinterest Related Articles
About the Author
Jessica Watson is a freelance writer, blogger at Four Plus an Angel.