This post may contain affiliate links which may give us a commission at no additional cost to you. As an Amazon Associate we earn from qualifying purchases.
In the blogging world, a new year is more than just a new date. It's a time to re-organize and think about what's been working and what hasn't been working. If you want to make 2014 your year of blogging success, then it's time to sit down and start mapping out a blogging plan. A great way to get started on this plan is to plan out your content and this post will show you how to do just that!
(And if you need a little inspiration for content, make sure to check out our 31 Writing Prompts for January.)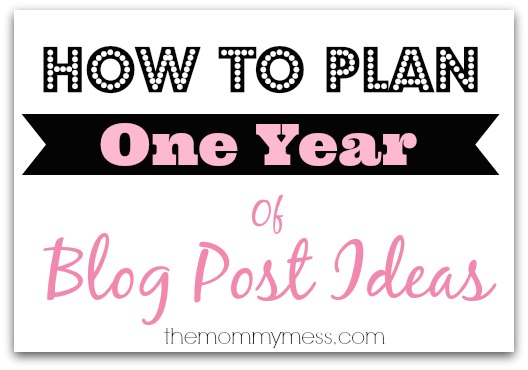 How to Plan One Year of Blog Content
Planning regular blog content is a challenge for me. I tend to write about the topics that are on my mind in the moment. I'm an impulsive writer, and like many of you, my posts come to life through my experiences in real time.
While that process works for the day-to-day topics that spring up just through living life, it's hard to actually plan content that way. In the last year, there were a lot of topics that I thought to write about a day late and dollar short, and I felt like I missed the boat on more than one occasion.
I wanted to come up with a way to create a stronger foundation for my blog content, and I needed something simple and straightforward.
After using these basic steps for my own content calendar, I was able to create a backbone of post ideas for the entire year.
And? I did it in one weekend!
Are you looking for a simple, yet effective way to plan your blog content this year? Then, look no further!
I'm going to show you how to put your content calendar to work for you and plan one year of blog post ideas!
Read the Full Post Here: How to Plan One Year of Blog Post Ideas