This post may contain affiliate links which may give us a commission at no additional cost to you. As an Amazon Associate we earn from qualifying purchases.
A constant in blogging is the limitless learning. It is a universal need for successful blogging. Never does the learning or education stop. Every blogger benefits from continuing to seek knowledge and advice from experts.
There is so much to learn about blogging, even for those who blog as a hobby and not business. A blogger must learn photography, WordPress, Blogger, social media, email, marketing, writing, SEO, and more.
If you think it is hard to find the time to study all these things, you are not alone. No need to feel overwhelmed. Learning is as simple as listening to some of the amazing podcasts for bloggers and implementing one or two things you learn.
What Is A Podcast?
Simply put, a podcast is an internet audio broadcast. The broadcast has episodes in a series, subscription capabilities, and is downloadable. Before the internet, broadcasts were either radio or television. Now, we can access volumes of digital information on our devices.
Podcasts offer you the ability to listen and learn while going about your everyday life. Listen in the car, while working out, traveling, or doing errands. Pop in your headphones and listen to learn. I listen to podcasts while driving kids to school, doing errands, and taking walks. It is my best thinking time!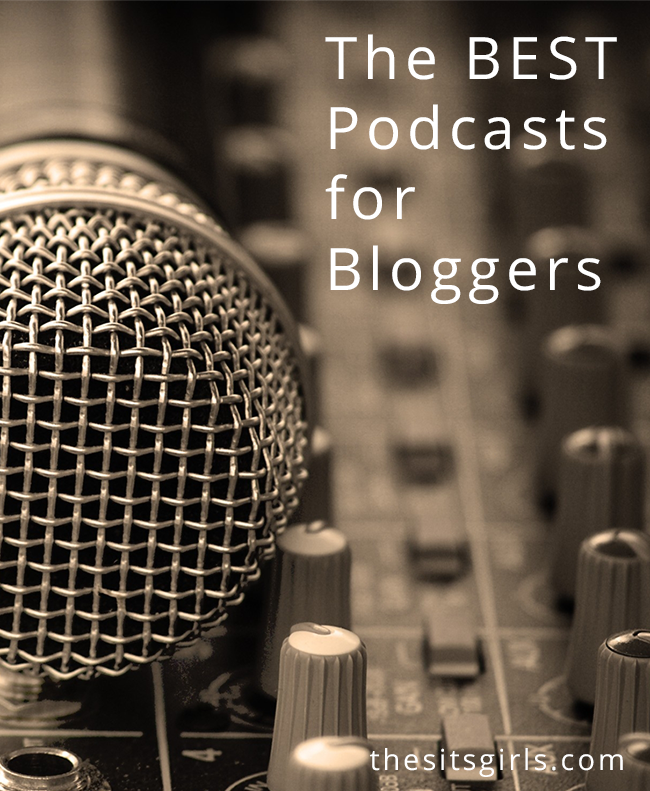 8 Educational Podcasts For Bloggers To Check Out
1. Beyond Your Blog. Susan Maccarelli is the host of this amazing podcast. Every week she interviews an editor from publications accepting submissions from aspiring writers. Susan asks the questions we want answers to, such as submission requirements and do they pay. Beyond Your Blog is one of my favorite podcasts. I like the information and valuable resources.
2. Problogger. The big daddy of the blogging world, Problogger is a must-listen-to podcast. The wealth of information and resources found here is astounding. Darren Rowse is wonderful to listen to as he shares blogging tips. His goal is to help you create great content, attract readers, and generate income. Rowse has tremendous experience with blogging, marketing, and monetizing. He shares practical tips and insights to educate you and help grow your blog.
3. Business2Blogger. I just found this podcast a week ago. I am in love. Kirsten Oliphant interviews blogging experts to share tips and advice with fellow bloggers. I found her style pleasant and easy listening. Every interview has taught something new from branding to blogging your passion.
4. Coffee Break Blogging. David Risley shares his wisdom and experience in online business. His tips cover social media, monetizing, affiliate marketing, and building your e-mail list. You'll want to take notes as you explore each episode. Each is full of valuable information you can take to your own blog.
5. SEO 101. This podcast is more technical in nature. Yet, hosts Ross Dunn and John Carcutt share helpful tips and information about SEO. Though some believe SEO is in the past, it remains part of the entire blogging puzzle. Even the smallest tips, resources, and information can help propel your blog. This podcast self-describes as "for beginners" and "not overly technical". Anything that explains SEO in a pleasant and enjoyable manner is perfect.
6. Ecommerce Influence. This podcast is not aimed at blogs. It is about online business marketing. For those bloggers who sell a product on their blog or are considering doing so, this podcast is helpful. It covers methods to convert visitors into customers, capture leads, grow your e-mail list, and generate revenue on your online business.
7. Unemployable. The name of this podcast is amazing. Brian Clark, the host, shares his knowledge and experience as an entrepreneur. Running a blog is an entrepreneurial action. Topics include branding, freelancing, gaining new customers, and online courses.
8. Blogging Your Passion. This podcast is all about following your passion and doing it well. The hosts share valuable information about search engine optimization, monetization, growth, and content. It is a beneficial resource in your blogging education.
The most important features of any blogging podcast is the content, information, and pleasantness in which the information is shared. Learning is one of those life-long activities that make us better. In blogging we never give up learning more about every aspect, and there is always more to learn.
Let me know which podcast you are enjoying in the comments!
I'm always looking to add more podcasts to my list.
Here are a few more podcasts to check out, too.