This post may contain affiliate links which may give us a commission at no additional cost to you. As an Amazon Associate we earn from qualifying purchases.
Something changed for me in the last year, after five years of consistent blogging at least three times a week.
I became overwhelmed.
I said to myself, "How will I pull this off?" It's not just the blogging itself, but it's also the marketing, promoting, connecting and building. As a blogger and photographer, there are a number of tasks I must do. When I'm largely focusing on the photography business and personal life, I have a limited amount of time to focus on blogging.
This time must be maximized because my blogging isn't just an income source; it's also one of the most personal and precious aspects of my life. I adore it. And I can't imagine life without it. Your reason(s) for blogging may look different than mine. Your daily life may look different than mine. I imagine many of us have big dreams and goals.
Schedules will vary based on productive times of day, other jobs, families, etc. Some people are personal bloggers, some are professional bloggers who do nothing but write and promote, and most of us are somewhere in between. We may have day jobs. We may be beginners with blogging, or with blogging in a new way. For the majority of us, I imagine, we only have a precious few hours a day or week to devote to blogging.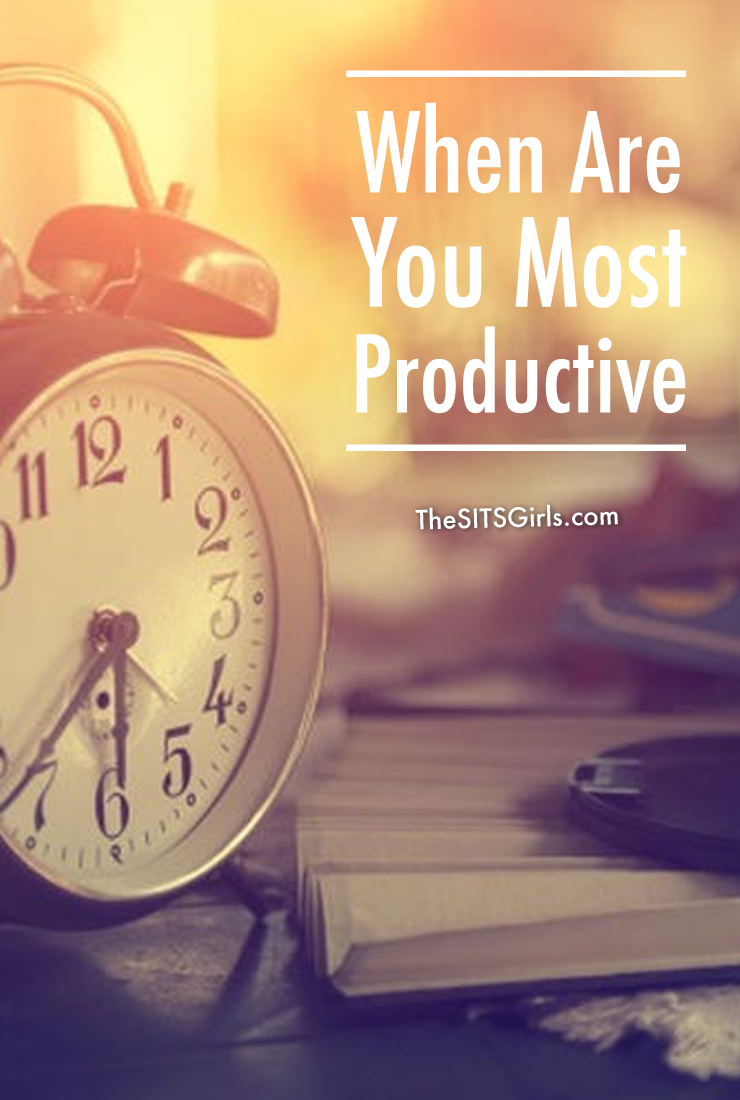 When are you most productive?
How can you keep up your blog while not neglecting the rest of your life?
Even though it will vary, here are ten tips to finding your most productive times of day, matching important blogging tasks with that time, and ultimately, setting up a blogging schedule that's unique and beneficial to YOU.
Studies show that the majority of us are most productive in the morning, and I'm no exception. I don't consider myself a morning person, but my best time is late morning — after both kids are in school and I'm alone.
1. Treat your blog like the business that it is.
For me, this means acting like I'm going to an office job every morning. I shower, get dressed, and face my day. A blogger's life might include phone calls, video chats, and any number of reasons you might want to look, or at least, feel ready. This improves productivity because you're making your blog a life priority and a consistent thing.
2. Pick one or a few times a day in which you can schedule time just to write.
Writing is the heart of blogging after all, but sometimes life happens and inspiration comes and goes. When it's gone, I'll go for a walk outside and let it come back naturally. The important thing is to not burn out – you want to write in a disciplined way and find your style! Write every day, if you can. Work on something new, come back to old drafts, or refresh old posts. Content can be the hardest part of blogging. Whether you publish twice a week or twice a month, it's still important to write as a habit.
3. Own your voice.
It may seem like it's not related to productivity, but trying to be something you're not can be a big waste of time. I've always viewed my writing as personal development rather than "work", and have written for myself through most of blogging. I think every blogger has to understand WHY they're writing in the first place, and what their goals are with their writing and blogging in the big picture. It's ok to write for the approval of others, or for income, but it's also important to write for YOU.
4. Work on one thing at a time.
This can be a big problem for me – getting distracted by other activities running in the background. I sometimes have Facebook, chat, personal emails, and more on the screen. Multi-tasking might seem like a good thing, but really, it's better to give things your sole focus, one at a time. You can set timers or use concentration apps.
5. Create and stick to a routine, and adjust it around your life.
We humans are creatures of habit! I was never a routine person, but having two jobs and kids means that I have had to become one. My routine is based on my family and their jobs, schooling, vacations, etc. and it's also based on my photography and blogging careers with their peaks and dips. I adjust my routine accordingly. Maybe you're the night-owl type who gets inspired in the middle of the night. Maybe you're not doing much after 7:00pm. It doesn't matter because what matters is that you create a routine that fits your life. Ultimately, do your work doing your best hours and rest doing the worst ones! For me, that's 3:00-6:00pm. The kids are home, my husband isn't home and I'm tired. Kid-play, outdoors play and couch time is vital. I can't force what won't come. And really that's the point of all of this. You can't force what won't come. Let it come naturally.
6. Goals, action item, schedules.
Every night, I set daily goals and a list of action items for the following day, or even week. When you set goals for each day, this habit will stay with you. Make sure you don't plan more than you can do. I thrive on deadlines. With sponsored posts, deadlines are set for me, and I take them seriously. By the same token, I follow that deadline seriousness with my personal posts too. After all these years, I actually haven't skipped one deadline! If you know what you're going to do tomorrow, and into the next week/month/year, you are more productive already. Keep a priority list and rank the importance of each task so that you can pay attention to the most urgent ones.
7. Using your time wisely: Breaks, techniques, block scheduling.
Think carefully about your daily schedule/timetable and pinpoint which times are appropriate for which types of work. Importantly, take breaks! The Pomodoro Technique involves breaking your work hours into half-hour segments – 25 minutes of focus, followed by five minutes of rest. I also may split my work into 30, 50 or 90-minute windows. Use your breaks productively. It hurts to look at the computer all day, but if I do something active or around the house, it clears my head and gives my eyes a welcome rest.
8. Have a workspace.
It makes such a difference to have an area that's separate from the rest of my life. Treat your "office" like an office and go to work on time! Keep water at your desk at all times. Hydration increases productivity!
9. What about social media, promotion, and generosity?
Lest anyone ever thinks blogging is just about writing, you can tell them how wrong they are! A helpful tip is to schedule social media. You can set your posts to automatically post to Twitter, Facebook and elsewhere. Use tools like Hootsuite to make specific updates, and schedule them beyond today and tomorrow. Promoting your blog is also time-consuming. It's very helpful to have mutually beneficial relationships with other bloggers, in which you comment on and share each other's content. There's nothing better!
10. Learning how to let go when you need to let go.
I'm a "yes" girl. Whenever possible, I want to be that blogger who participates, helps, and tutors as much as possible. I've found, though, that it's not always possible. You must learn to say "no" so you can better say "yes" when it most counts. You can also outsource the tasks you're not best at, to better serve your time.
When are you most productive during the day? How do you help increase your blogging productivity?
Keep Reading