This post may contain affiliate links which may give us a commission at no additional cost to you. As an Amazon Associate we earn from qualifying purchases.
Starting a blog is much different than it was even a few years ago. Currently, starting a blog is, in a lot of ways, the same thing as starting a brand. It requires commitment, time, effort, & strategy in order to turn it into something valuable & profitable. You have to be prepared before you start a blog.
"So, should I start a blog?"
Answer these five questions to determine whether it will truly be the right fit for you…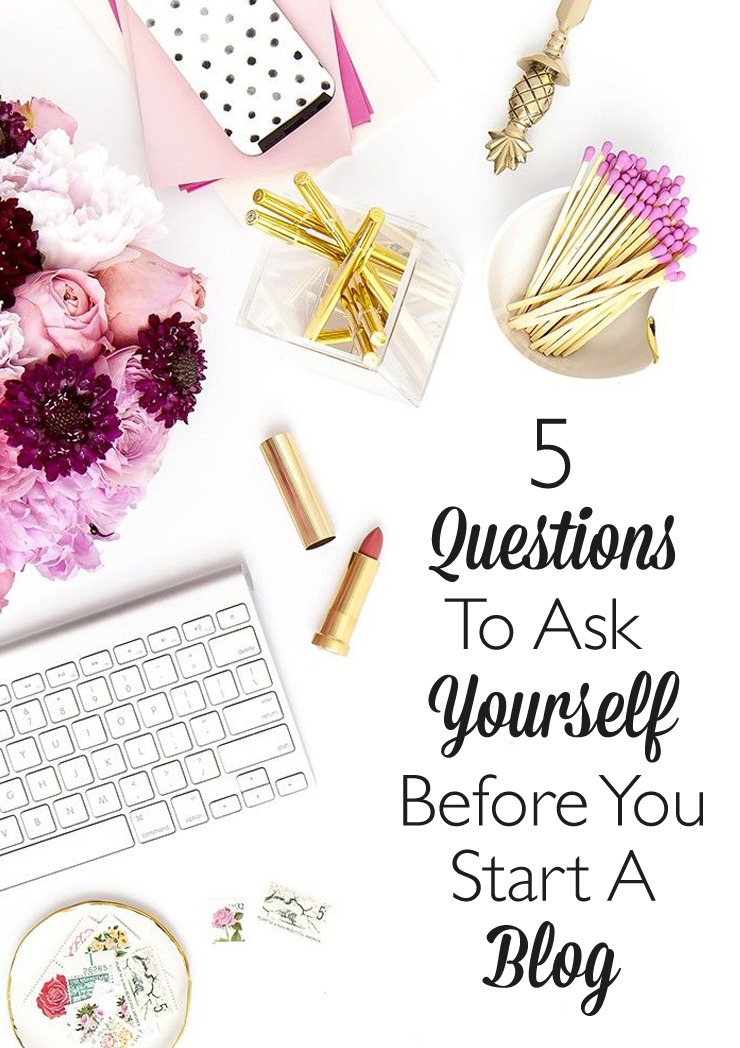 Before You Start A Blog, Ask Yourself These Five Questions
1. Do I have a topic I want to talk about consistently for years to come?
I began blogging because I had so much I wanted to say, and so much I wanted to share. I chose to start a parenting blog, because it was (and still is) my world. I read about it all the time, I talk about it with my friends, I live it day in and day out, and then I get to talk about it and share helpful information. Blogging requires consistent content creation, so your audience can learn to trust you and grow organically. You want to choose a niche that will be a good for for a long time.
2. Am I willing to put in time & effort without seeing immediate results?
One of the great things about blogging is there are virtually no overhead costs, aside from your time. I want you to think of your blog as a business from the beginning. A start-up business does not expect to make money immediately. You will need to invest your time and effort consistently, but if you work hard, you can be profitable much more quickly than you would have thought without the burden of huge monetary investments.
3. Do I enjoy learning new things and brainstorming ways to improve?
The internet is always changing. If you want to start a blog, you will need to be up-to-date on a lot of these changes. The exciting thing is there is not one right way to do things. You are able to discover blogging tools and strategies that will work best for you. You will be able to learn and grow as one of the experts in your particular niche.
Some people tend to get frustrated with new social media platforms and new technology. If this is the case for you, you may burn out quickly in the blogging world. The people who thrive are the people who love tackling the next challenge.
4. Am I confident I have important viewpoints to share?
Blogging takes confidence, but the beauty of it is that it also builds confidence. When you start blogging, you will not be super confident in what you want to say. It will take some time to find your voice, uncover your corner of the internet, and not be nervous about what others will say. From the get-go, I want you to believe that you absolutely have important and unique viewpoints to share. No one has your exact same experiences, and what you have to offer is unique and helpful. You need to believe this before launching your blog. Otherwise, you won't have the courage to keep putting yourself out there day after day.
5. Do I want to be able to work for myself and have something to call my own?
Starting a blog can be an incredible thing. It allows you to build something from scratch and call all the shots along the way. This can be invigorating for some people and intimidating for others. The power of building something on your own is that when it succeeds, all of that success is attributed to you. A blog can be that thing that you pour your heart and soul into, and you will be able to make money doing something that you are truly passionate about.
*For more blogging advice, check out Mom Blog Academy where I give you practical tips to create a profitable blog.
Keep Reading