This post may contain affiliate links which may give us a commission at no additional cost to you. As an Amazon Associate we earn from qualifying purchases.
You've probably always read that you could repurpose your blog content, right? We even have a great post to help you repurpose your blog content. But can you repurpose social media content on your blog? That's a little tricky. Not to worry, I am here to help with 5 tips to consider.
Let's get started.
First things first, how do you know what social media content to repurpose? Well, that's easy. On any platform, you can look at how many likes, retweets, repins, shares, and hearts any piece of social media content has. According to Agora Pulse:
the low-hanging fruit is to repurpose your highest performing posts.
I don't know about you, but with school, a family, an Etsy shop, and virtual assistant/social media/blogging consulting business, I'm all about optimizing low hanging fruit where and when I can.
You can even take it a step further, and find evergreen social media content to repurpose, so you can repost it! Talk about recycling! Evergreen posts are those posts that are timeless and not fixed to any one point in time. For example, current events are not evergreen, but how to make a gallery wall, would be.
On to the tips, I know you've been anxiously awaiting them (just me?)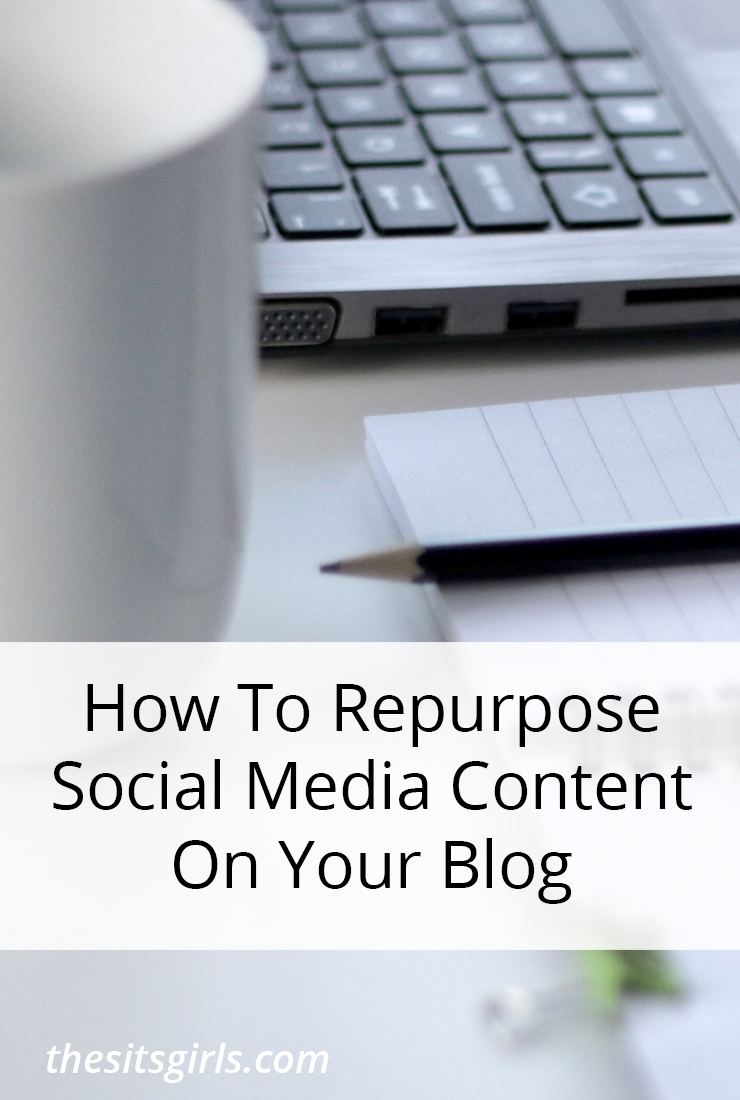 How To Repurpose Social Media Content On Your Blog
1. Twitter Moments
Did you know that you could take tweets and create moments to share with your audience? All you have to do to get started, is go to a tweet and click on the carrot to pull up the menu.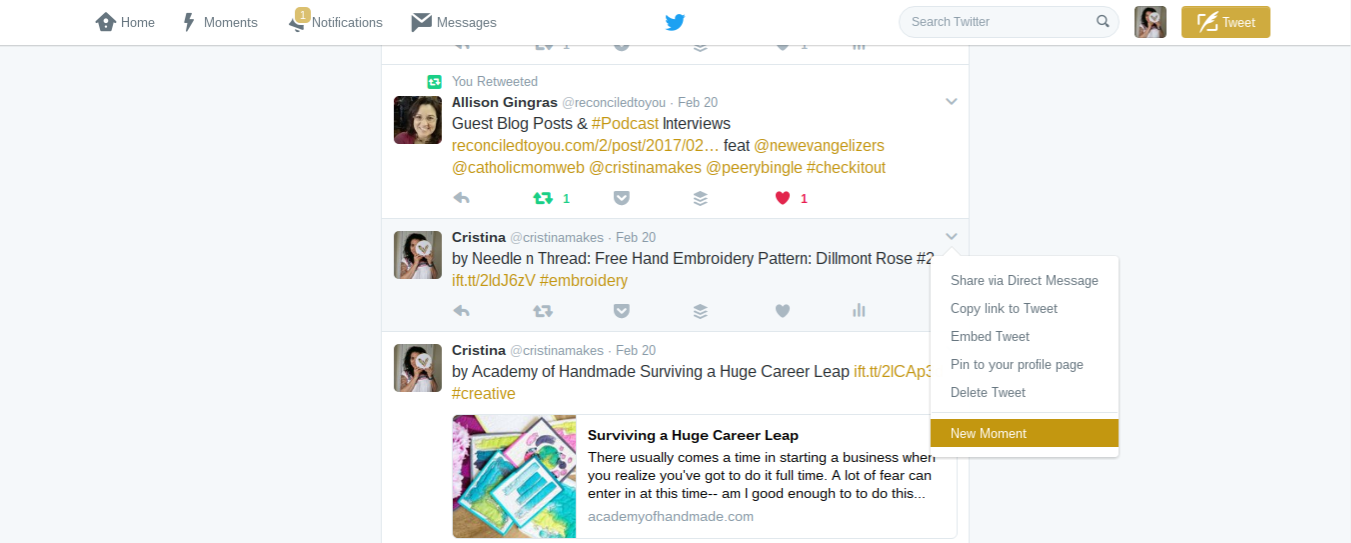 You can then add different tweets from your timeline to the collection. You're even given the option to create use a cover, pulling an image from one of the tweets, or uploading a completely different one (from Canva, perhaps that's branded and gorgeous?)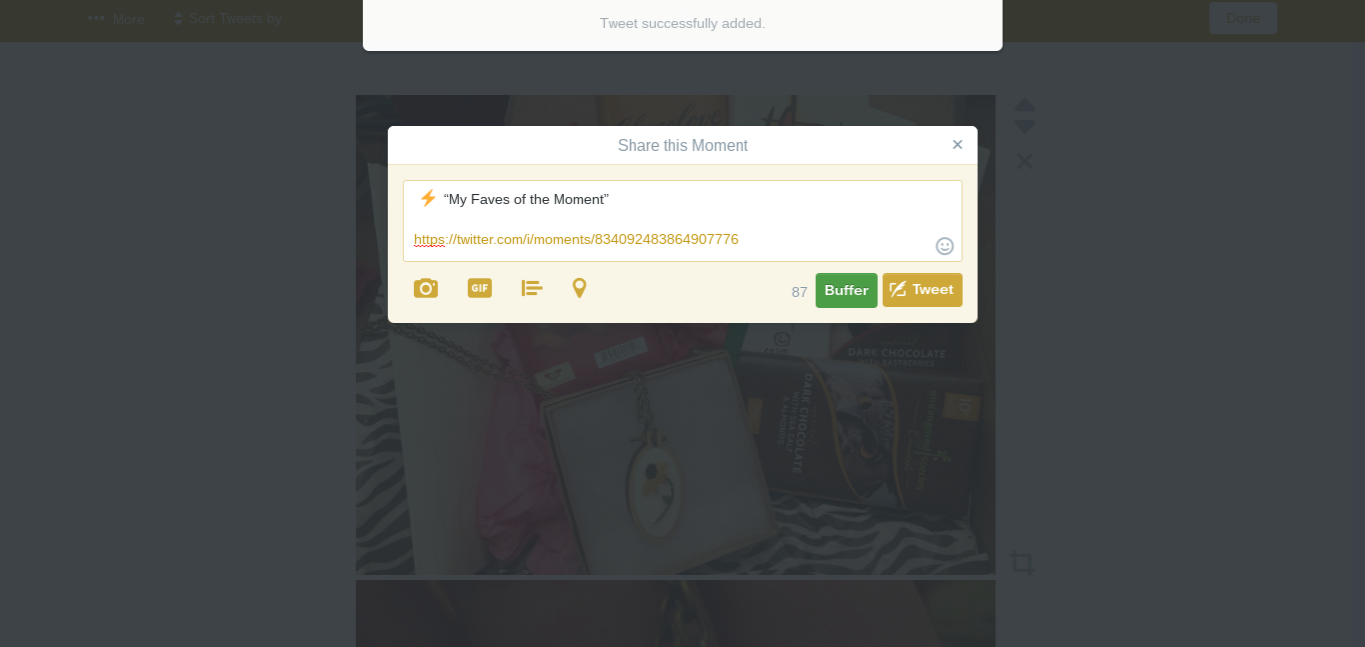 Once you've published your moment, you are given a link that can be shared anywhere. Here's my first "moments" collection. You can make one of your favorite recipes, articles, home decor posts, you name it. You could even send it out to your newsletter subscribers (mind blown).
2. Crowdsource
Really. Crowdsourcing is just a fancy word for asking a question on social media. I was curious about who the patron saint of aromatherapy was. So, I asked Facebook. Everyone wants to be seen as an authority on something, so my friends chimed in. The conversation was fun and engaging. You could ask a question on Twitter, Facebook, or even Instagram about a particular topic to create a blog post with, or even ask what the 8th emoticon is on their smart phone. The crazier the responses, the better. Why? You can share it on any other platform. Everything you share on social has it's own link, that can be shared everywhere else!
3. Crosspost
I love doing this from my Instagram account to my Facebook page. This tip is also great when you are crunched for time like I was yesterday. I find an Instagram post that aligns with my grid aesthetic (and I love) and post it on my Instagram feed. Because I've set up IFTTT to post anything I share on Instagram to my Facebook page, I get a repurposed post shared there without even having to think about it.
Because I'm studying for an exam this morning, let's fawn over this new #weaving by @weaverella 😍 to say I am a fan of hers is an understatement. I mean, gold dipped feathers?! *swoon* http://ift.tt/2ldPJ56

Posted by Cristina Makes on Monday, February 20, 2017
4. Create a Pinterest Board
Have themes around what you blog? Of course you do! Why not create a board specific to that theme, and share it! You can easily repurpose by sharing the board with a teaser "Want the latest social media tips? Of course you do! It's all updated and ready for reading with coffee" or something to that effect dependent upon what you write about.
Follow The SITS Girls's board Social Media on Pinterest.
5. Take a position.
Similar to crowdsourcing, take a position on an article, or blog post, and ask for thoughts. I've seen others do really well with this for a few reasons: you don't have to write a dissertation on which side you're on. Simply, pull a quote from the article, add a thought or two, and post it. I would suggest to stay away from anything too controversial. You're not looking to incite anger or dread. You're just wanting to keep your social media fresh and be seen as someone with your finger on the pulse of what's going on!
Here are a couple of other posts that I dug up in my research that I think are worth reading. Maybe you can "take a position" and share with your followers!
Now to you, what ways have you repurposed social media content? I'd LOVE to incorporate your ideas into my routine!