This post may contain affiliate links which may give us a commission at no additional cost to you. As an Amazon Associate we earn from qualifying purchases.
Facebook can be the wild west. It is easy to have grand ideas of growing your page to massive numbers, but the truth is that it won't happen unless you have a plan. The best way to grow your numbers is to stay organized. Develop a winning schedule that will work for you, and take the stress out of trying to achieve viral status! Check out our sample schedule and learn how to schedule Facebook posts and save time for free!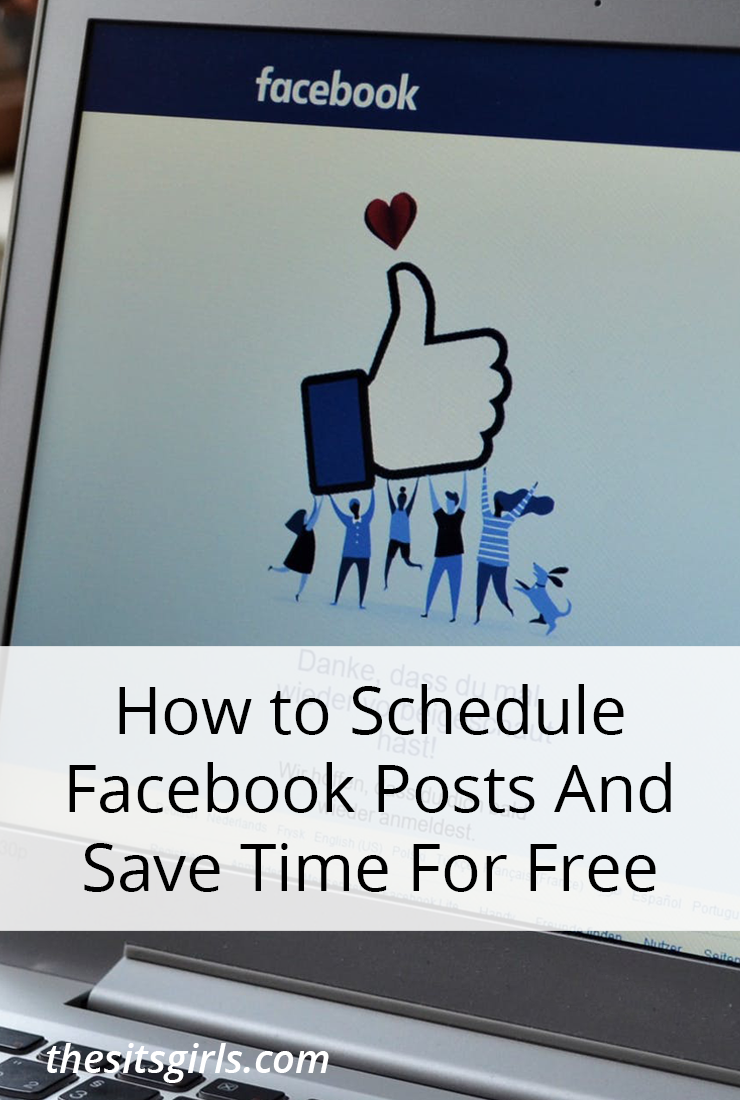 How to Schedule Facebook Posts And Save Time For Free
Let's start with the for free part of this. There are a lot of third party scheduling services you can use, some are free and some aren't. I use a Google doc to build out my schedule ahead of time, and I see the best results when I schedule Facebook posts through the native Facebook scheduler – neither of which cost any money to use.
Facebook Loves Consistency
The key to Facebook is consistency. Once you commit to growing your page you need to make sure you are actually posting on a regular basis. Using a schedule that is built out for the week is the best way to make sure your posting cadence is on point.
You want to avoid posting two times on one day, 3 times the next, and then forgetting to post for a whole day.
I like to use Google Docs to build my schedule. It is convenient, it autosaves, you can build multiple tabs, and you can work on it in real time with a partner or assistant.

To save your own copy of my sample Facebook schedule, click on File and either "Make a copy…" to create a copy of this file in your own Google Drive or "Download as" to save it to your computer in an excel format.

Now, let's walk through how I use this schedule to stay organized.
Pick a Day For Your Week to Start on the Schedule
At the top of the document I have the days listed out by the day of the week and the date. You might notice that my schedule begins with Monday. That is because in my mind it is the "beginning" of my work week, so that organization feels right. However, you can change yours to begin with Sunday if that is easier for you.
Underneath this row, I like to leave a line for "holidays" or "special days". Special days might be something like National Coffee Day or anything trendy that might work with your audience. I leave a little note in there underneath the date just to make sure I remember to schedule something pertinent to that topic.

In the left column I put the times and the topics that I will be posting about. It helps keep me accountable to make sure I am not posting too many memes, or food recipes, or DIYs. Even if you are totally niche-ing out your page (which I DO recommend doing), you still need to make sure you have a variety of content within that niche.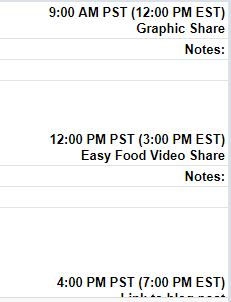 Drop Your Links Into Your Schedule
In the open area you can drop all your links! If you have Facebook links that might do well on your page, you can drop them in your schedule. If you have blog posts or other website links you want to share, you can leave them there, as well. And, if I am planning to share a graphic, I write the name of the graphic in the time slot where I want to share it.

Sharing on Facebook is Beneficial
A further benefit of using a schedule is that you can share it with other people! If you have a Social Media Manager or Virtual Assistant that helps you (or maybe even a teen/intern), you can have them schedule all your links! Share your schedule with your friends, and ask them to drop links in there that might apply to your page! It is a great way to work smarter and not harder.
If you are using someone to help you schedule the links, it is a good idea to adopt a system so you know the links have been scheduled. You might try turning the whole box with the link green once it is scheduled – think something like, "Green is good to go"! If you are having someone help you source links, and would like to approve them before they are scheduled, you can highlight it yellow, meaning that it is approved for scheduling!

Create Your Tabs
Within your Google Document you can create other tabs to house all your Facebook info. A tab featuring all your viral content and when it was scheduled might be a good thing to have handy. If you are working on selling affiliates it might be a good idea to have all your affiliate links handy, as well! Having everything in one place is such a great way to make sure you are ORGANIZED!
Once you get organized, you have won half the Facebook battle!
If you didn't do it earlier, grab our sample Facebook Google Doc here, and change it as needed to fit your own system. The Viral Tab is a great way to make sure you are reusing graphics, videos, or shares that did well in the past.
How To Schedule Facebook Posts
If you are totally new to Facebook, and don't know how to schedule posts, don't worry. We've got your back!
1. Go to Create Post in the top left corner.
2. Upload whatever picture, video, or link you want to share.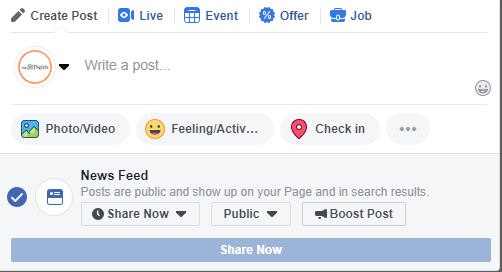 3. You will see a drop down menu that says "Share Now". Click the arrow to reveal more choices.
4. Click "Schedule"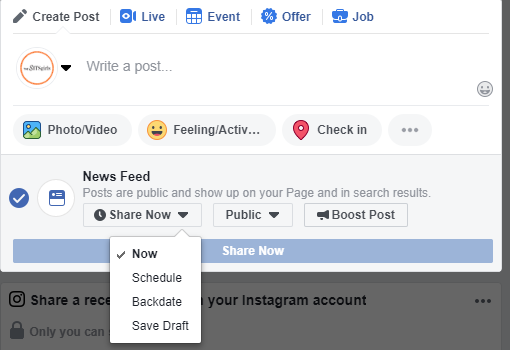 5. A box with the time and date will appear. Adjust the time and date to when you want the post to go up, and hit schedule in the bottom right hand corner.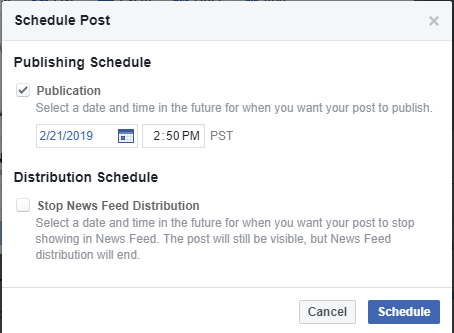 That's it!
I highly suggest scheduling your Facebook posts ahead of time. This allows you to keep up your posting cadence and it keeps you organized!
Want to read more about why to schedule Facebook posts?
Read about 3 Benefits Of Facebook Scheduling For Bloggers!