This post may contain affiliate links which may give us a commission at no additional cost to you. As an Amazon Associate we earn from qualifying purchases.
SEO, or Search Engine Optimization, is a rather large part of blogging.  It's the magic juice that tells Google our content is worth being seen. There are plenty of great resources out there with fantastic tips for what you can do to build a strong SEO Foundation, like this post here – SEO Tips for Bloggers. Following best practices for SEO is a great way to boost your ranking. But sometimes, we're undermining our own best efforts by not paying attention to the search engine optimization mistakes we're making. The good news is, most of these mistakes are easy to correct.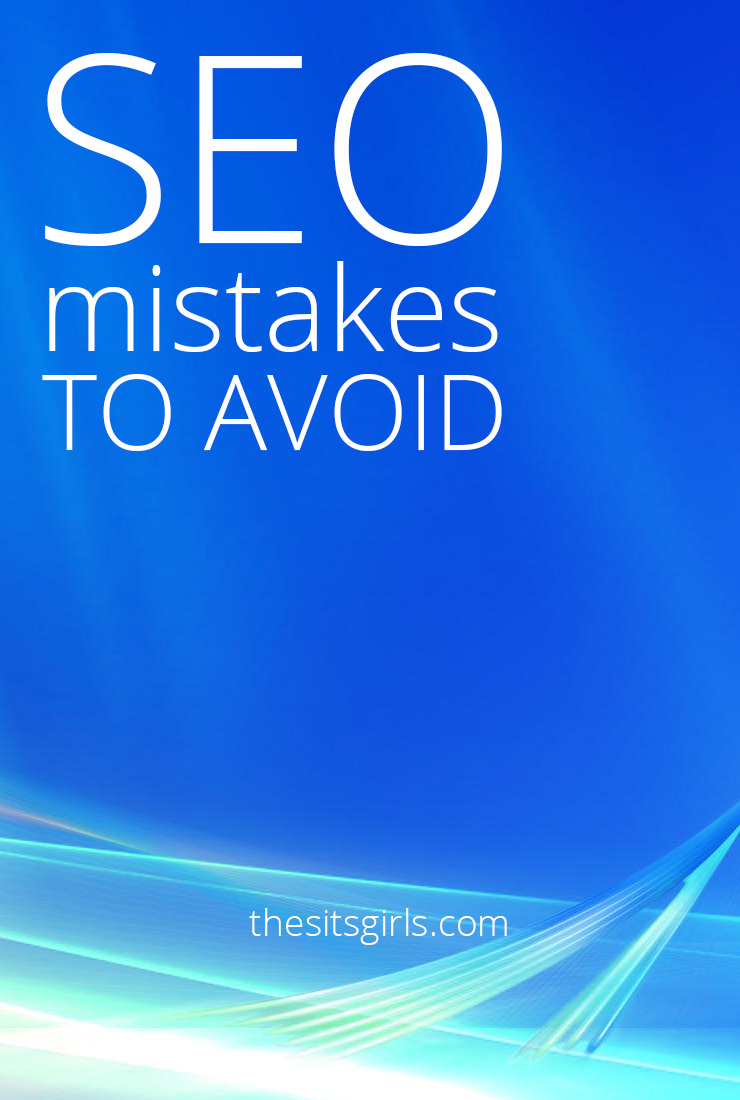 Search Engine Optimization Mistakes to Avoid
Under-Utilizing Optimal Places to Put Your Keyword
This is the most common mistake we all make at some point: not making the best use out of the optimal places to put our keywords in our posts. As long as it doesn't end up sound weird or forced, the best places to have your keyword are:
Title of the post
URL of the post
Within the first 150 words of the post
Heading 2 (minimum)
Alt tags of all photos (if you can also use the keyword in naming one of your graphics, I've heard that can help, too)
It can take a little forethought and planning, but for the most part, making sure your keyword is in those places shouldn't be too difficult. So, why do so many of us forget about them?
Check out this post- Five Easy On-Page Elements to Boost Your SEO – for more information about making the most of your keyword placement.
Not Using the "nofollow" Attribute
For anyone who may not know this, the "nofollow" attribute is a line of code that tells Google's bots you're not putting your authority behind a link. If you're sharing sponsored content of any kind, all links to the company or product need to have the "nofollow" attribute. Sponsored content includes:
Sponsored Posts where you have been paid to write the post or given a free product to review
Affiliate Links – ALL affiliate links
Sidebar ADS – Whether it's for an affiliate product or ad spaces you sell on your site
Basically, any link you're compensated for in ANY way needs to have the "nofollow" attribute. Not using the "nofollow" attribute can really hurt your SEO ranking.
You can read more about "nofollow" links in this post: The Blogger's Guide to NoFollow Links
Not Linking to an Outside Source
Google loves to see us share the love – especially organic sharing. Linking to quality content that is not your own shows Google you're a team player. It can also help you establish your authority on what you write about. It shows that we're willing to research, to seek out answers and inspiration, and we're willing to share the SEO juice we get with others. I know it sounds weird to send traffic outside our own sites, but Google sees that as a really good thing, so we should, too.
Always Linking to the Same Blogs and Sites
As much as Google loves to see us linking to sites outside our own, they're not clueless. If we're continually linking to the same sites over and over again, the bots will start to clue in, and that could result in less SEO goodness, not more.
Blog hops, guest posting, and linking out to tribe mates have become staples in helping grow our audience and build our SEO. The problem is, Google is starting to these things as inorganic. In a way, they are starting to see blog hops and guests posts in the same light as sponsored content. All is not lost, though. You can still do those blog hops and link to your tribe mates all the time, you just need to start making use of the "nofollow" attribution I mentioned earlier. If you've linked to them a few time already, you've given them some SEO love. And you're still getting their names and links in front of your audience's eyes.
For more information about this check out this article: For Bloggers, What to do About Google's Unnatural Outbound Links Warning Message.
Forgetting to Use Your Other Keywords
This one often gets overlooked. I'm guilty of doing it myself – like all the time. We spend a good amount of energy crafting our posts and trying to weave in that post's keywords without sounding false, but often we overlook adding in some of our other keywords.
We all have main keywords or topics we want to be known for. The more we use those keywords, in a natural way, the better our chances are of gaining some traction in those areas.
Let's say you're a food blogger, and you're working on a post using the keywords 'chicken pasta salad'.  One of the keywords or phrases you really want to rank for is 'quick mid-week meals,' so you decide to capitalize on the upcoming seasonal veggies and call the post "Summer Vegetable Chicken Pasta Salad".  You optimize the post for 'chicken pasta salad' but you can also make sure that somewhere in the post is the phrase 'quick mid-week meals', and bonus if you can link that phrase to a landing page.
Just because you're post is geared towards one keyword or keyword phrase, doesn't mean you can't use other keywords in your post.
Not Having Landing Pages for Your Main Keywords
Creating a landing page, or a category page, for each of your main keywords is a great way to help boost your SEO. Not only do landing pages help give our sites structure, but they're a great way to show the Google bots that we write a lot about a certain topic.
A landing page gives you a place to link to within your site that fits the post you're currently writing, and can help make your site easier to navigate. Landing pages work great in menu bars and help show new readers all the wonderful things we have on our sites.
When building a landing page, treat it just like you would a post. Create images for it, make use of all the places you can put the keyword. Make the page itself a wonderful resource for your readers, and Google will soon start to take notice.
Not Having Disclosures in the Right Place
Make sure your disclosures for sponsored posts and affiliate links are placed before the sponsored content begins, especially, if you're reviewing a product you were given for free. Aside from this being one of the FTC's guidelines for sponsored content, and aside from it being part of Amazon's terms of use (as well as many other affiliate programs), Google has always preferred sponsored content be disclosed properly.
Though it's just speculation at this point in time, Google might be starting to crack down on bloggers who don't follow the FTC guidelines. Is it really worth risking all your hard work over something as small as a disclosure statement? It only takes a minute to write up a sentence or two to disclose your relationship with the brand or the fact that you're using affiliate links. It could take MONTHS to build back your reputation with Google. And even if that doesn't matter to you, think of it this way — transparency and honesty matter to your readers. Giving them a heads up before they continue reading isn't going to make them leave you. And if it does, are those really the readers that will be the best fit for your content? Probably not.
Here's a link with some more info about the Manual Penalties.
SEO ranking cannot be built overnight. It takes time. The nice thing about it, though, is that it doesn't take much of our time to check off those boxes to make sure we're making the best use of our keywords and link power. By making sure we avoid the pitfalls and common search engine optimization mistakes, we can help ensure we are not sabotaging our best efforts.
I'd love to hear your thoughts and opinions on the subject of SEO. Did I miss any search engine optimization mistakes that you think need to be on the list? Do you have any tips or insights to share? Drop me a line in the comments below and let's keep this conversation going.